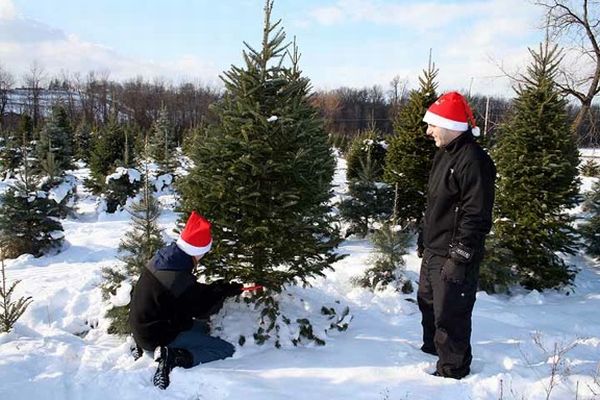 There is a tremendous increase in buying of artificial Christmas trees in contrast to the real ones. Primarily two reasons govern this paradigm shift, one, these Christmas trees last longer and two the real Christmas trees are considered more unethical. But if experts are believed, buying real Christmas trees is safer for the environment, it's wise to choose a real plant over a non-biodegradable plastic Christmas tree. It has been seen that almost 90% of trees presently end up in landfills, just because the fake trees are made of non-degradable and non-recyclable plastic. Before you end up picking the wrong Christmas tree this time, we have created a quick and simple guide to choosing the right Christmas tree.
# When is the right time to buy a Christmas tree?
Ideally the weekend preceding Thanksgiving is the time when most people take home their Christmas trees. However, it is wiser to pick a Christmas tree even before this. Early and mid-November can be ideal, since you will have more choice and the trees will be fresher. Since you have lost the chance this year, you know will have to choose from the left over trees (if you haven't picked one already). In either case the information below will help you buy or care for the tree better.
# Evaluate your need before buying
There is no limit to the place from where you can pick a Christmas tree, therefore you confront a lot of variety. You need to be sure of the type and the size of tree that you want. Before venturing out to purchase a tree, you must measure the ceiling height of the area where you want to place the tree. In addition, you must also measure the width of the area where the tree will be displayed. Since trees are available in abundance of sizes, you need to be sure of the size you want.
# Things to remember before buying
You want the tree to be a happy surprise along the Christmas period, thus you need to take special care about a few things before buying a Christmas tree.
Christmas trees that are precut are basically dead and can wither away soon. You must be sure that you buy only a tree that is freshly cut. If a tree is cut for long, it will become sparse faster. You are thus advised to shake the Christmas tree well before buying it. If too many needles fall off, the tree is old – more the leaves fall, the older it is.
Also ensure that you have measured the base wherein you have to place the tree. And pick the tree that is of the size good to fir in your Christmas tree stand.
Before buying the tree, you also need to be sure that there are no insects living in the tree you've chosen. Many people report of spiders, bats, mice etc. living in the trees that make for an unhappy surprise at home.
# Which Christmas tree to buy?
Real Christmas trees
As a customer you don't need to worry about the ethics of buying a real tree. By buying real, fresh Christmas tree, you are not going to clear the forests. Christmas trees are grown on farms, where other crops do not grow. The only downside of real Christmas trees is that they are grown with the use of pesticides. But because the real trees are fully biodegradable and have less carbon footprints, they are anyway better than the fake ones. Buying live Christmas trees is also exciting because the trees (if well cared for) live throughout the winter and can be replanted in the spring. For this locally grown trees have become a must have, there are vendors who deliver the Christmas tree at home and then pick it up after Christmas to replant.
Artificial Christmas trees
Artificial trees have only one appeal, they last longer and can be re-used for years. For some these trees can be better looking and attractive, but these in no way can replace the authenticity and charm of the real trees. Moreover, artificial Christmas trees are environmentally more harmful. These trees are mostly made of polyvinyl chloride (PVC), which in non-degradable and polluting. These trees cannot be recycled and only land up in trashbins.
# Buying Christmas tree online
Most of us are always occupied with other preparations, and getting out to buy a Christmas tree often becomes difficult. Plus we don't want to go through all the hassle. Thus buying Christmas tree online is a very safe and time saving option. When buying tree from quality Christmas tree grower online be sure of a few things:
Select a retailer selling locally grown, fresh Christmas trees
Since, you will not have the opportunity to choose the Christmas tree in person, you must thus select a retailer offering premium quality trees.
Consider the guarantee the retailer is offering. Most decent retailers offer unconditional guarantee.
# How to care for your Christmas tree
When you take home an artificial tree, you don't have to do a lot. But you have to make sure you keep the real tree well hydrated. You need to check the real tree has enough water and must top up as and when required. You should use lights that emit minimum heat, since heat will dry the tree more speedily. Do not place the tree close to a radiator or heater.
# Christmas is over – disposing the tree
After Christmas, you must ensure that your tree doesn't land up in the landfill, just like the 90% of trees currently. On an estimate only 10% of trees are recycled, since your tree is biodegradable you must ensure your tree is recycled. You can contact your local authorities to confirm of facilities to have your tree recycled or you can contact Christmas tree collection service in your locality.