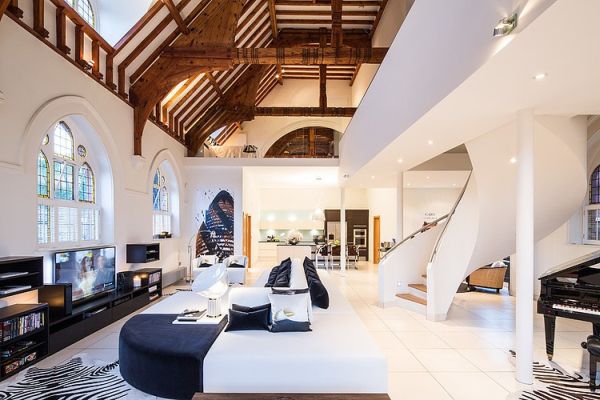 It's hard to believe that this eye-catching apartment was once a church, which got converted into a ravishing residence by London-based designer Gianna Camilotti Interiors. The luxury apartment has a splendid interior including a living area, a kitchen, a bathroom and two bedrooms. The highlighting feature of the interior is its spiral staircase that leads to a loft containing two bedrooms.
The bedrooms have a hint of zebra print and mirrored wall to enhance look of this elegant sleeping area. The living room downstairs has glossy white walls and titles with decorative contemporary furniture items and also includes zebra printed rugs beneath a center table and a piano for fancier look. Opposite to the living room, there is dining area with kitchen at its side, the sleek kitchen is fully equipped with cooking ware and necessary kitchenettes.
This luxury apartment also includes an external dining area present on a stunning patio surrounded by greenery all around. The patio includes a black and white chairs around a glass table to enjoy meals outside in fresh environment.
Some components of the church like Romanesque windows and arched doorways are preserved as a reminder of church's original existence. The designer has done a commendable job by creating a simple church into an artistic family residence with all luxurious facilities.
Via: Homedit