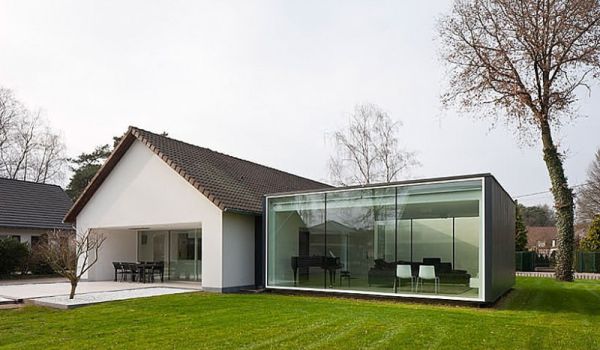 Belgian studio Cocoon Architecten has modified an old 1970's villa into a contemporary dwelling called Framework House. It is actually a farmhouse designed for a single family and is situated in a residential area of Genk, Belgium surrounded by beautiful landscape. The firm extended interior space of the house in shape of a rectangular block, which is made of black metal panels with glass walls at its front. This extended block is basically a living area for the owner to relax while gazing at natural environment all around, through the glass walls.
The living area cladded with glass walls is designed especially to redirect an individual's focus towards surrounding natural sights. Besides the glass block, the house includes a bedroom, a bathroom, a kitchen with attached dining area and ample storage space, all under the whitish portion covered with slanting roof on the top. The classic black and white combination of exterior of this building definitely gives an elegant look to this small dwelling.
Entrance doors of the farmhouse are also made of glass, revealing interior of the house; showcasing corridor and dining area. Talking of its interior, the classic black and white combination can be seen within the house, as well as with contemporary furniture and décor objects. The firm has indeed made a contemporary addition for a family to enjoy weekends away from city, close to nature.
Via: Archello