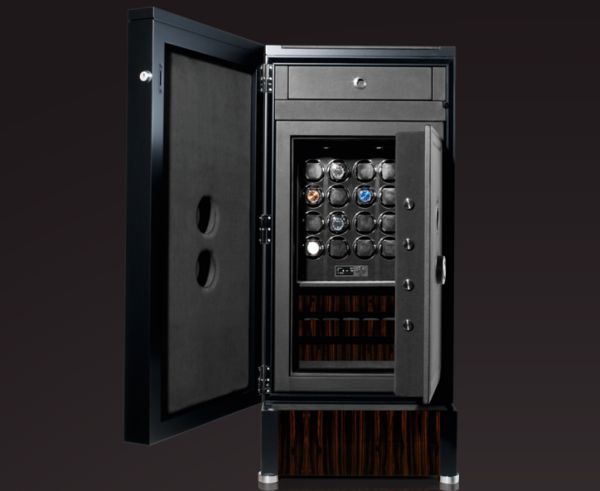 Our previous tryst with Buben & Zorweg was when we covered their exquisitely crafted Agartos masterpiece. And, now the high-end manufacturer has unveiled the equally elegant Collector Safe XL. An evolution of the earlier Collector safe, functionally the XL has additional advantages of extra storage space for collector's items (like artifacts, documents and precious objects), while also showcasing their trademark Time Mover modules and drawers. However, beyond just functionality, it is the sheer essence of aesthetics that serves as the 'piece de resistance' of the entire design scope.
This classy visual scale of the Collector Safe XL has a clear ideology behind it. According to Buben & Zorweg –
To compare security with locking things away is an attitude that is alien to collectors of exquisite objects – very few would be happy to hide their precious valuables away in an anonymous steel lockbox. Beautiful and precious items should be seen, true values appreciated and admired, with nothing to compromise a reassuring sense of security.
In other words, the Collector Safe XL is not just envisaged as a high-security safe, but its design language also pertains to a dashing decor piece that would charmingly bedeck your interior space. This wondrous fusion of German precision craftsmanship and Swiss security features is exhibited through the hand-crafted housing, which comprises of layers of piano lacquer finished with precious wood inlay. The essence of exquisiteness is carried forth in the interior of the safe with hand-sewn Italian nappa leather complemented by fine velour.
There is also a technological side to the whole exclusive affair with electronic lock (with keypad input) and discreet LED lighting for specific object illumination. After all you should be able to display your items with a bit of class and ingenuity!
Via: Buben&Zorweg