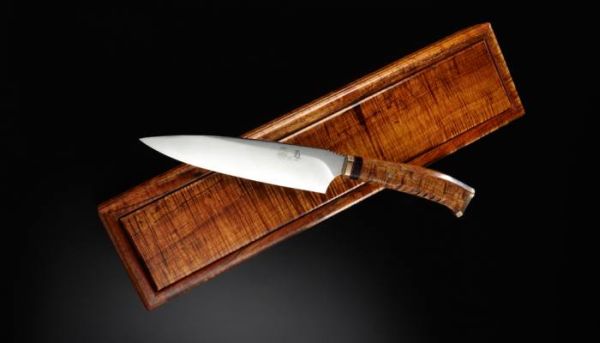 'Artistry with an edge' – that is how the Combat Chef line of knives are heralded by its designers. The collaborative effort from Salter Fine Cutlery and Kikuo Matsuda, the specialty knives are the exquisite combination of hand forged blades and hand crafted handles. According to Salter, the handles are made with rare and exotic Hawaiian hardwoods. These wood varieties are painstakingly selected for their quality, color composition and grain patterns, so as to 'maintain' the harmony of the resultant aesthetic quotient. Well, for us, such remarkable attention to details surely makes the Combat Chef a collector's item rather than just a simple kitchen tool.
However, as with every knife, it is the blade that is actually more important to its working scope. In this regard, the Combat Chef knife blades are hand forged (with stainless steel or carbon-forged) by renowned Japanese blade smiths (just to put things into perspective – Matsuda's ancestors were actually Samurai warriors during the Tokugawa shogunate). Such 'Katana' hand forging credentials are deftly complemented by unique textures and high-quality Damascus finishes.
Of course, beyond artistry and traditionalism, it is the commercial potential of the Combat Chef that holds its true 'selling' value. In that regard, the collection includes various types of knives for various kitchen functions – like, chef knives, steak knife sets, carving sets and specialty knives. The user experience is further cranked up with the availability of customized Combat Chef sets. In other words, you can decide and order on the blade
specifications and custom-fitted handles to suit your kitchen needs (or even decor styles).
For pricing details, please check this link.
Via: SalterFineCutlery