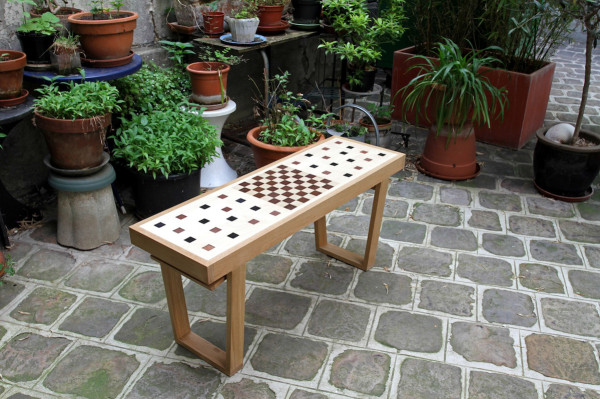 Congo Squares Bench is a combination of a bench, table and a chessboard game all in one. It is designed by Atelier Astua, Paris based furniture designer, for avid game players. At first glance, the bench simply looks like a normal table with chess blocks imprinted on its surface. You must be thinking that if it is a chessboard, then where are its chess pieces?
Well, all 32 chess pieces are hidden in its surface in an inverted position to make it look like a plain surface on the top, but there is a simple mechanism which allows chess pieces to pop up when pushed from underneath. When you feel like playing chess, then take out the pieces from its surface; you can store the pieces back into its surface according to your preference to, again, form a bench to sit on once you are done with playing a check-mate game with your opponent.
This chessboard table is an incredible piece of furniture to be kept outdoors as a table to sit around while having coffee, or as a bench to sit on or play a chess game. The table will definitely add a fun element to your outdoor space, no matter how you use it.
Via: DesignMilk