Lying in the grass and staring up at the stars has been a pastime each one of us rejoiced some point in time. Thanks to the haphazard life, none of us has the time to live those wonderful moments anymore. With a motive to give us that moment well within the confines of our home, Russian designer Natalia Rumyantseva has created the Cosmos Bed, a partially open egg-shaped pod that lets you rest or sleep in utmost comfort and security.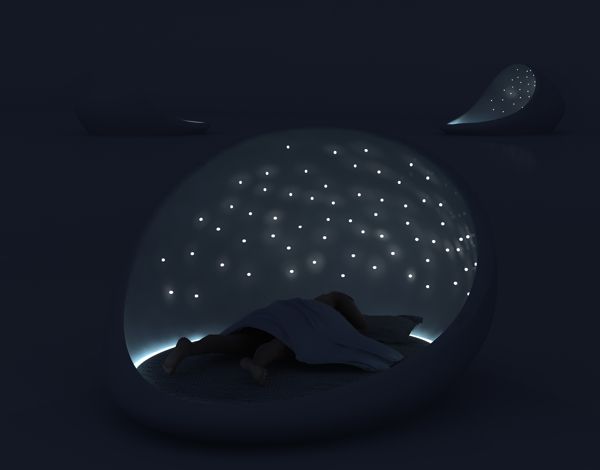 The Cosmos Bed has therapeutic LED lights infused into the roof, which simulate the night sky filled with bright glowing stars. Sleeping inside the capsule is like sleeping under the night sky, only that the natural comfort of lying under the stars needs to be replicated as well. For this, the Cosmos Bed features built-in audio system to listen to calm, relaxing music and an alarm clock so that you don't keep sleeping till eternity.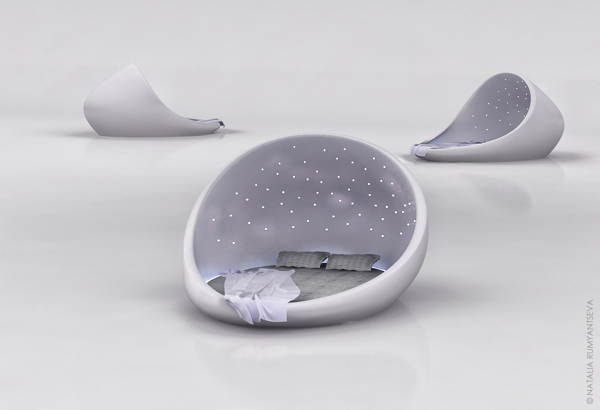 The Cosmos Bed also has been installed with aromatic dispensers, which allow you to smell relaxing aromas while you are relaxing or sleeping under the calm lights. Amazingly, the Cosmos Bed has an adjustable mattress, the slope of which can be altered easily. Made of fiberglass, in white color, the futuristic Cosmos Bed will fit perfectly in any modern home and become a functional item of décor.
Via: Technabob