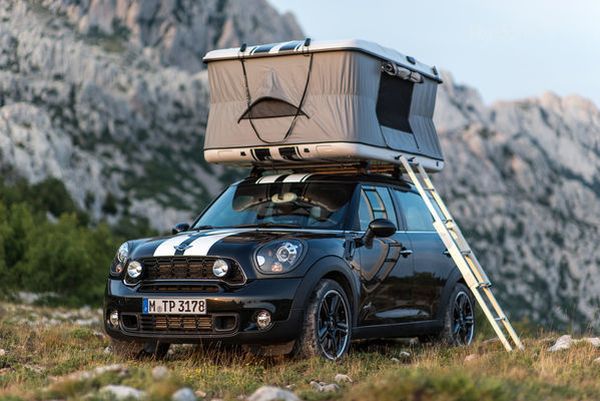 Mini's Countryman ALL4 now allows you to snugly sleep 'over' the car as opposed to sleeping inside its cramped bearing. This convenient arrangement is made possible by the new portable tent specially designed to carried by the car itself. Christened as the Countryman ALL4 Camp, the camp can be specially arranged over the car's roof, thus upholding its mobile credentials. The tent can be accessed via a ladder set against the side of the vehicle. So, all one needs to do, is just climb up the ladder and then assemble (fold out) the upper half of the tent out of its storage box. This easy set-up can potentially solve your overnight traveling woes.
According to the automaker's press release –
The innovative roof-top tent is showcased above a MINI Countryman which, thanks to its intelligent all-wheel drive system ALL4, is well-suited to travelling over rough terrain. But this simple and practical sleeping solution can easily be mounted on a MINI or MINI Clubman. The upper half of the tent is simply folded out of its storage box. Plump up the pillows and two occupants are ready to relax, then wake up to a perfect view of the ocean, mountain or valley.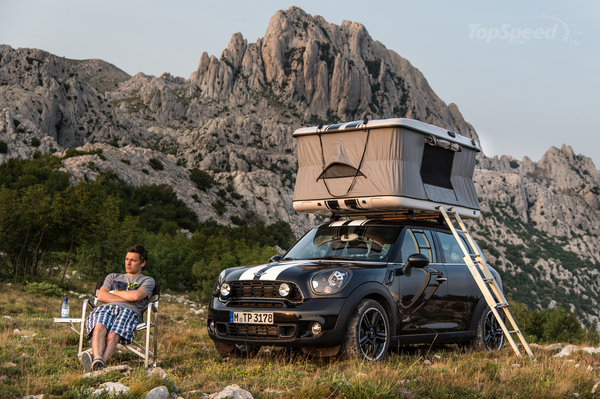 These usability features are also complemented by some practical additions. For example, Countryman ALL4 Camp has the provision for a specially fitted bicycle rack. This makes it easier to transport your bike around for those lengthy or distant outdoor biking sessions. Furthermore, the designers have also paid attention to the finishing details of the tent's exterior that comprises of metallic facades. This resultant visual quotient allows the tent to be seamlessly integrated with the Mini's Countryman ALL4 automobile's simple aesthetics.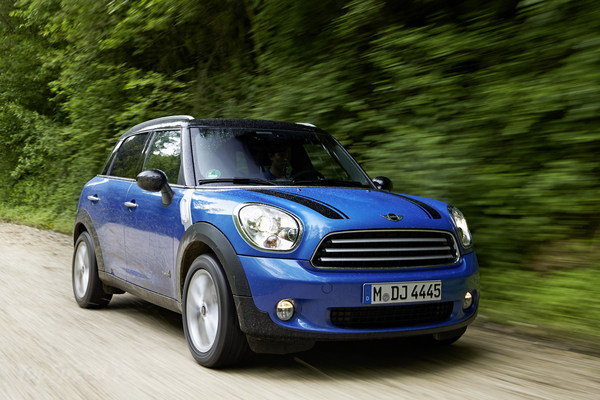 All images are courtesy of Top Speed.
Via: TopSpeed