Haunted is the new hallow when it comes to celebrating Halloween. We are still weeks away from celebrating the dawn of the dead, but the craze for fancy dresses, spooky masks and scissor-hands is already ascending. Jack-o'-lantern and Halloween lights are there to escalate the spookiness level but we need something more to add the frills to our fear.
To cater to our stirring needs of turning our house into a Halloween harborage, Target has unveiled its latest collection of Halloween succulents that will add a fear factor to your house. Not just this, these fake plants will also add to the décor of your living room. We won't be phrasing litotes but, they are not a bad option when it comes to filling space either.
Below is the list of five Target Halloween home décor succulents that will give you sleepless nights. These faux planters are not just scary as hell, but also creepy to their core.
Ghoulish Garden Dreadful Daisies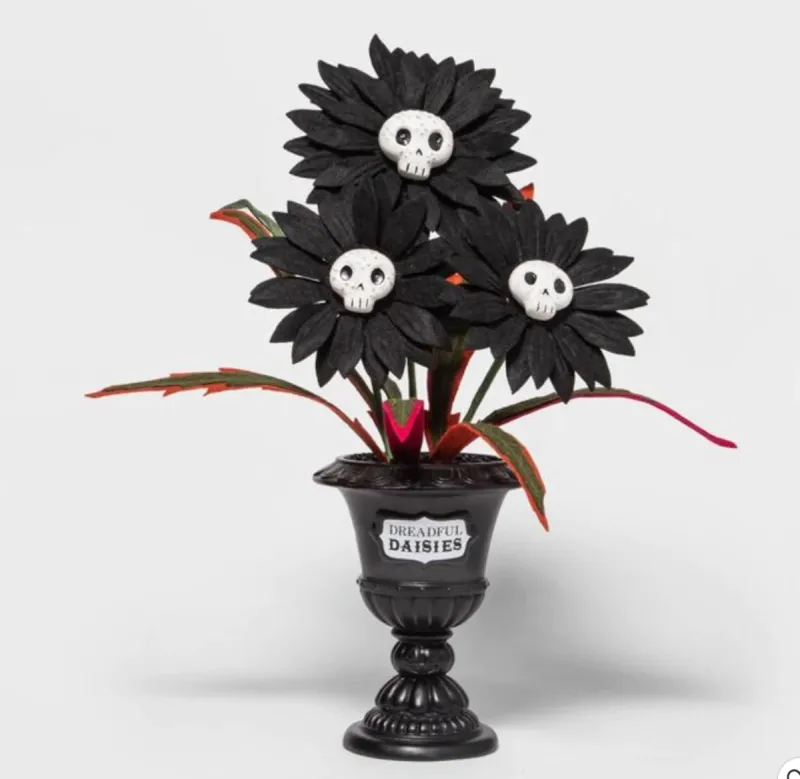 Hyde and Eek Boutique bring to you a creepy faux potted planter featuring Black Daises. These are not your lawn daisies and certainly not to be confused with English daisy either. Fitting inside a black planter, Succulents play a supporting role here but give a fine spooky touch to the daisy. The plant container is made up of resin while the daisies and succulents are made of felt. The total dimension of the Ghoulish Garden Dreadful Daisies and the planter is around 18 inches in height, 10 inches in width and 8 inches in depth.
Buy: $20
Animated Faux Halloween Pumpkin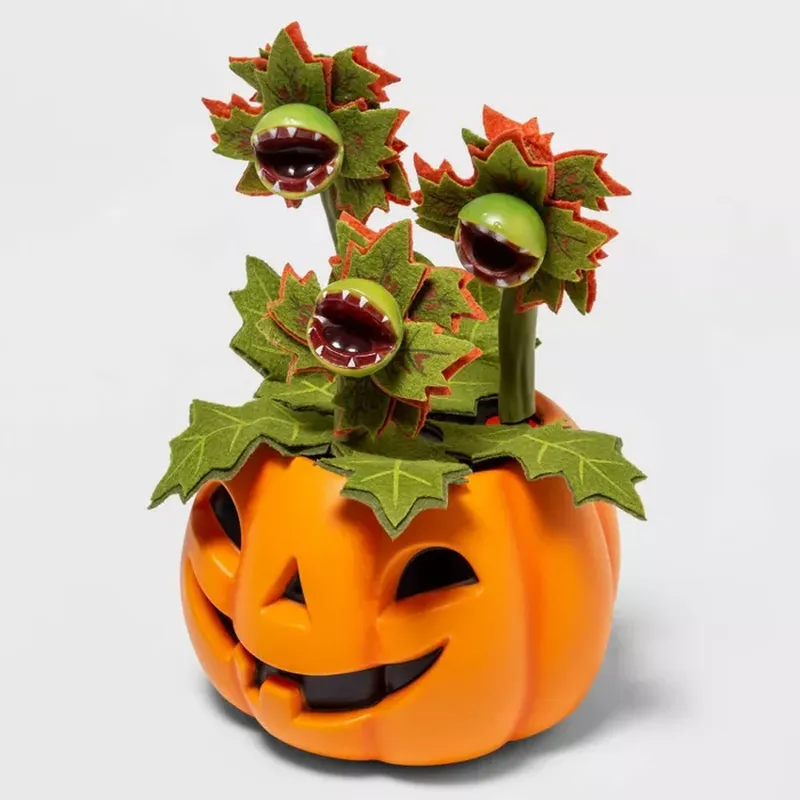 Are you bored of your normal Jack-o'-lanterns? Do not worry, this animated Halloween pumpkin seats creepy plant succulents with a whole new dancing and singing vibe to it. The Pumpkin comes with a triangular nose, wide mouth and curvy eyes, and is perfectly suited for any tabletop. Measuring 10.63 inches in height, 7.09 inches in width, the animated Halloween pumpkin is made of plastic and comes with 3AA alkaline batteries.
Buy: $35
Ghoulish Garden Kiss of Death Cloche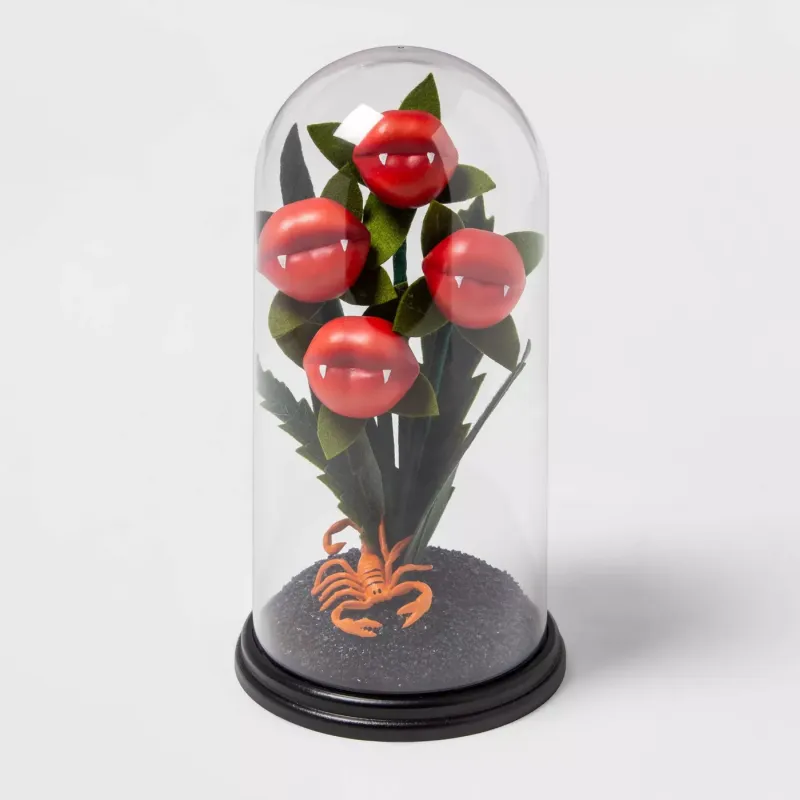 Measuring 12.5 inches in height and 6.75 inches in length, the Ghoulish Garden Kiss of Death Cloche may look very sensual from a distance but as soon as you approach this succulent, this may become a terrifying nightmare for you. Enclosed inside a plastic flask, the artificial potted plant also features a scorpion. The artificial plants are made of Styrofoam while the cloche is made of plastic.
Buy: $20
Ghoulish Garden Wild Gorechid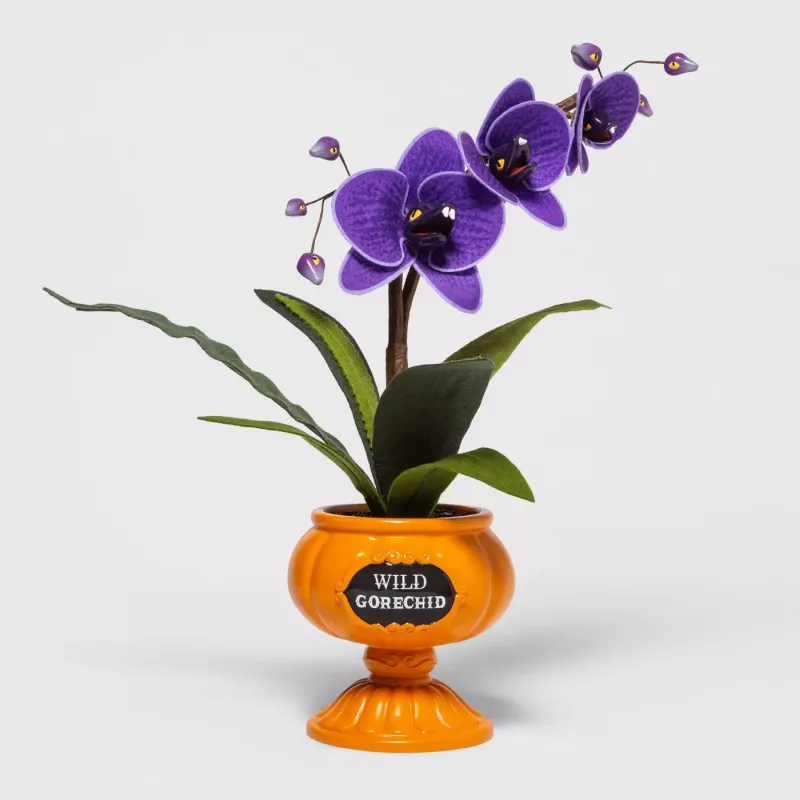 Made up of Felt and foam, the purple Gorechid plant stands tall on a yellow-colored container. The main highlight here is the Dragon Plant that gives a scary touch to the environment with its lush green leaves. It not only presents a waggish look to your interior but also looks like an absolute peach when seated next to a fireplace. The faux plant measures around 8 inches in height 13 inches in width and has a diameter of around 6 inches.
Buy: $20
Ghoulish Garden Terrarium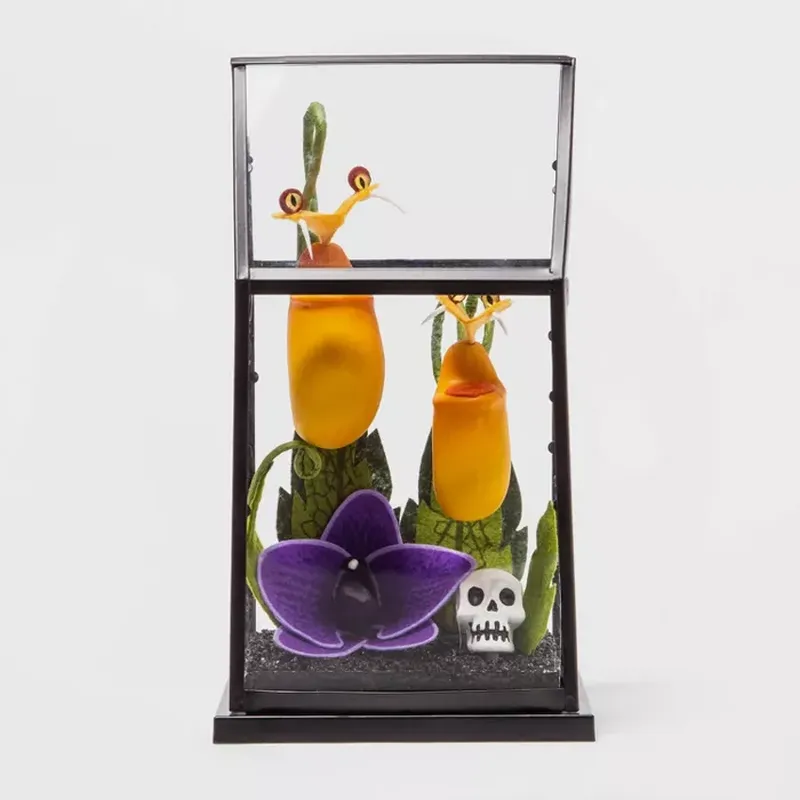 Let's be honest here, these cute little yellow faux planters aren't spooky at all, nonetheless a worth addition for homes with kids. The succulents are supported by small yellow-shaped face plants, while a skull lies at the bottom and gives it some creepiness. The faux plant lies inside a terrarium container and measures around 10.25 inches in height 5.62 inches in width and has a diameter of around 4.62 inches. This faux planter is picture-perfect in every sense and can be placed anywhere you want, on the foyer table, in the living room or on the shelf by your bed.
Buy: $20