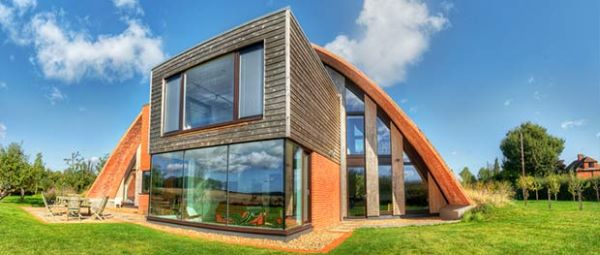 The aptly named Crossway House (by Richard Hawkes) in Staplehurst, Kent has more credentials than just its uniquely enticing form. For starters, it is England's only certified Passivhaus (or Passive House), which is one of the world's most rigorous standards for energy efficiency in buildings. This momentous accreditation was achieved in part by the conspicuously constructed archway, which plays it part in both aesthetics and practicality. According to the architect, the main design aim of the Crossway House was to bridge the gap between creativity and energy efficiency. The end result was the integration of an original arch composed of clay and green roof.
The core materials of the arch (i.e., wood and clay) were both extracted at a distance of just four miles from the building site. In this regard, the arched roof garden comprises of a whopping 100 tonnes of soil with variant types of native shrubs, while its generous dimensions read – 300 mm thick, 20 m long and 9 m high.
This effective insulation scope is further accompanied by the use of other green technology systems, like a solar plant with Phase Changing Material (PCM), a biomass boiler, gray water treatment system and rainwater collecting mechanism. The electricity usage is also taken into account with low-power consuming appliances and LED lighting.
So, what does all these efficacious design considerations achieve? Well, according to University of Cambridge (who have monitored the Cross way House for four years), the house only needs £400 (around $620) for its annual consumption of energy. This economically impressive figure is 'fueled' by the primary energy consumption of 54.59 kWh/sq m in an year, which is far lesser than the requirement of 120 kWh/sq m per year in a Passivhaus.
Cost of construction – £450,000 (around $700,000).
Via: Rinnovabili