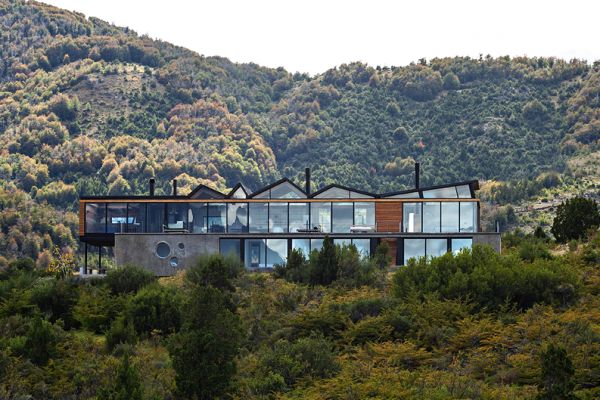 Argentina-based architectural firm Alric Galindez Arquitectos has skillfully designed the CS House with modern design in middle of the mountains of Bailoche, Argentina. The house overlooks Lake Gutierrez and surrounding landscape from ground to the gorgeous hilly skyline. Architects have beautifully camouflaged exterior of the house with surroundings, to give natural outlook to this glass building.
The house is constructed on a granite foundation with concrete and stone-like cypress boards of different lengths to compliment its foundation on which the entire structure rests. Roof of the building is designed zig-zag with stone finishing blending with the landscape. Its glass walls and windows offer a clear view of the whole mountain ranges nearby. Moreover, the attic is lined with beautiful lighting fixtures which when turned on seems like the scattering sunlight on a hill top.
Interior of the house is lined with wooden ceiling and wall frames, and white tile flooring, giving it a contemporary look. It is also decorated with modern furnishing and décor objects complimenting the colors of walls and ceiling all over. CS House has become an appealing tourist hub of the region for those who want to spend vacations in middle of peaceful natural environment away from cities.
Via: Knstrct
Images Courtesy: Albano Garcia