US-based designer Derek Taylor with the aim to bring back the culture of owning Black Forest cuckoo clocks into trend has created a wall-mounted cuckoo clock. The modernized version of clock is designed to evoke the beautiful memories of pendulum-regulated clocks that strikes the hour with a sound of common cuckoo's call.
Wall-mounted cuckoo clock, which also spells cuckoo is made from walnut veneered MDF, plywood and is fitted with quartz cuckoo clock mechanism. Powered with 2(D) batteries, the wall clock is provided with a light sensor that shuts off the cuckoo at night. If you do not want cuckoo to call out after striking an hour every time, there is a shut off button too, else there is option of changing the volume settings.
The 5 x 31 x 7.5 inches wall clock weighs only 8.5 pounds, thus making it possible for owners to hang it wherever they wish.  Priced at $600, the modernized version of cuckoo clock still sings the same tune we all have heard at our grandparent's house, while enjoying the summer holidays.
Ideal for gifting; the wall clock can be presented to someone who still loves to hear cuckoo calling out, when the clock strikes an hour.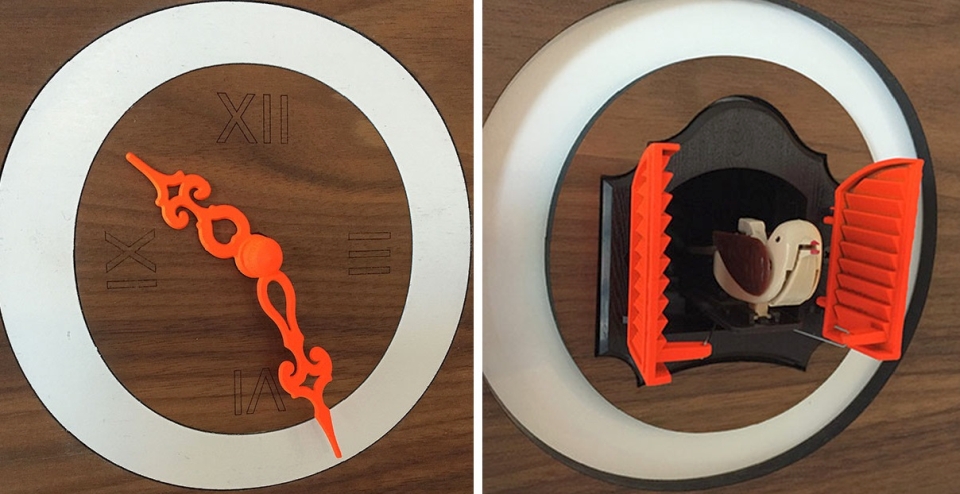 Via: DesignSpotter