For Star Wars lovers, TIE Fighter is a synonym of this epic intergalactic saga that has captured the imagination of millions. A good enough reason to derive inspiration and built TIE Fighter-inspired stuff which attracts attention. Allan Carver from Queensland, Nova Scotia, has created a four-wheeled version of the Starfighter from the Imperial Fleet.
The self-taught DIYer who apparently is a Star Wars fan since he was a kid, used Youtube to craft his skills in making of this TIE Fighter. And his 12-year-old son Kyle is the lucky one to pilot this cool ride around the block. Perhaps, another impressive dad's creation which portrays eternal father-son relation.
It comes as no surprise that Kyle's friends are blown away when they see him curled inside this TIE Fighter on the road, going at a top speed of 6 miles per hour.
Since the cockpit is too small to fit a drivable steering control, Allan made a remote control to move this thing around. Of course, that makes sense as the kid is not grown up to pilot it around without getting an adrenaline rush.
To make this electric motor powered Starfighter, Allan used wheelchair parts, steel sections and welding skills to good use. He also admitted that the greatest challenge in making this was to perfect the scale of the real TIE Fighter model.
Allan likes to call it the Giant Tie Fighter, and keeping with the Star Wars theme, it has sound effects and music track to keep things interesting.
Now that this project has grabbed attention worldwide, Alan has his eyes set on the next project that his son wants him to go for. A six to eight feet tall exoskeleton which will be nothing shy of an eye-popping attention grabber for the locals, and of course Kyle's friends who are already impressed with his dad's skills.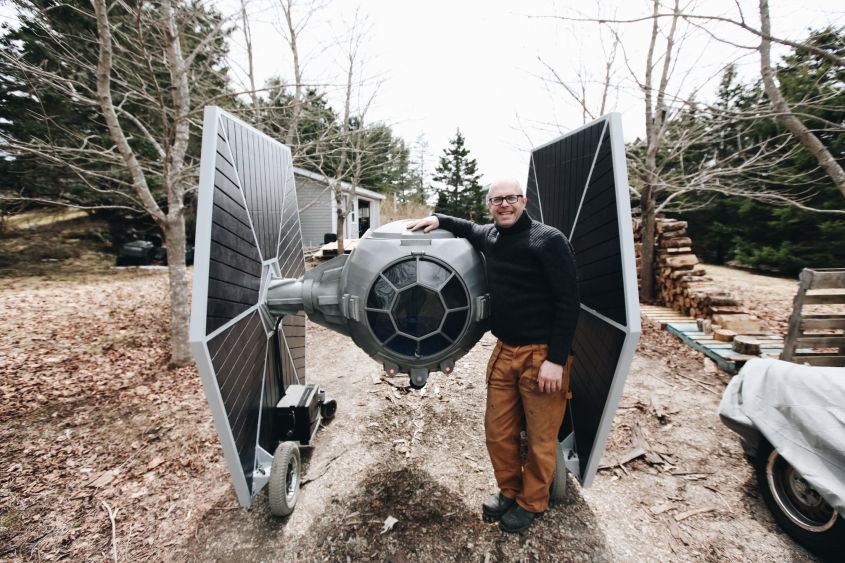 Via: Gizmodo