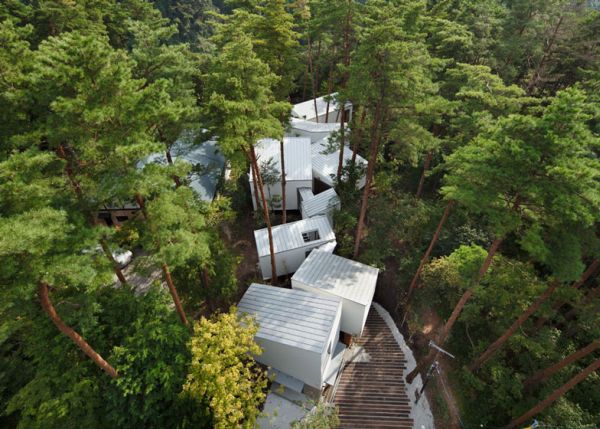 When it comes to architectural residences in forested sites, the general trend is to fell some trees for the core structure of the project. However, architect Keisuke Kawaguchi has taken the bolder and more conscientious route by creating the Daisen residence along the trees (in Tottori prefecture, Japan). Built in the space around some closely set trees, the elongated plan of the house strategically follows the slightly zig-zag shaped gap. This fascinating scope endows an asymmetrical pattern to the house form, thus enhancing its overall structural uniqueness.
Since we are talking about forms, the 'meandering' Daisen comprises of smaller containers that fit in the small open space between the trees. These container blocks are in turn connected by smaller passages, much like the circulation pattern of passenger trains. In fact, this unobtrusive ambit is what makes the Daisen residence so 'naturally' special, with the architect reflecting on the trees as 'the legitimate inhabitants of the forest'.
The designers also had to think about the heavy snowfall (average – 7 ft of snow) encountered in this forested site during the winter months. And, as a simple yet ingenious solution, the Daisen residence was built upon a raised platform supported by solid concrete pedestals. This arrangement not only mitigates the harmful effects of snow, but also provides a greater degree of ventilation with the house being situated atop a slightly elevated plane.
Al images are courtesy of Koji Fujii.
Via: Spoon-Tamago