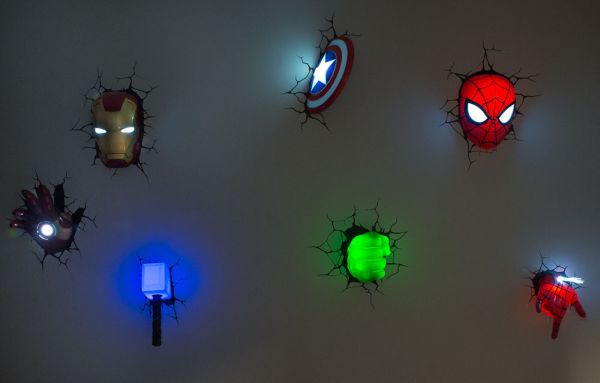 3D Light FX has launched amazing 3D Marvel superhero nightlights which your kids will surely love. These nightlights can be used to make your kids way at night from bedroom to bathroom, kitchen or any other room within the house. You can choose any superhero nightlight including Captain America's Shield, Hulk Fist, Iron Man Mask, Iron Man Hand, Spiderman Hand, Spiderman Mask or Thor Hammer. These lights come with a background sticker which makes it look as if it is smashed into the wall.
3D Marvel Superhero nightlights can easily be mounted on a wall in your kid's room with the help of two wall plugs and screws. These lighting fixtures are made of plastic and LED, which don't get hot or melted even after lighting up for too long. So, your kids will not burn their fingers on touching these glowing lights. Each light measures 10 x 7 x 5-inches and require three AA alkaline batteries to glow; batteries are not included with the light.
These battery-powered nightlights can light-up your kid's room in case of a power cut. The 3D superhero lights will let your children sleep better, thinking that their superhero is watching them during dark hours. These are available in stores as well as online for US $29.99.
Via: ThinkGeek