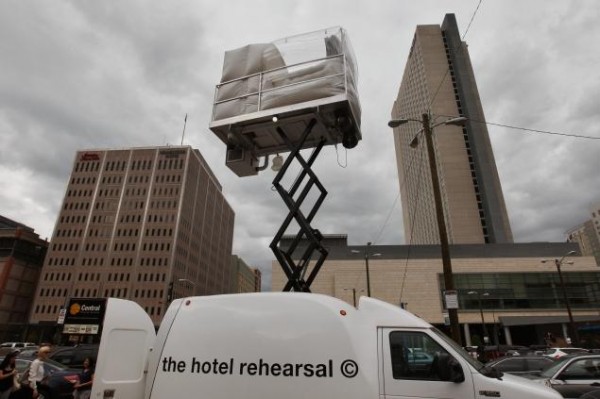 Pop-up hotels seem to be the hospitality craze these days. First, it was Belgium's Tender2 beach hotel; and now we have come across Denver's very own pop-up hotel that rises 22 feet up in the air. Christened as the 'Hotel Rehearsal', the conception from Curtis hotel basically entails a single 5ft by 7ft aluminum-vinyl room (with an inflatable bed, shower and sink) carried atop a van. This room is projected high into the air supported by scissor lifts, for that otherworldly, solitary experience with gorgeous views of the cityscape. Now, all of these may seem to be quite fun, until you know the rate of the room for each night. Well, the figure reads – $50,000 per night.
Of course, in defense of the Hotel Rehearsal, the cost doesn't only entail staying in the small living quarter. In fact, it includes a whole 'The Lloyd in the Sky with Diamonds' package. This 60's themed package does involve a myriad of whimsical features, like the customer being picked up from the airport in a limousine that is prodigiously stocked with cocktails, while he/she is accompanied by impersonators (impersonating famous 60's celebrities like Sunny and Cher). The next stop is a brunch with one of your friends at The Corner Office Restaurant & Martini Bar. The guests can also opt for an entire afternoon of shopping with a professional shopper at their side.
To seriously up the ante, the guests are allowed to throw a 60's themed party in the Curtis hotel's very own ball room. And, on returning to the 'Hotel Rehearsal', the customer will be provided with Swarovski binoculars and Tiffany's diamond pendant and earring set (of course, temporarily). And, finally to keep up the goodwill, they will be given two iPods filled with 60's music to take back home. So, at the end of the day, this is what Flower Power is about!