Is it some form of a boisterous allusion to DIY conceptions, or is it just cool for its own sake? Well, you are free to take your pick. However, this lamp design surely tickles our fancy with the ingenious use of the power tool as the support. Contrived by Aaron Jarry of JEngineering, the remarkable product line is christened as the Air Tool Lamps.
Firstly, we should dutifully get this doubt out of the way: those power tools are not replicas. In fact, they are real (but decommissioned) Bostitch pneumatic nail guns, including the air hose which deftly hides those ugly paraphernalia of cords and wires. Of course, the internal components of the nail guns have been removed to make room for the lamp parts. So, from the safety perspective, you wouldn't need to worry about your lamp shooting nails accidentally.
Now coming to the structural attributes, this nail gun cum lamp support is fixed to an oak base with an ebony stain. This wooden base is further supported by four rubber feet that give extra grip to the lamp, to improve upon its free-standing nature. Finally, the conception is furnished with a 'macho' looking black lampshade (with a detachable lamp shade harp) that diffuses enough light for your basement workshops and DIY workstations.
Dimensions: 11.5-inch x 6-inch x 21-inch
Price: Three different models available in a range of $185 to $200.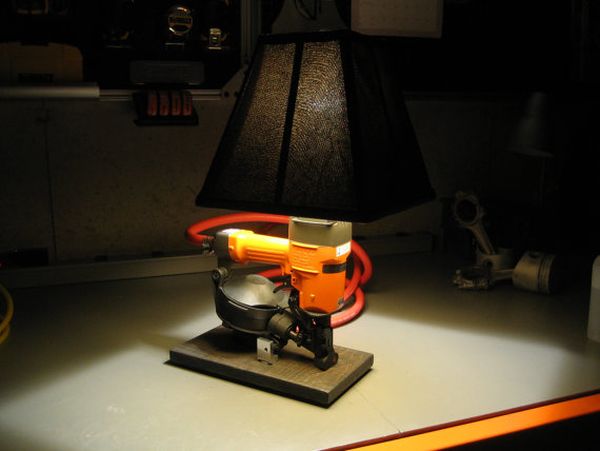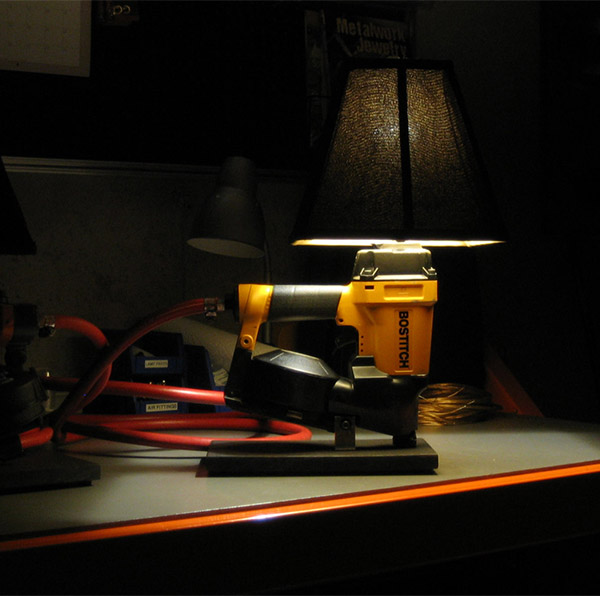 Via: Technabob