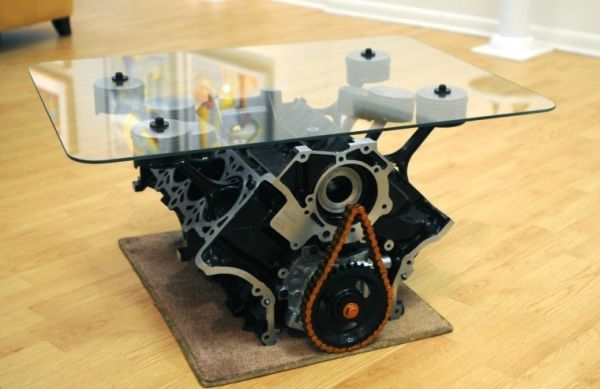 Auto enthusiasts, gather around and ask yourselves; how can a coffee table get more 'bad ass' than the above pictured contraption? We can also go for some 'refined' adjectives like boisterous, intense and classy in describing this coffee table made from a real life 4.6L Mustang engine.
Crafted by Gregory Melartin (who goes by his designer pseudonym of Gregs Garage), the creator is known for his specialization in handmade furniture items like tables, lamps, clocks and even those bantam door knockers. As a matter of fact, he already mentions that his customized creations either utilize salvaged parts from other designs (as is the case with the Mustang Coffee Table), or are inspired from the user's favorite conceptions. In regard to the second point, do check out the Batman inspired display piece.
Coming back to the Mustang Coffee Table, the slightly rectangular table has dimensions of: 24-inch X 32-inch x 15-inch. And, as expected, you do have to pay a hefty sum to include this furniture piece as a part of your collector's items. Of course, costs vary widely due to usage of individual parts, and hence the price range of this conception is between $1,500 – $2,000.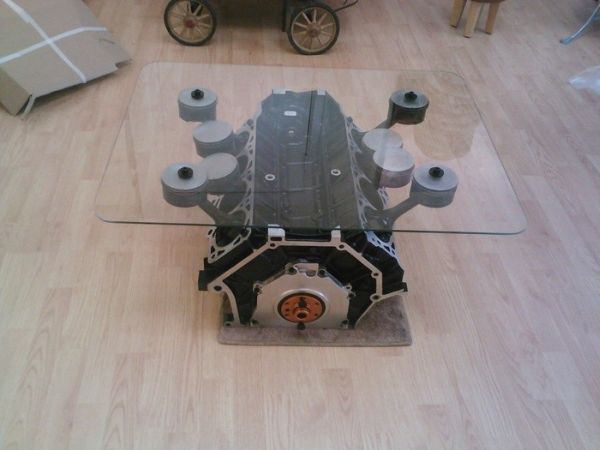 Via: CustomMade