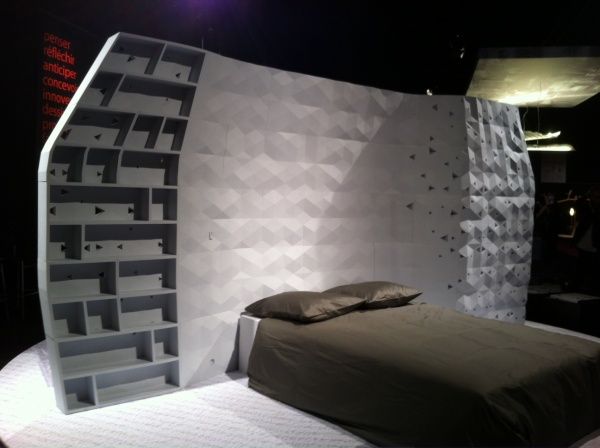 A few days ago we came across the DIY 3D printed shower head, which aptly demonstrated the practicality of additive manufacturing. And, now designer François Brument in collaboration with Sonia Laugier has decided to showcase the 'power' of 3D printing in real time spatial organizations. For this the designers digitally created the 'Habitat imprimé' project, which basically translates to a 'printed living space'.
The project entailed a real model of a bedroom with integrated shower and a walk-in closet. Aiming to prove that a full fledged living arrangement can be integrated into a tiny 15 sq m space, it is the element collective design that governs the compact yet flexible attributes of the Habitat imprimé. In this regard, the living space is defined in an unorthodox manner with fluidity of the circulation patterns. For example, the shelves and other structural entities are flexibly printed on the walls, thus exhibiting their openness of usage. This design consideration in turn traverses the boundaries set by traditional spaces, where beds are kept separately from shelves and bathrooms.
Of course, the inherent openness can also serve as a psychological predicament to many conventional users. There is a good reason why most architectural designs keep that segregation of spaces, where bathrooms don't converge on bedrooms. However, the Habitat imprimé does prove its core point, by aptly showcasing the practicality of 3D printing even in the expansive scope of architecture.
Via: AdaFruit