The making of DIAMAS tumbler requires subtle precision and skilled hands while recognizing the science behind the craft. The shape of the glass affects the taste and smell of the drink, while the design of the vessel intensifies the vapors toward the rim so you can enjoy the aromas and undertones of the whiskey. Diamas is an industry-first drinking glass that utilizes the 5 convex design dual cooling technology with an innovative hybrid design to facilitate any drinking style – be it served neat, chilled neat, nosing/tasting, on the rocks, or as a cocktail. It is one glass that truly fits all solutions.
Featuring a handcrafted 12-sided cooling stone, the Diamas whiskey glass takes the pleasure of drinking to a whole other level. The cooling stone in the glassware ensures an unparalleled cooling performance with a stunning ergonomic shape that redefines both style and function. It is inspired by the mysterious Roman shape known as the dodecahedron.
The Diamas Tumbler offers two significant benefits that many drinking glasses fall short of. One is cooling without dilution in 15 seconds quicker and faster than its counterparts. Second is elevating the surface-to-air ratio, which accelerates oxidation and ethanol evaporation to ameliorate whiskey and fine spirit favors when nosing. Its 5 convex design works as the internal structure disperses molecules when you swirl your drink, increasing oxidation to allow you to savor every nuance of every fine spirit.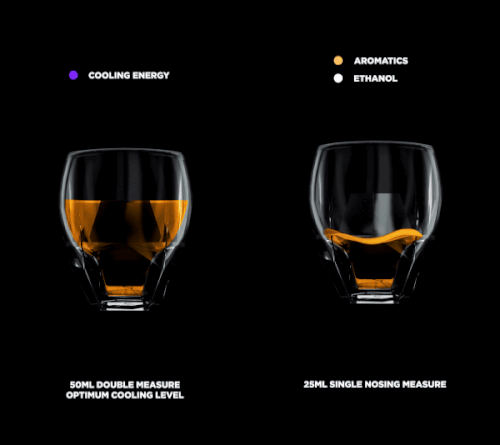 Imagine sipping your favorite poison in the Diamas tumbler as the swirling notes of the spirit explode in your senses while the enhanced flavors keep you entertained. This is an exquisite drinking vessel that will revolutionize the world of whiskey and fine spirits.
Also Read: The Stylish Whiskey Glass Chills Down Drinks in Just 18 Seconds
The sensuous design of the Diamas tumbler is crafted through the merging of scientific law, fluid dynamics, and ancient geometry. Meanwhile, the 5 convex internal structure is specially crafted to enhance the distribution of the spirit compounds and chill the liquor evenly in under 15 seconds without diluting the drink.
The Diamas tumbler's full potential can be unlocked by charging it in the freezer for 2-3 hours. You then only need to pour 50 ml of liquid on the cold granite stone for optimal results. Thanks to its innovative shape and features, the Diamas whiskey glass is sure to become the top of the town upon its launch. You can sign up here to secure your exclusive discount and lifetime rewards.
Darryl McNally, the top Irish Master Distiller, says, "definitely a marked difference, I think you're really onto something pretty special here."