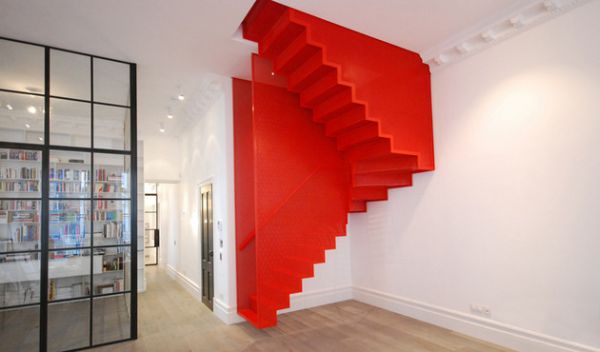 Optical illusion, art and a general sense of classiness – all make their appearance in the above pictured Steel Suspended Staircase by Diapo. Inspired by an original art-piece at the Tate Modern Gallery designed by Do Ho Suh, this installation according to the creators serves as a sculptural item and a functional staircase. And, it seriously tickles our fancy with its vibrantly red color scheme which is aesthetically complemented with a see-through gauzy balustrade and a thin profile of deftly arranged continuous steps. The superimposition of all these features creates a remarkable ambit that is not only visually enticing but is also compelling enough to give a twist to the presumed 'laws of physics'.
In terms of design, the Steel Suspended Staircase was constructed for a split-level property. Hence, it offers practical access from the ground floor to the first floor, and that too with inconspicuous supports that give us the illusion of the staircase being suspended in air. For this unique arrangement, the designers chose perforated steel mesh as the core material (with its light-weight and sturdy nature). The perforations would also serve aesthetically as see-through facades that accentuate upon the degree of translucency.
And, since we have brought up accentuation, the cadmium red color composition further improves this scope of structural rhythm. In fact, in many ways, the perceived richness of the color endows both depth and dimension to the Steel Suspended Staircase. So, at the end of the day, designs such as these prove that even mundane staircases can pose as magnificent decor items for your living rooms.
Via: Diapo