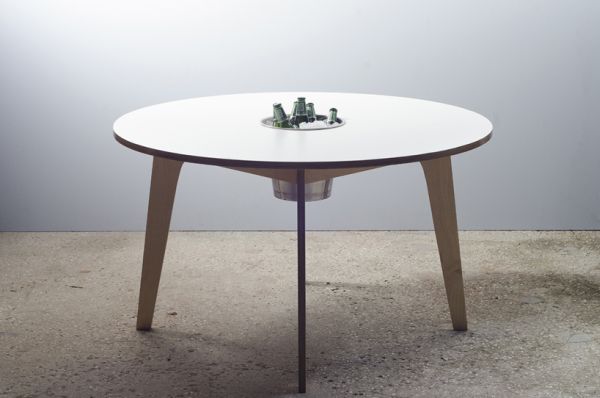 This circular table pictured above is dubbed as the Dine Table and is beautifully and intelligently created by a freelance Portuguese designer Miguel Mestre. The center of the table includes a space for inserting an ice bucket. Although this addition of an ice bucket is not a huge development in the evolution of a table, but it certainly is a harmless detail that distinguishes the Dine Table from the rest.
Miguel has tried to "create a relaxed and friendly environment for people to hang out" by designing the Dine Table.  At your home this table can serve as a regular dining table where you can dine with your family and it can also let you host a dinner party with the ice bucket in the middle holding chilled beer bottles. The built in ice bucket and the simple neutral wood design makes the Dine Table just perfect for different occasions and locations. This can be added to modern restaurants, hotels, clubs or any other commercial establishment where a cool and relaxing environment  is to be established.
Sturdy plywood and white lacquered table top make the Dine Table a simple yet attractive furniture piece that is durable and long lasting. The table measures 130cm x 75cm and is suitable for indoor locations and outdoor gardens or patios as well.  This marvelous table provides a relaxing and inviting atmosphere for people to enjoy their meal and a few chilled drinks with their family or friends. The ice bucket in the center allows an easy access to the chilled beverage for everyone sitting around the table. Since the ice bucket can be easily removed, it makes it easy to renew the ice, and the removable cork at the bucket's end allows the water from it to be drained and used for other purposes.
Via: Designboom