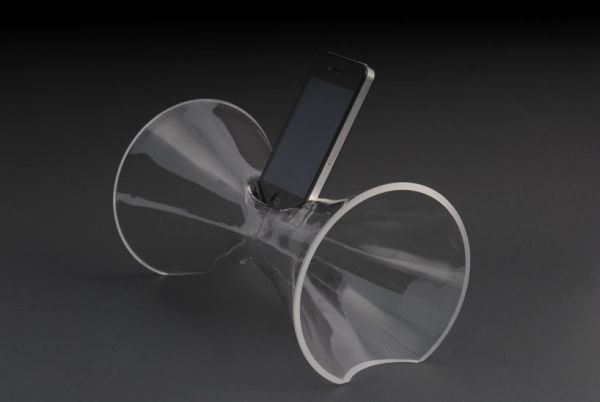 If you own an iPhone 4 or upwards, then My Phone Amp offers a way to display it.  Not only does this fabulous iPhone sound amplifier showcase your smartphone in an astounding way, but also amplifies the sound from your iPhone's built in speaker. This amplifier is completely designed in glass and it makes use of no wires or volume button to enhance the sound.
My Phone Amp is a brainchild of New York-based glass artist, Aric Snee. This acoustic iPhone speaker multiplies the volume of the built in speakers of your iPhone and also serves as a freestanding stable viewing stand for your device, providing accessibility to its home buttons without any hindrance while positioning the screen at the desired angle. Snee has made use of centuries old tradition of glassblowing to handcraft this minimalist design. He precisely shapes the blown molten glass into sound amplifying curves using wooden tongs.
Since, you can place the Phone Amp on the night stand, in the kitchen or bedroom or just about anywhere your music takes you, the gorgeous amplifier is the most elegant way to display your iPhone. This striking piece just wraps the room in the sound of your favorite tracks. My Phone Amp is available for a price of $325 at the artist's online store.
Via: Gizmodo