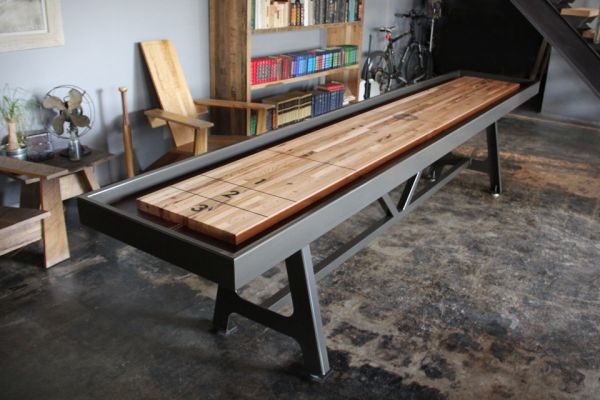 Conventional table shuffleboards may have puerile ways of matching up with the decor of regular frat houses. However, the above pictured District MFG Shuffleboard traverses this 'uninspired' scope with its blatant industrial look that aptly complements the solid construction. The robust aesthetics of the high quality steel-made conception are achieved by some deft design techniques with handcrafted credentials like – stitched leather gutters (dyed variety) and a powder-coated frame. There is also a conscientious, upcycled side to the whole affair with those shuffleboards actually made from reclaimed oak tops.
So, in essence, the stylish District MFG Shuffleboard is not just a leisure device but rather a full fledged decor piece for your house's living room or basement. Of course, that doesn't mean the 'gaming attributes' of the table have been sacrificed for all the visual and structural glory. In fact, the set comes with weights and powdered wax for launching your pucks in blistering speeds.
And, moreover given the table's sturdy attributes, we daresay the expansive District MFG Shuffleboard can be used for other rigorous activities including indoor banquets and enactments of the Last Supper. As for its pricing, the tag reads a figure of $4,500, which is a bit on the heftier side. But then again, nobody claimed – awesomeness comes cheap!
Dimensions – Width: 28″ x Height: 32″
For more details, please check out the product's home page.
Via: DistrictMFG