Are you tired of looking at the same old furniture, décor, and bedding? Why not spice up your life by making a few small changes to your bedroom? Your bedroom is a place of relaxation and every aspect of it should ooze comfort, including the design layout. If the current setting feels a bit kitsch, then it's time to change a few things. Give your bedroom a stylish DIY makeover with creative ideas and you will never want to leave it.
While many people seek the help of professional designers to spruce things up, we are here to tell you that you can accomplish this task on your own without burning a hole in your pocket. There are several options you can use to revamp your bedroom for a refreshing look and feel.
The following ideas and inspirations will give you quick and relatively inexpensive concepts to create a new sleeping space that soothes your inner self. Homecrux says, step back, plan the process, and let your imagination guide you. But only attempt one project at a time, so you don't get overwhelmed. Have fun!
Introduce a splash of new paint
If you want to make a quick and dramatic change to your bedroom, try a splat of new paint. Walls are a significant feature of your room and a fresh coat of color can create a beautiful and soothing backdrop with proper execution. The color palette contains countless shades; you need to think about what kind of vibe you want to introduce in your bedroom through different colors and pick accordingly.
Pastel and neutral colors can create a warm, welcoming ambiance, and help you relax and ultimately fall asleep faster. If you are aiming for a little bit of pizzazz, an accent wall should do the trick. An accent wall is an interior wall with a different design or color from that of the other walls in the room. They are usually a bold color that helps a piece of furniture, like a bed, stand out.
You can even change the color of your ceiling to give it a more profound character. Pantone Color of the Year 2022, Very Peri is a hot and trending shade for interior design, give it a whirl.
Note: Dark colors can make the room look a bit stuffy, so it's better to use light, soft tones to liven up the walls.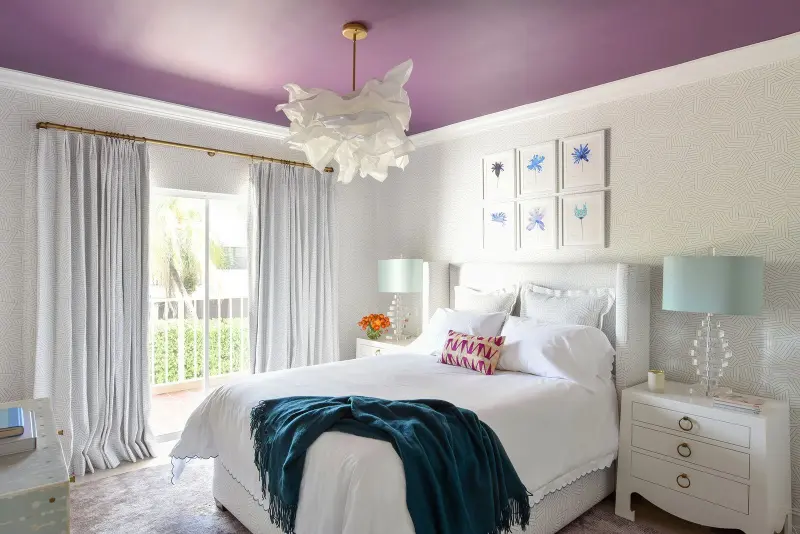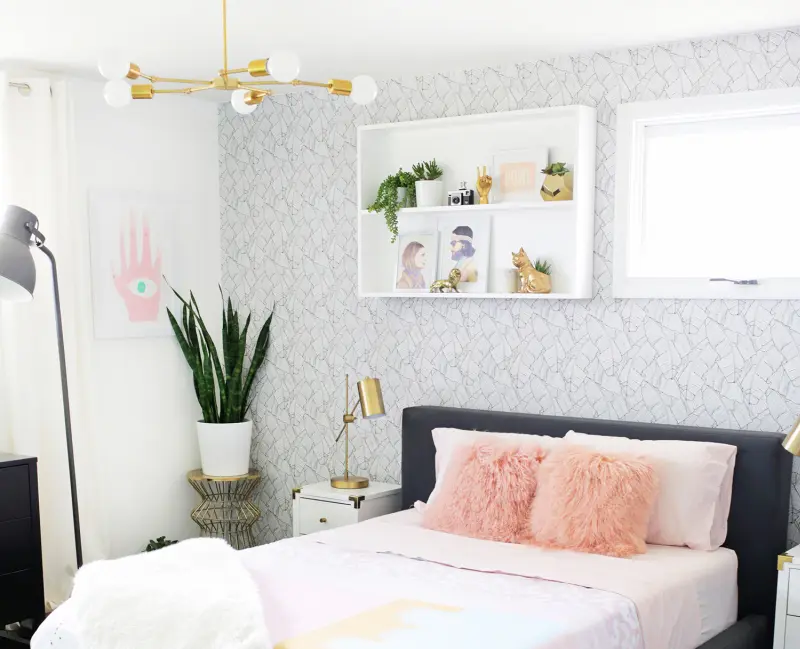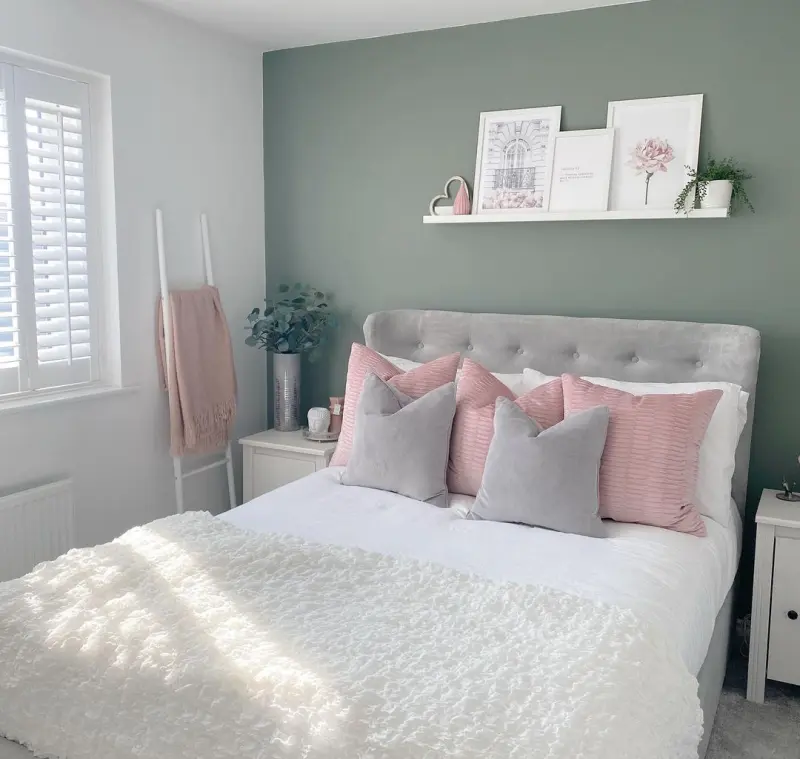 Update the lighting fixtures
One of the most important yet the most ignored aspects of your bedroom is the lighting. Once we finish furnishing a room, we hardly ever make any changes in the lighting, except for maybe changing a defective bulb.
There are so many ways you can use lights to dazzle up your bedroom to make it more appealing and comfortable. With a wide variety of designs, you can use lamps and sconces for illumination as well as decoration.
You can switch the boring old ceiling fixture for something spectacular, such as a custom-made chandelier or pendant lights. Wall sconces, table lamps, or reading lamps are another way to go and transform your bedroom without making a dent in your finances.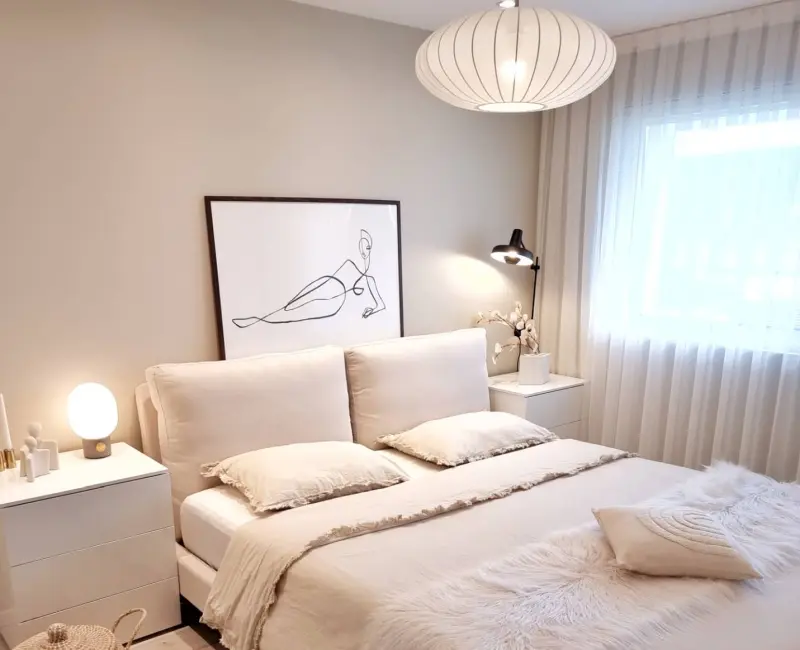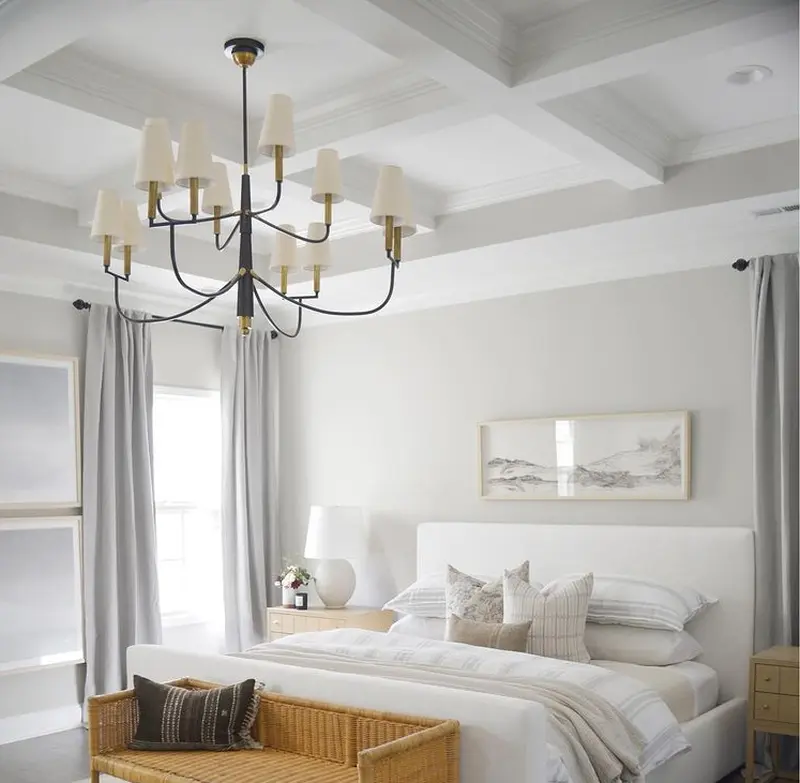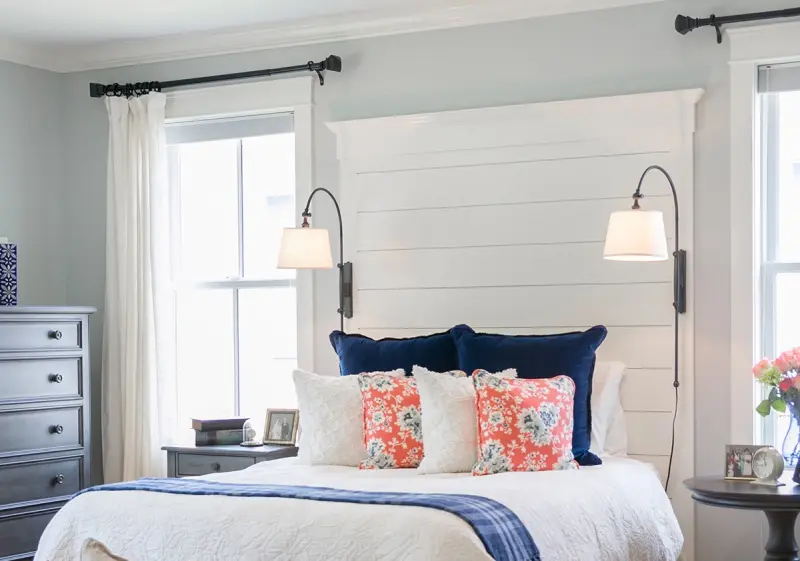 Shuffle the furniture
The layout of your room can get a bit dull after a few months, which is why reshuffling the furniture is a brilliant idea. Rearranging furniture is another cheap and simple fix, but the possibilities are endless.
Make a plan ahead, so you don't get overwhelmed and confused while doing the task. A good suggestion is to use graph paper to draw out the square footage you will be working with and draw your furniture pieces into the picture to ensure it makes sense before the heavy lifting.
If the bed is in the middle of the room, you can place it in a corner to free up more floor area. Rearrange the chairs and side tables around the room to create a more ergonomic pattern. Remember, there is no right or wrong way to arrange bedroom furniture, so be creative and let your imagination run wild.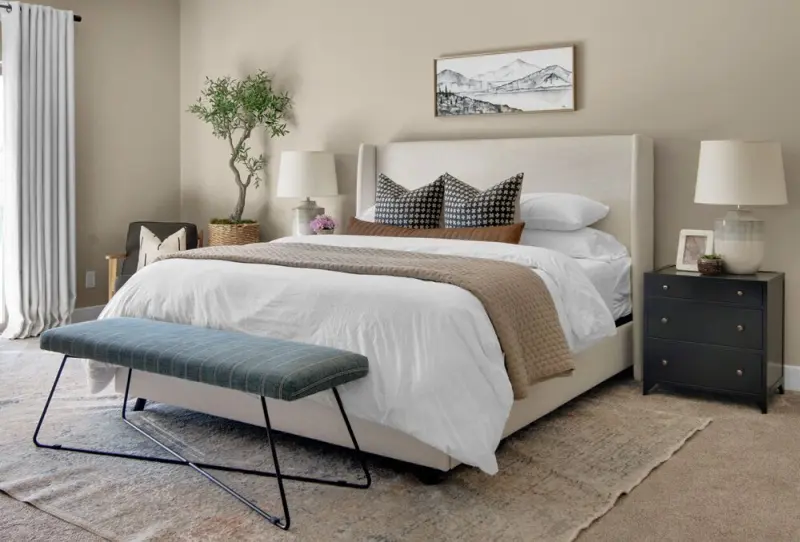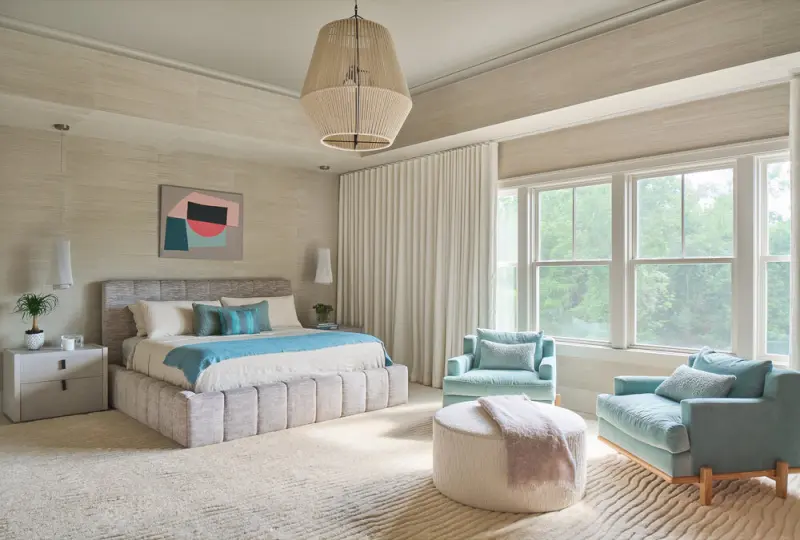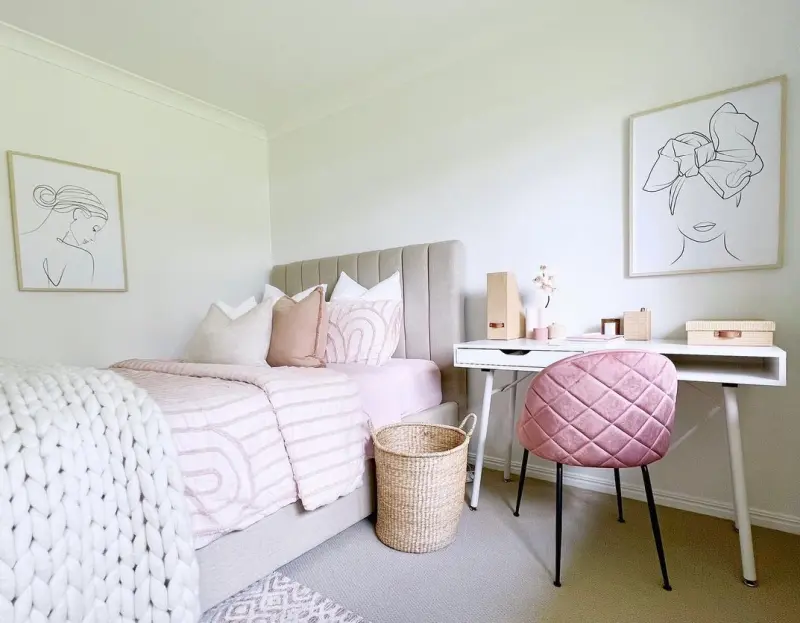 Update your bed and linen
Okay, so you have a great new paint job and furniture arrangement, but something is still amiss. Chances are, it might be your bed and old linen. Your bed is your haven; it should be comfortable and inviting. You can get a new bed and bedding to change things up.
Take your time to research and buy new bedding; the idea of crawling into a brand new bed with fresh sheets is pure bliss. You can swap your boring old bed for a wrought iron bed, storage bed frame, or canopy bed; choices are endless.
You can purchase new sheets and duvet covers for increased comfort. Be creative and have fun. Moreover, bed linens are super easy to switch out, even several times a year, to keep the new feeling in your bedroom alive.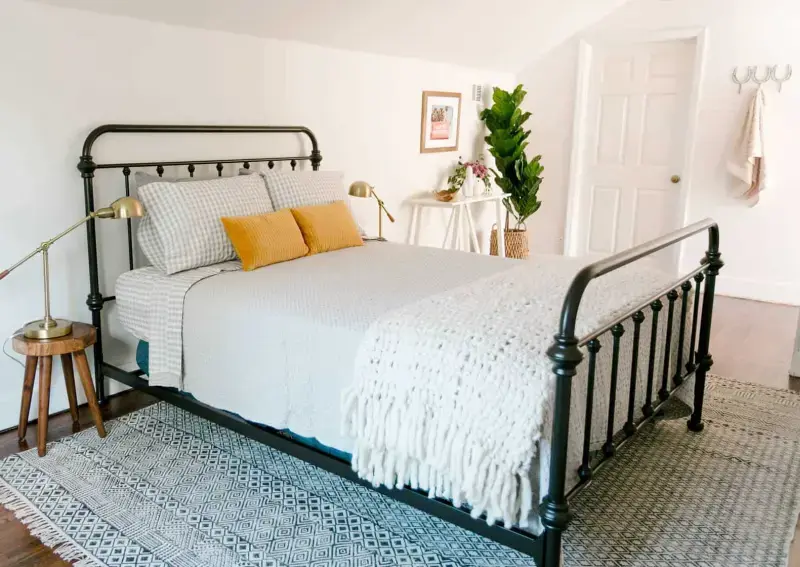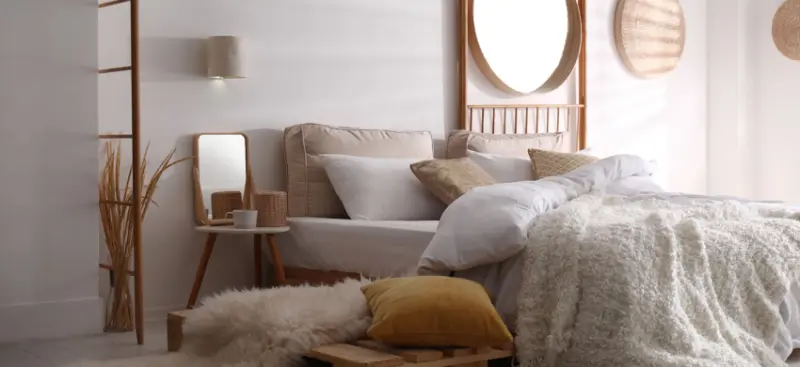 Make a new headboard
If you are looking to transform your bed, a stylish headboard is one of the ways to do it. A dreamy headboard can lend a stylish charm to your yawn-producing bedroom, making it the pleasant sanctuary that it is supposed to be.
A popular and inexpensive idea is to create a DIY headboard. There are several options, ideas, and plans that can be found with a quick search to inspire and motivate you for the task. Most of these ideas can be executed over one weekend without much fuss.
Adding a new headboard can liven up your room and make it feel like you have purchased a brand-new bed with only about a third of the cost. It will give your bedroom a distinct character and you will feel like royalty sleeping in a bed with a gorgeous headboard.
Tip: If you don't know what to do, fasten pillows to the wall to make a quaint headboard as shown in the following picture.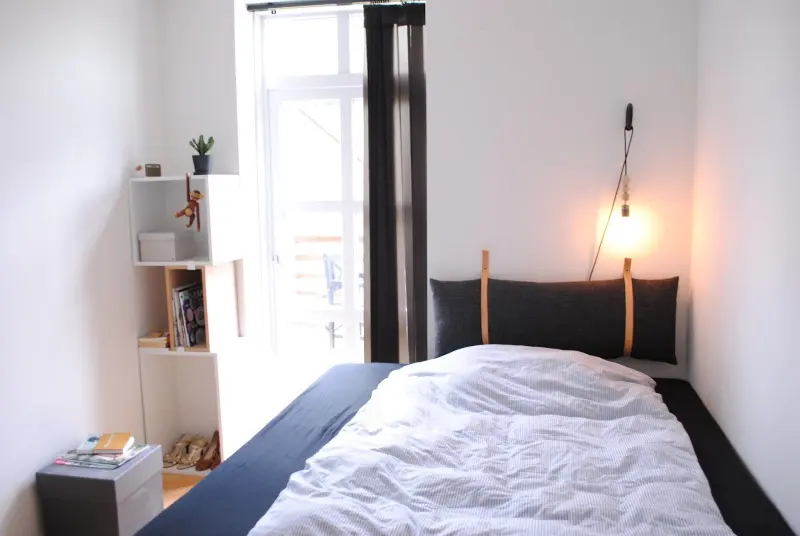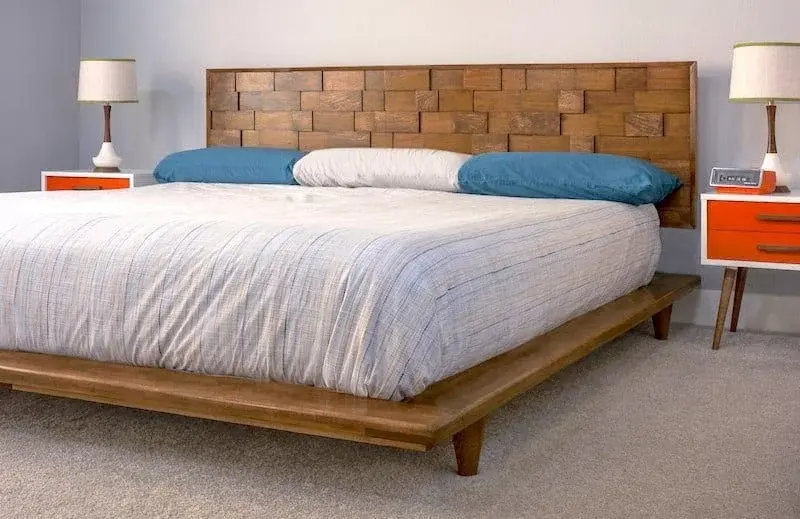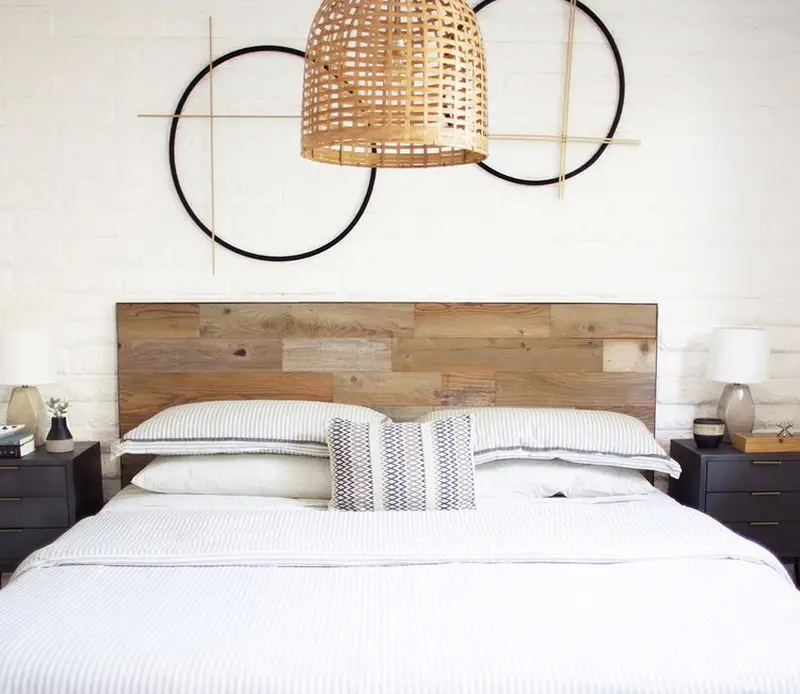 Introduce biophilic design
People find calm and a sense of belonging with their houseplants. It is one of the leading ways to jazz things up a little in your bedroom. Representing the human desire to connect with nature through plants, biophilic design will support your cognitive function, physical health, and psychological well-being.
Indoor plants have a calming effect and can offer a fresh breath of air in your room, literally! Moreover, plants can be used as decorative pieces as well.
Real plants are highly recommended over fake ones because they do not collect nearly the amount of dust as fake ones. Adding a plant to your bedroom will also mean extra oxygen and fresh air. But remember that plants require plenty of sunlight and water and of course, love.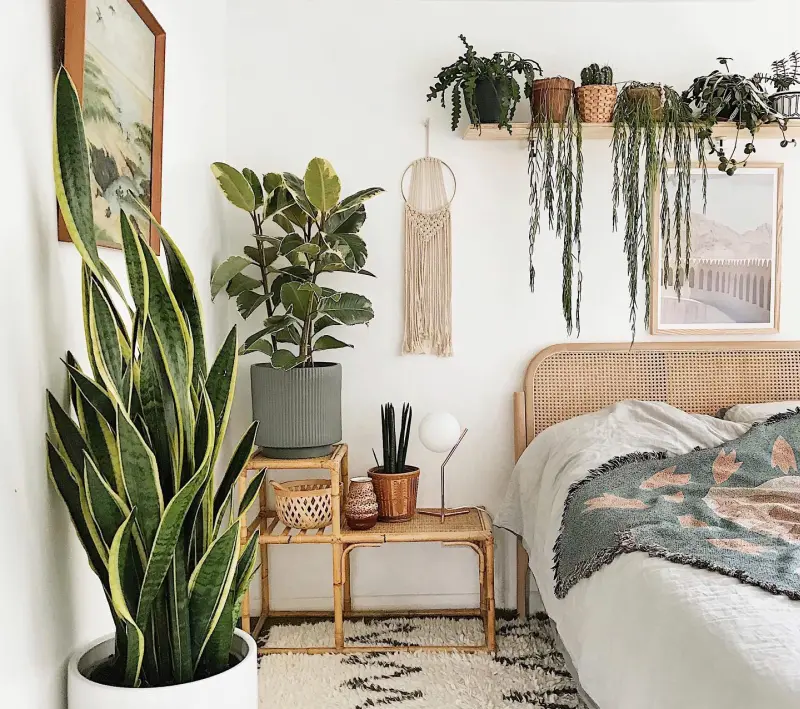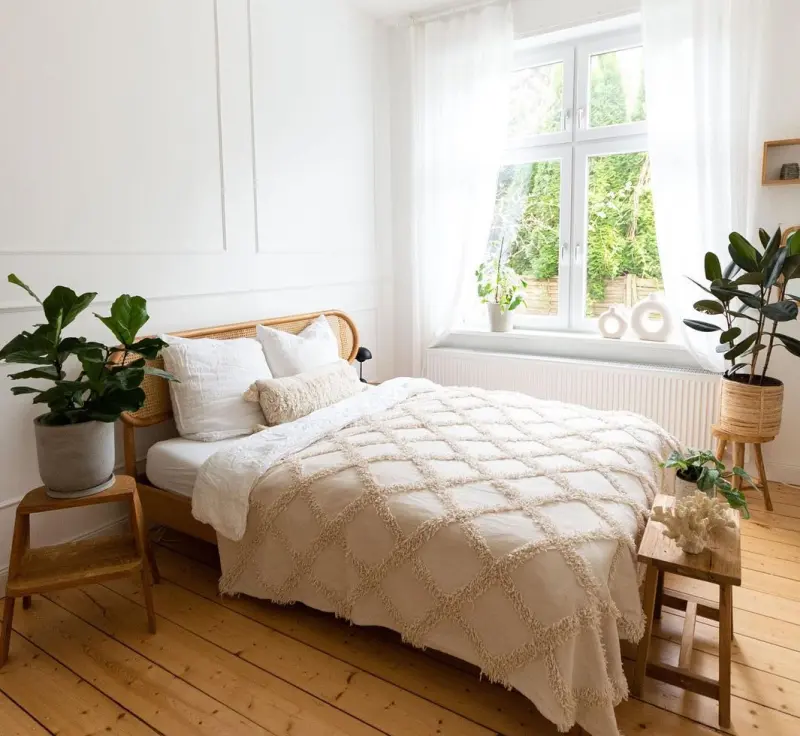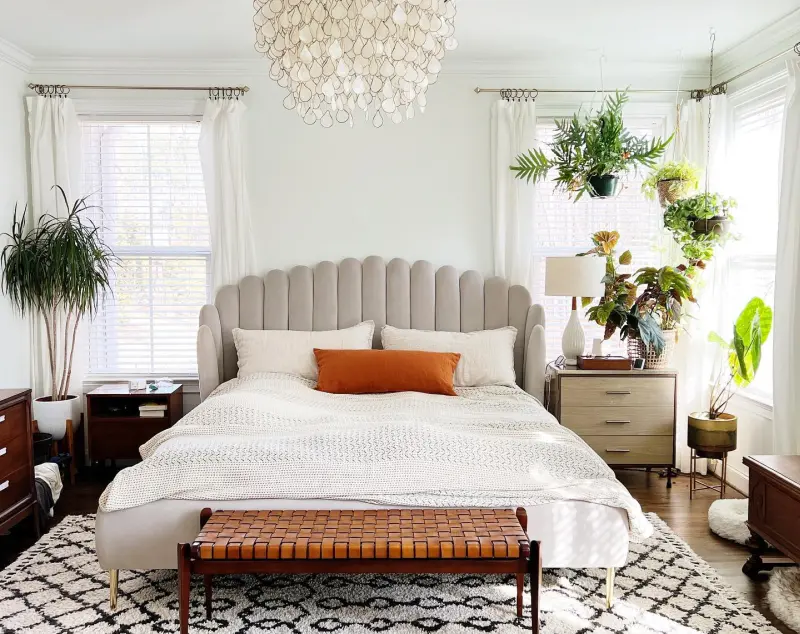 Add patterns and textures
Textures and patterns can introduce a certain depth and character to your bedroom, creating a more pleasing space for you to relax in. You can add throw pillows and blankets, rugs, and different natural materials for exquisite quality.
Additionally, a posh rug can bring warmth and texture to the floor. You can layer multiple rugs in one space for added pattern, luxurious textures, and visual appeal.
Another great decoration idea for a bedroom is a beautifully accented pillow. Buying an accent pillow is a quick and inexpensive way to dress up your bed linen and help make a room pop.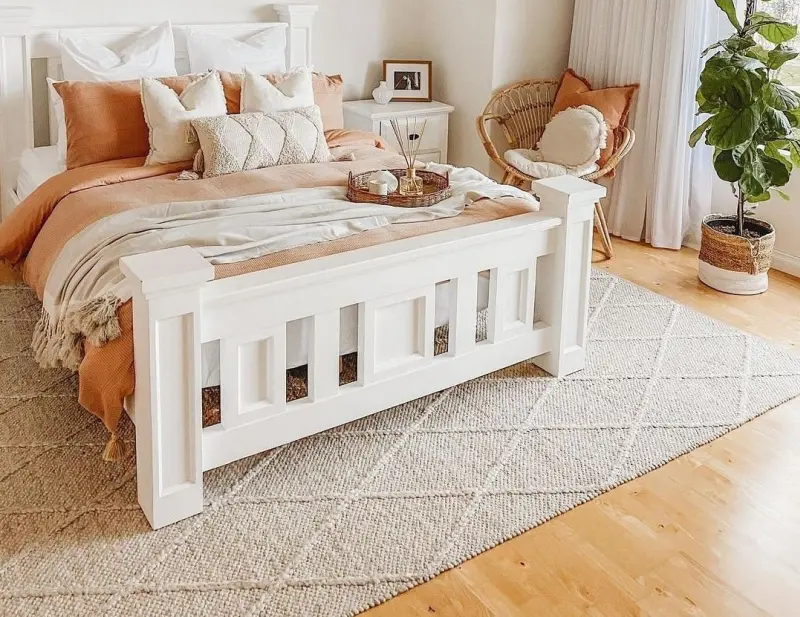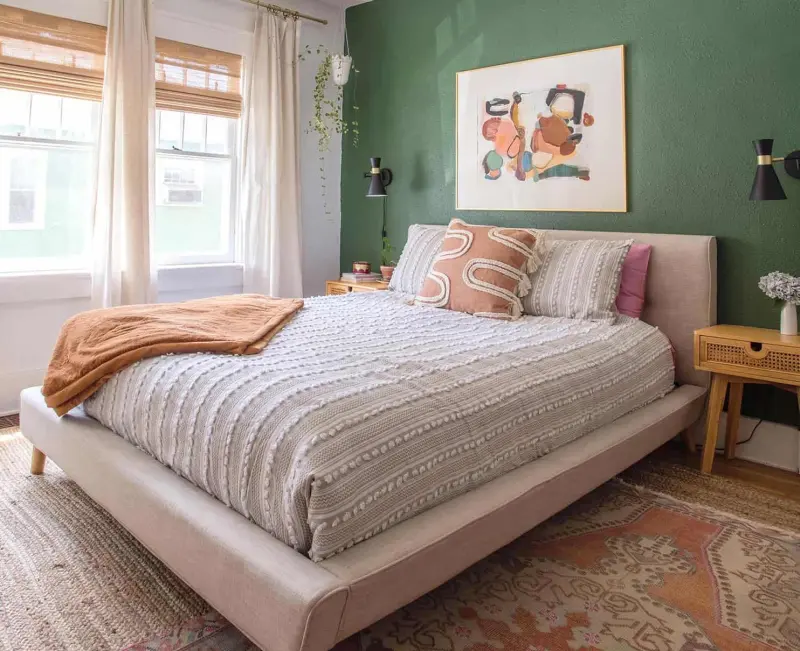 Use vertical space deftly
When you have run smack-dab out of room for all of your precious bedroom items, go vertical by adding shelves to bedroom nooks that are otherwise not used. This will allow some flexibility over how and where you store your belongings.
Another great benefit of vertical storage is that it can help you get rid of some of the clutter in your room. It will also offer a décor element and raise the style quotient of the layout. You can add shelves, use ladders creatively, or plant a vertical garden for enhanced aesthetics.
You can also use your vertical spaces to display various kinds of wall art. Wall art does not mean only paintings, it can be your photographs, prints, or tapestry. Anything that speaks to your heart and complements the décor of your bedroom can be used as wall art.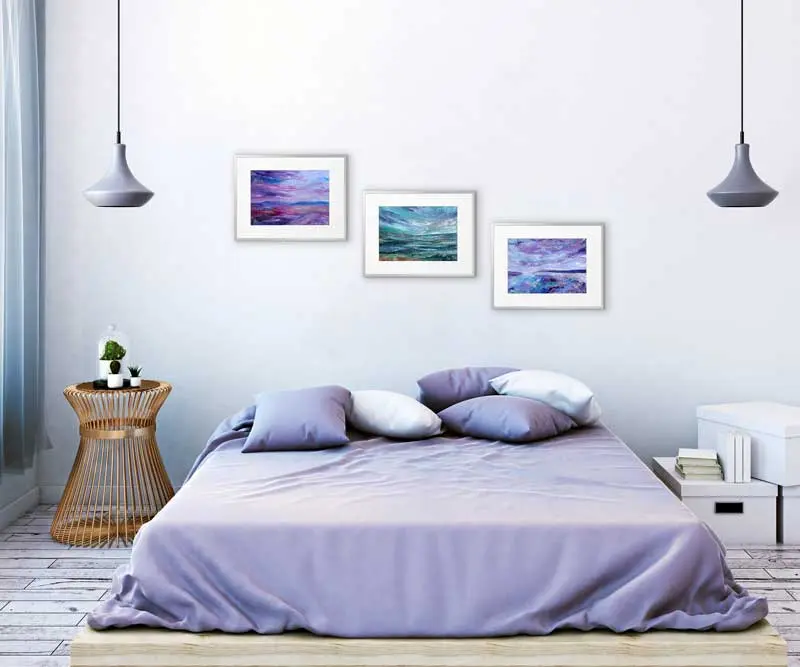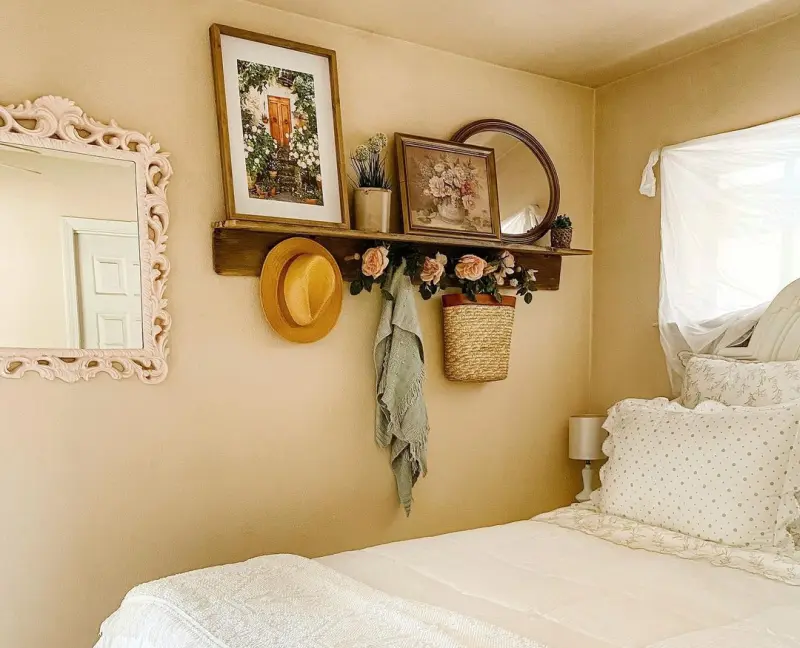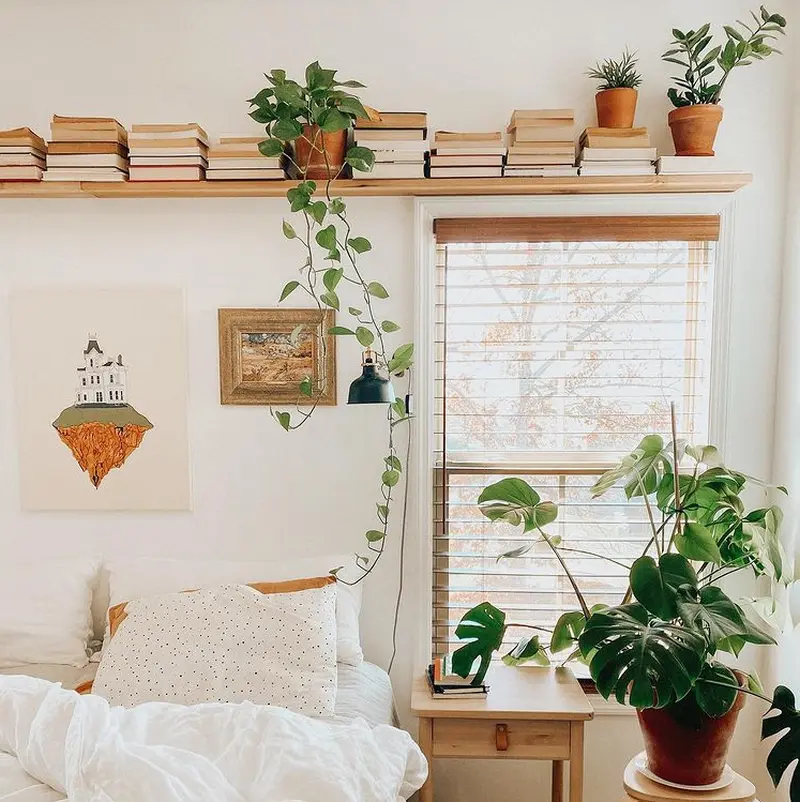 Scent-scape
Are you aware that you can use scents as an interior design trend? Well, scent-scaping has emerged as a hot new trend in the past couple of years and can change the entire vibe in your bedroom. You can introduce personalized fragrances to transform a space.
You can use scented candles, reed diffusers, incenses, and flowers to liven up a dull room. One of the great spots for placing a diffuser is near a door, ensuring that the sweet odor will be picked up as soon as you enter, refreshing the mood.
If you are choosing candles, you can opt for vanilla and jasmine notes that are easy on the nose. Lavender is known for encouraging rest and aiding sleep, making it a good option for the bedroom.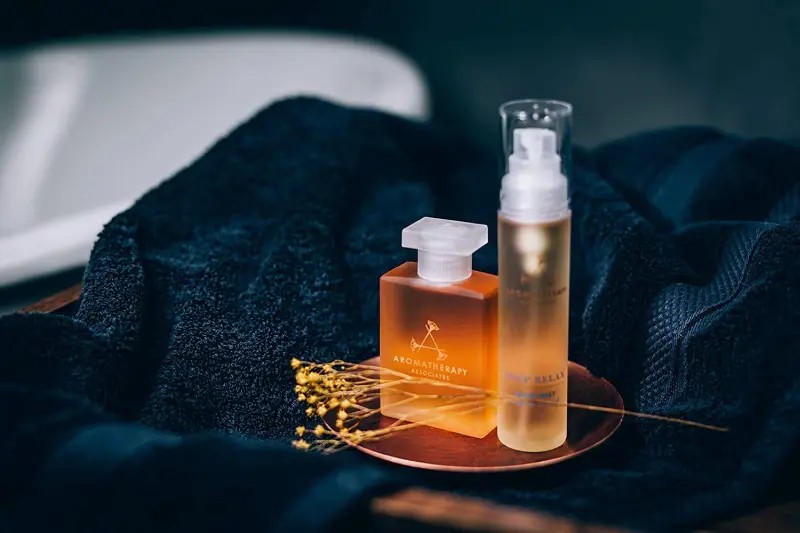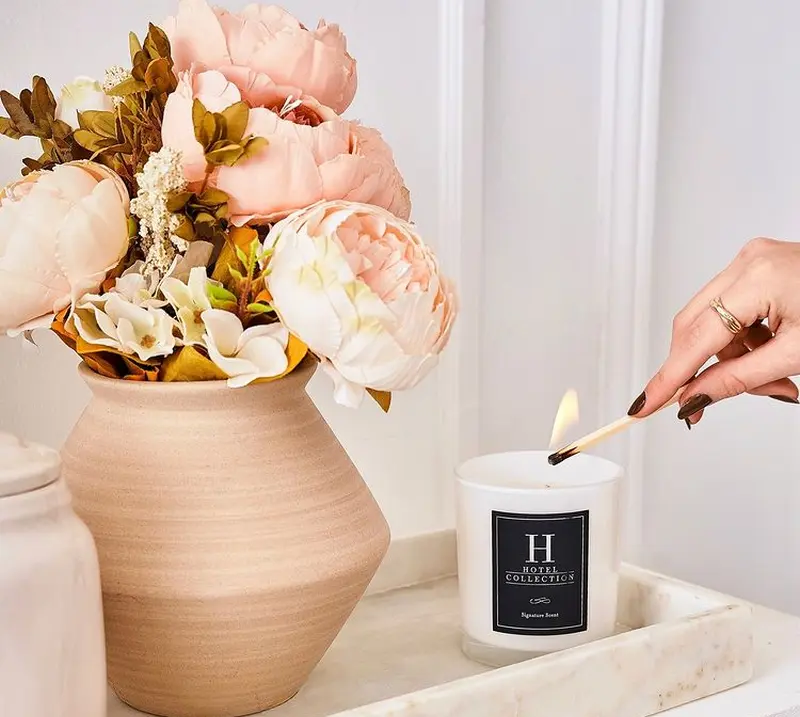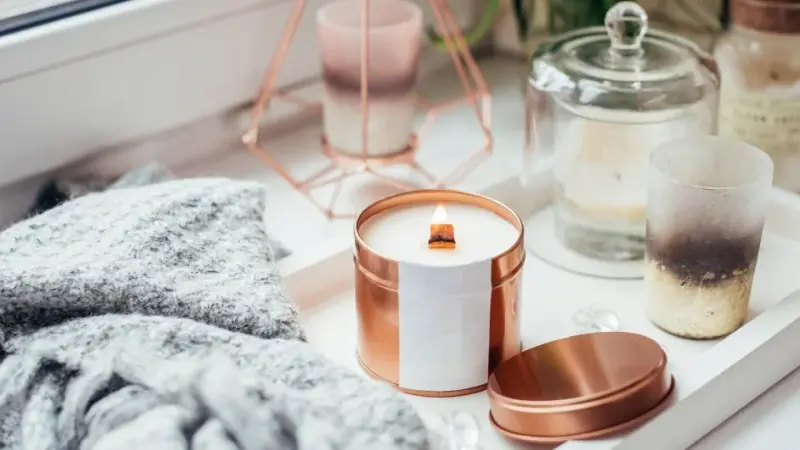 Put mirrors at your service
Mirror, mirror on the wall, which is the fairest room of all? Just a little rhyme, but you get the point. Mirrors make everything more beautiful, but only if you know how to use them.
These shiny things are fascinating, with the potential to present all other things in a fair light. By including mirrors in your bedroom, you can increase its depth. You can strategically place the mirror by a window to allow more natural light in, which will bounce around in the room, making the room look bigger and brighter.
You can employ large, small, or several mirrors at your service to add a nice, shiny touch to your bedroom. This idea is inexpensive and easy, you can do it without much thought.