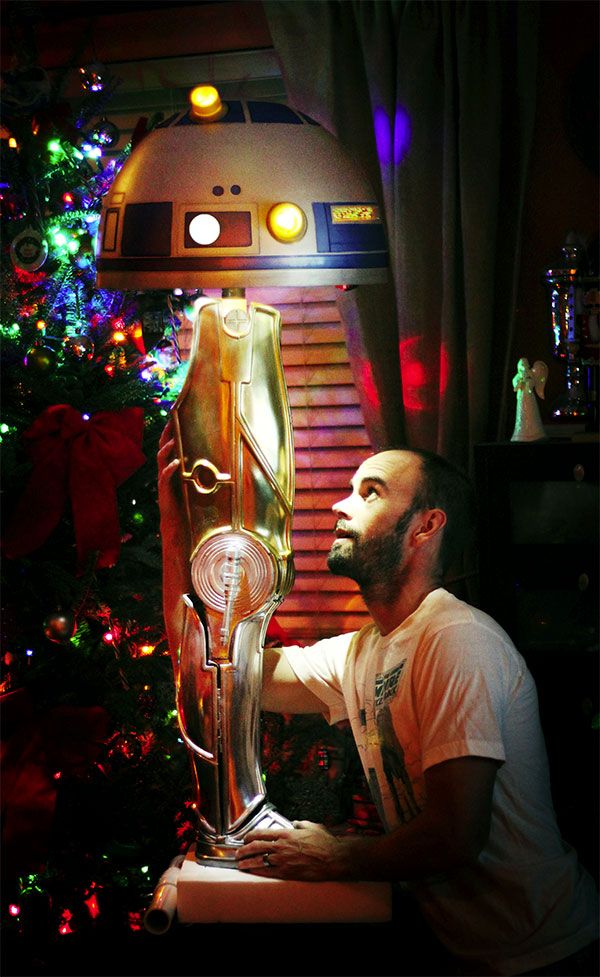 Christmas is a jolly time for everyone, including our earth's much heralded geek population (we being proudly one of them). And to satiate the ever thriving numbers of Star Wars fanboys and superhero aficionados, there must be some specially contrived Christmas goodies. Following this 'duty bound' edict, DIY enthusiast Gordon Tarpley has concocted something apt and exceptional: a leg lamp whose leg replicates the etiquette bound, multilingual C-3PO, while its light shade mimics the exalted bulbous head of the one and only R2-D2.
The ubiquitous golden painted leg of the droid perfectly compliments the obvious sci-fi essence of this Star Wars inspired leg lamp. But the best part about the conception is how the things come together in aesthetic unison, as the leg fits into the bulbous dome of the resourceful R2-D2.
And, since we are harping about resourcefulness, the creator must be given his due credit for assembling all the 'geeky wet dream' stuff and crafting them into a singular component. Interestingly, in this regard the sources say that all these stuff are actually household items that were just laying around. In fact, our DIY designer has also resolved to dismantle the whole lamp (when Christmas is over) and then return these components to where ever they belong.
Via: ObviousWinner