As Halloween closes in on us, we are getting curious about how to celebrate the day year. There are several creative people out there who are devising safe ways to spread socially distanced holiday cheer. Andrew Beattie, father of a 6-year-old daughter from Ohio is one such enthusiast. Keeping in mind the precautionary measures necessary in the current pandemic scenario, he has created a DIY chute to hand out treats safely to kids in the neighborhood.
Beattie has posted a picture of his DIY Halloween project on Facebook and the post has gone viral for its optimistic content. In the photo, you can see a long black and orange tube running down the handrail from his porch. He will be using it to offer children candies on October 31 from a safe distance.
Beattie made the DIY candy chute from an old Amazon delivery tube and a few other basic supplies. He even involved his daughter in the process and it took them only 20 minutes to realize the candy delivery system and attached to the handrail of the front stairs.
After his post went viral on social media many people commented on it. Some useful suggestions from which have been picked up by Beattie and materialized into the project. The post has also attracted some criticism, which he is positively responded to.
Also Read: Spirit Halloween Launches "Harvester of Souls" Animatronic for 2020
He ensured that it will be a touch-free trick-o'-treating system and he will be following all the necessary precautionary measures to prevent the spread of the virus, including regular changing of gloves and inclusion of a signboard showing where to place the bag for the candies.
If you are looking for a no-contact Halloween idea for trick or treating, this project is surely something you can try.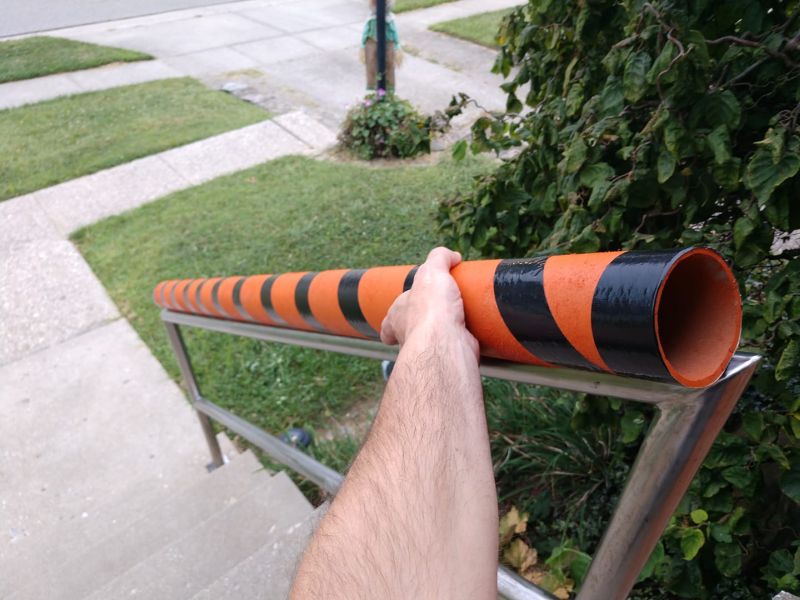 Via: BuzzfeedNews