Owls are night time raptors known for their weird eyes, mournful calls, and nocturnal nature. Usually, they are not attracted to backyards, but if you have a yard that fulfills their basic needs, they can become great backyard guests. North Liberty-based nature lover Pete Ciula Jr. has planted 700 pine trees on his two acres property near Potato Creek State Park to create a secluded and covered habitat for owls. He also placed various wooden owl houses with suitable dimensions for nesting screech owls there.
His owl conservation efforts are fruitful as he recently saw some owl babies popping out heads from the hole of an owl house. According to Pete, till date he has seen three different kinds of owl species nesting in his wooded property. Everyone can contribute to owl conservation drive by placing an owl nesting box in their backyard, preferably near a tree. This way you are providing a maintained habitat to attract and protect wildlife. Owl boxes can be bought online, or you can build a native screech owl house by following these simple instructions.
Using pine or plywood one can make owl box, but cedar wood is recommended as it is naturally resistant to weather and insects
Firstly, cut planks measuring 10 x 113/4 inches for top and bottom as well as sides 14-inches tall
Assemble all pieces with screws or nails, but the top board should be attached through hinges, so that it could be opened for maintenance purposes
Make a three-inch hole on the front board near the top of the box for entrance
Drill four small holes in the bottom for drainage and two holes measuring a ¼ inch in the top board
For making an attractive habitat for owls, one can fill the owl box up to 3 inches of sawdust or dry leaves
Hang it 10-30 feet above the ground, around some of the trees in your backyard
It can also be attached to a tree or a steel pole, but there should be a place for young owls to climb out
A predator guard will prevent squirrels and other egg-eating raccoons from jumping inside
Placing the owl house is also a crucial task, so it is ideal to install it in a location that will be convenient for monitoring and maintenance, but also remember to place in near water and trees. After placing a nesting box, you become committed to maintaining it in future. Never sway the box while a female owl has laid eggs, as they will leave it immediately.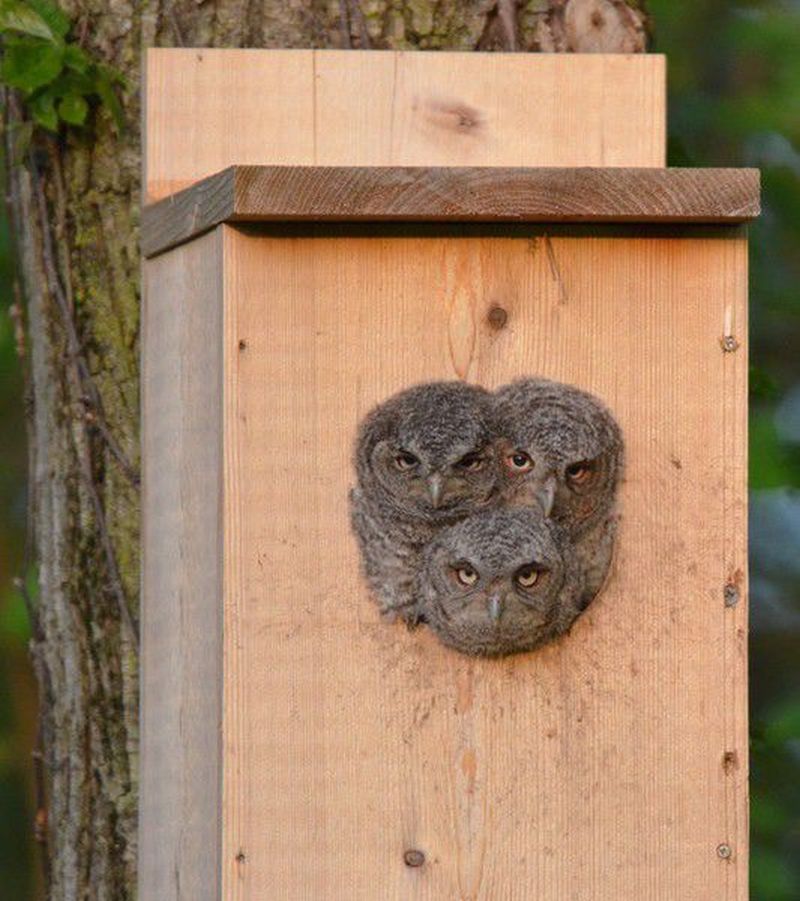 Via: SouthBendTribune