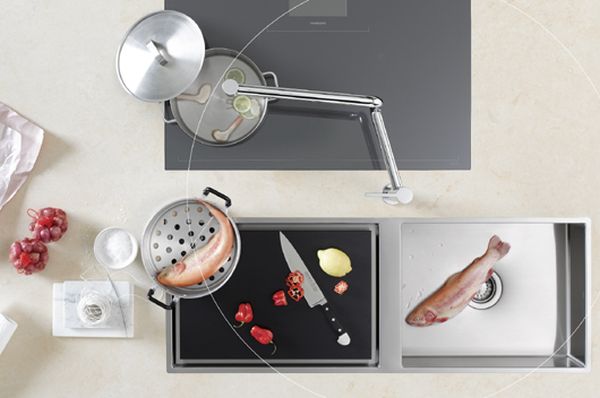 In many ways, the expansive Living Kitchen section of international furnishing show imm Cologne can be considered as the 'CES' of kitchen products. In this regard, premium fittings manufacturer Dornbracht did showcase a myriad of innovative kitchen oriented designs in the 2013 version of the global fair, with futurism as the prevalent theme. Christened as the 'Eat, drink & think' line, the range includes various utilities like single-lever mixers, water units and a separate eUnit with advanced electronic credentials.
Firstly, the company started off with the Pivot, an aesthetically pleasing single-lever mixer that has the capacity to serve a 360 degree field, with the radius conveniently reaching all parts of the kitchen counter (as seen in the above image). This contraption is further complemented by Elio, another single-lever mixer with a retractable outlet and woven-fabric hose.
And, since we brought up the kitchen counter, this space is organized into two specialized compartments of water units. One of those basins have a flat, slightly gradient top to be used for dry cuttings, while the other possesses a tap hole to be used for washing the pieces of cut vegetables.
However, the 'piece de resistance' of the whole scope is the advanced eUnit. This electronic control unit entails the technological applications that replicate your time consuming manual tasks like regulating water flow, releasing the extra water and even controlling the optimized temperature.
Via: Dornbracht