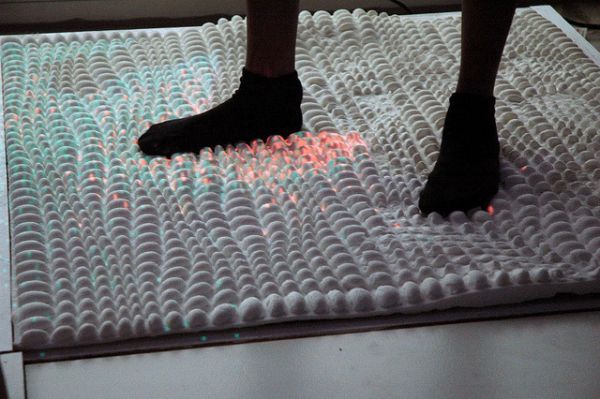 We have always been enticed by the role of technology, which can affect and even alter our thoughts, interactions and even health. Drexel University's assistant professor Nicole Koltick's Design Futures Lab 'Projects 12/13' show delved into such an interactive technological scope that could positively influence our daily environment. Six graduate students from fields like Interior Architecture and Design Program dabbled with a combination of techniques including generative design and 3D printing, along with electronic components like micro-controllers and sensors. The end result culminated into a few unique design prototypes that might have the ability to help us (both psychologically and biologically) through user oriented interfaces.
For example, Tashia Tucker's project is christened as – 'Synthetic Biology: The Future of Adaptive Living Spaces'. It entails three interactive surfaces – a kitchen, flooring and wall surface (flooring pictured above). These surfaces light up on coming in contact with the user, thus showing the user the level of pathogens, pesticides, and allergens present in the environment. Tucker goes on on to say –
The collection of three dynamic surfaces offers a glimpse into the interdisciplinary field of synthetic biology and the future evolution of living materials. It examines how biologically embedded materials could look and function in the future through the use of micro-processing, depth imaging, a multi-pedal sensor map, and silicone casting.
Laura Nejman's 'Ambient Scent Communication' project similarly deals with our 'deep' emotional connection to familiar scents. According to the researcher, smells have the capability to manipulate our emotional state. This ambit can be further used to divert our daily communication with computers and phones, thus bringing our attention back into a physical environment. In this regard, Nejman says –
You might have specific scents that trigger things in your memory, like the smell of your mother's perfume or the smell of Crayola crayons. Different things that evoke different emotions within you.
There are four more of such innovative design projects that deal with improving our daily environment with interactive features. You can check out further details at Drexel's official site by following this link.
Via – Drexel