Dyson has unveiled its latest V15 Detect cordless vacuum cleaner that employs laser detect technology for deep cleaning. The vacuum cleaner detects microscopic dust and presents users with scientific proof of what it has sucked up.
Developed by a team of 370 engineers globally, these vacuums are powered by a Dyson Hyperdymium motor which generates up to 230 air watts of suction and 5-stage filtration that captures 99.99-percent of dust particles as small as 10 microns.
These vacuum cleaners are integrated with a diode laser in the cleaner head that is precisely positioned at a 1.5-degree angle, 7.3mm off the ground for best position between dust and floor. All the particles sucked up are counted using an acoustic piezo sensor which converts vibrations into electrical signals and displays the size and number of particles on an LCD at the back of the vacuum.
Also Read: LG Debuts Cordless Stick Vacuum with Charging Stand
Dyson V15 Direct allows the user to clean every small particle that is not visible to the naked eye, with a green laser integrated into the cleaner head. It also includes a new anti-tangle conical brush bar and anti-tangle High Torque cleaner head, plus reactive suction power that automatically adapts according to dust levels.
In this crucial time when people are more concerned about cleanliness than ever, these vacuums with laser detect technology are can be well received. Dyson V15 Direct is now available from the official website for a price tag of $699.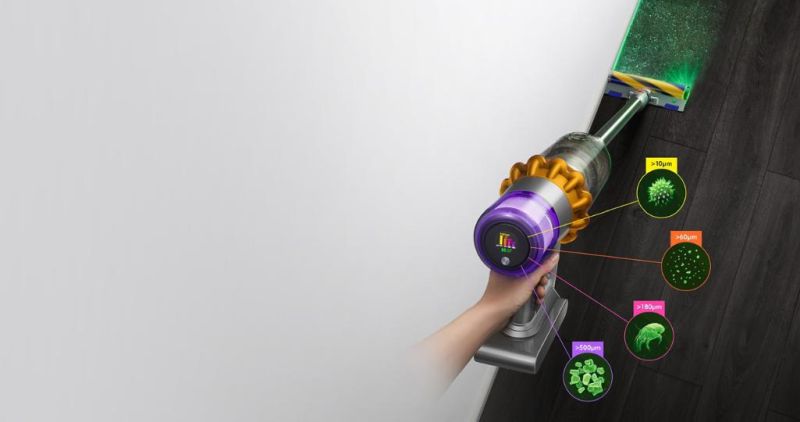 Via: Dyson