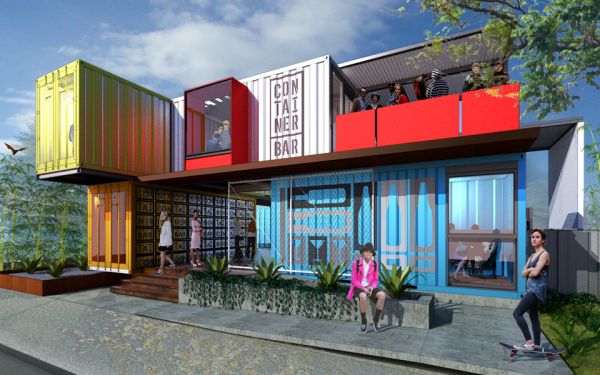 We have seen architects transforming shipping containers into apartments in the past. Now, North Arrow Studio with the help of Hendley Knowles Design Studio, has designed a bar using shipping containers in Austin, Texas. It is built over an area of 8,000 square feet using seven containers, all stacked one over the other to form a double-story bar covered with a metal panel. The best thing about using shipping containers is that it can easily be dis-assembled and transported to any other location.
The different colored shipping containers look stylish from the outside with large windows that are carved into the containers. Inside the bar, there is a lounge and four private rooms, each designed in different style with comfortable chairs and couches. Interior of the bar is kept colorful and vibrant to make these dull containers look livelier. Detailing on the walls of each room is distinct and has a style of its own. The container bar opens up to an outside area to let the customers enjoy sunshine during daytime.
Transforming shipping containers into a livable space is nothing new to the world, but Austin is a place which refrained from such art. This is the only reason that it took about three years to complete construction of this container bar here. The architectural firm has indeed done a commendable job by designing such unique work of art in Texas from absolutely nothing.
Via: Inhabitat