Bob Clagett of I Like To Make Stuff is a diverse DIY enthusiast who shares video tutorials to create useful things at home. He covers topics from a multitude of fields such as music, websites, software, woodworking, vintage scooters and motorcycles. Recently, he shared a video to make a wooden knife block that can hold a cookbook. It is an easy-to-build woodworking project. He used a few large pieces of basswood, wood glue, clamps, and a few other machines to craft wooden pieces into a rustic knife block.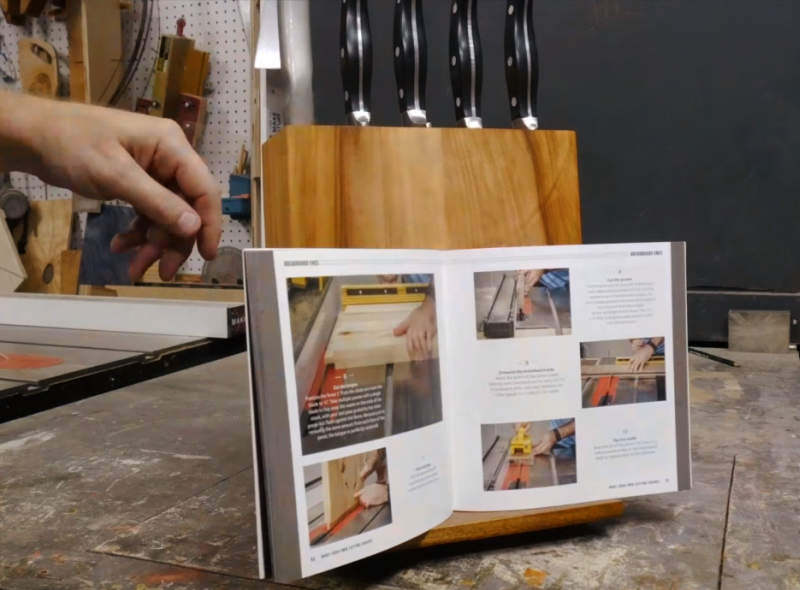 If you want are interested in making one, we have briefed the instructions for you.
Start by trimming or straightening the wood pieces
Once it is done, you can cut the first wood piece for the knife block and use it to mark the next
Stack both wood pieces together and cut them into six pieces. It will be helpful to write numbers to remember the sequence. Four pieces in the center are of the same width while the remaining two are a bit thinner
Lay the pieces down and trace the outline of all knives
Now take the thickest knife and use it as a guide to adjust the height of the bit. It should be set a little taller than the thickness of the knife
Clamp the pieces to a bench and carve slots for knives but remember to cut openings at the top of wooden pieces exactly on the marked lines. It the hardest part of the project
Put all wood pieces together in correct order and glue them up. Add clamps so that wooden pieces make a tight bond.
Now cut some other scrap wood piece for the little cookbook shelf
Just after it is dried, remove the extra glue with a scraper and sand the glued block finely
The base must have a bevel so that the wooden knife block and mini shelf stands in an oriented position
Now it's time to make slot for the mini shelf. Use router to cut groove for the shelf. Sand that portion nicely and fix it using wood glue
Sand all corners of the knife block with tack cloth and finish it in your own flavor or you may go with Tung oil, as bob used
This DIY wooden knife stand is a worthy To Do project, as you can build it for your own collection of knives. It will be a handy item to eliminate the knife clutter from your kitchen, while a perfect spot to place your cookbook.