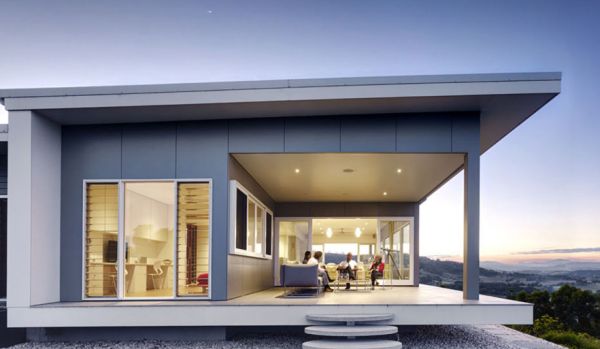 Off-grid living doesn't always mean living in prehistoric-style homes. Off-the-grid living can obviously be luxurious and fun. Reflecting on this notion, Australian architect Sam Zaher has designed and constructed Coorabell residence, his first self-sustainable home which exhibits luxury and comfort to the fullest. The solar-powered Coorabell residence overlooking Byron Bay is custom-built for an environmentally conscious family. The eco-friendly home which checks all boxes of sustainability has found place on the cover page of Grand Designs magazine for its exclusivity and functionality.
Designed on the behest of the owners as a modern, stylish home on 27 hectare of land, the house has a U-shaped cantilevered design which makes it spacious and airy. The house has been constructed specifically to collect and harvest rainwater for consumption of the residents. It has an on-the-site black and grey waste system, and has double glazing to minimize energy consumption. Companies like Fairclaims Roofing and Construction can explain why double glazing is important for reduced energy consumption. The Coorabell residence has an 8kW solar-power system with back-up batteries, which ensures the home is ably powered, without the need of connecting to the grid.
The house features two bedrooms, two bathrooms, living and dining area, a study room and a full kitchen. On the outside it has two decks, tool shed, courtyard and garage. In order to offset the carbon footprints of the house, the owners intend to plant 100,000 trees, now that what going green to the fullest really means.
Source: ZaherArchitects Via: Off-Grid