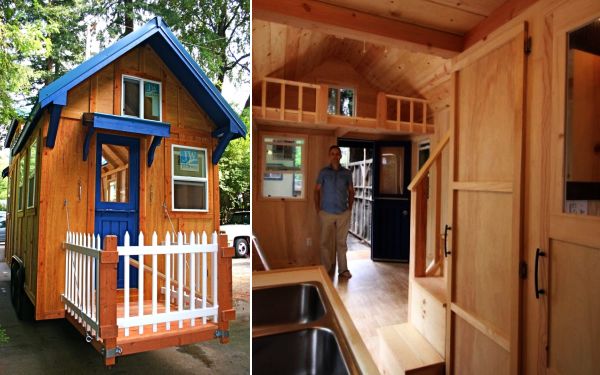 Jason Dietz of Molecule Tiny Homes has constructed a wooden tiny house on wheels for his client Julie Olson, a professional dog trainer. The house measures 136-square feet and took about two months for completion. It's a fully equipped home, which is made according to Julie's preferences including two loft areas, a kitchen, a bathroom, a storage staircase, a closet and a fold out deck. The rooftop of this house is installed with photo-voltaic solar panels, solar batteries and a propane gas tank to generate energy for light and water on its own, thus making it an eco-friendly home.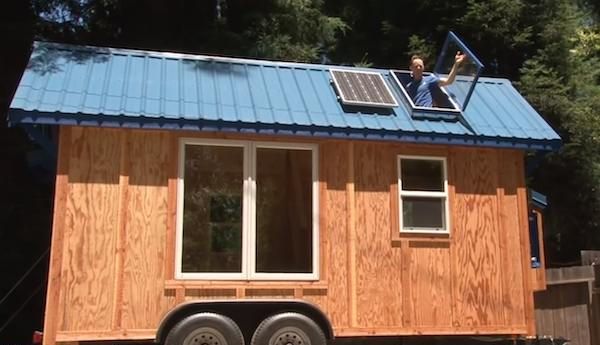 This tiny home has a wooden staircase, which leads to the loft bedroom and also has a series of storage drawers to its side for keeping any small stuff. The bedroom is large enough to fit in a queen sized bed inside. The bathroom includes a tub, a sink, a toilet seat and an escape hatch offering views of outside surroundings. Entire kitchen is built from wood with a sink and storage space for keeping kitchen accessories.
The mobile home has large windows for ventilation and to let in the natural day light, which virtually makes it look spacious. Externally, a small folding deck is made outside its door so that the owner can easily step in or out of the house, it can also be folded back when travelling. A decorative fence can also be placed around the deck for making the house look more attractive from outside.
The cost of making this tiny wooden home with all necessary facilities is about $45,000, which could be reduced to half of the amount if owner can build his/her tiny home on their own. However, this particular house provides all necessary facilities to the owner, and now she can easily move along with her home to any place while working.
Via: FairCompanies