When we think of air pollution, we usually associate it with vehicle combustion and factory fumes. However, there are several reports that suggest indoor air is becoming as dangerous as the one found outside. You may have employed an air purifier for the problem but it would certainly not be as effective as AIRBOT Z1 by Chinese company Ecovacs Robotics as it can move around the home and can be controlled with voice commands.
Launched at IFA 2022, it can be labeled as an autonomous air purifier robot that filters and disinfects the air and provides you with insights about air quality. The device measures and optimizes temperature, humidity and air quality in real-time, thanks to its highly accurate VOC sensor. It is a reliable option for air purification as well as air humidification, even when you are not at home. Its 2-litre tank can be filled with water to provide an optimal indoor climate throughout the day.
With AI support, AIRBOT Z1 can easily be controlled in all rooms via the YIKO voice assistant or the Ecovacs Home app. Thanks to a circular microphone array (YIKO voice assistant) added in the appliance, you are free from the hassle of getting up and operating the device manually.
As a user, you can deliver voice commands from the couch and manage all the functions of the robot such as air purification, humidification, fragrance, sterilization, etc. The voice control features are available for user convenience, and can be switched on and off as per requirement.
Each unit also includes a humidifier, a UV light, and a fragrance module. It provides clean air by removing bacteria and formaldehyde via an advanced air purification system. Furthermore, the UV disinfection module eliminates up to 99.9-percent of three types of bacteria and viruses for more protection. There is also a fragrance module that splashes a pleasant odor across the rooms.
Talking a little about design, the air purification robot has a compact stainless steel body that looks pretty decent and will compliment any interior. Weighing just 14kg, it can be maneuver around the home easily.
As per the company, the AIRBOT Z1 air purifier robot features TrueMapping 2.0 SLAM mapping algorithm to safely navigate throughout the home. It can safely detect obstacles from up to 10 meters away. The air purifier is equipped with a 960P HD starlight camera that delivers crisp images at any time, day and night, allowing you to monitor your own home remotely.
The company touts the air purifier can help keep homes fresh and comfortable even after returning from vacation or working long hours indoors. In addition, it also keeps a tab on air quality and delivers you accurate information via Ecovacs Home app.
The AIRBOT Z1 air purifier is powered by a 5200 mAh Li-ion battery, which has an operating and charging time of about 3 hours. The best part is that the device can also be programmed to play your favorite songs or podcasts through its two 7V speakers over Bluetooth.
Also Read: LG's Latest Air Purifier Performs Double Duty As Side Table
Well, all these features are impressive. I still won't call it a ground-breaking air purifying robot because we have seen similar products in past but Ecovacs is betting on voice control feature and the improved mapping algorithm to grasp the market.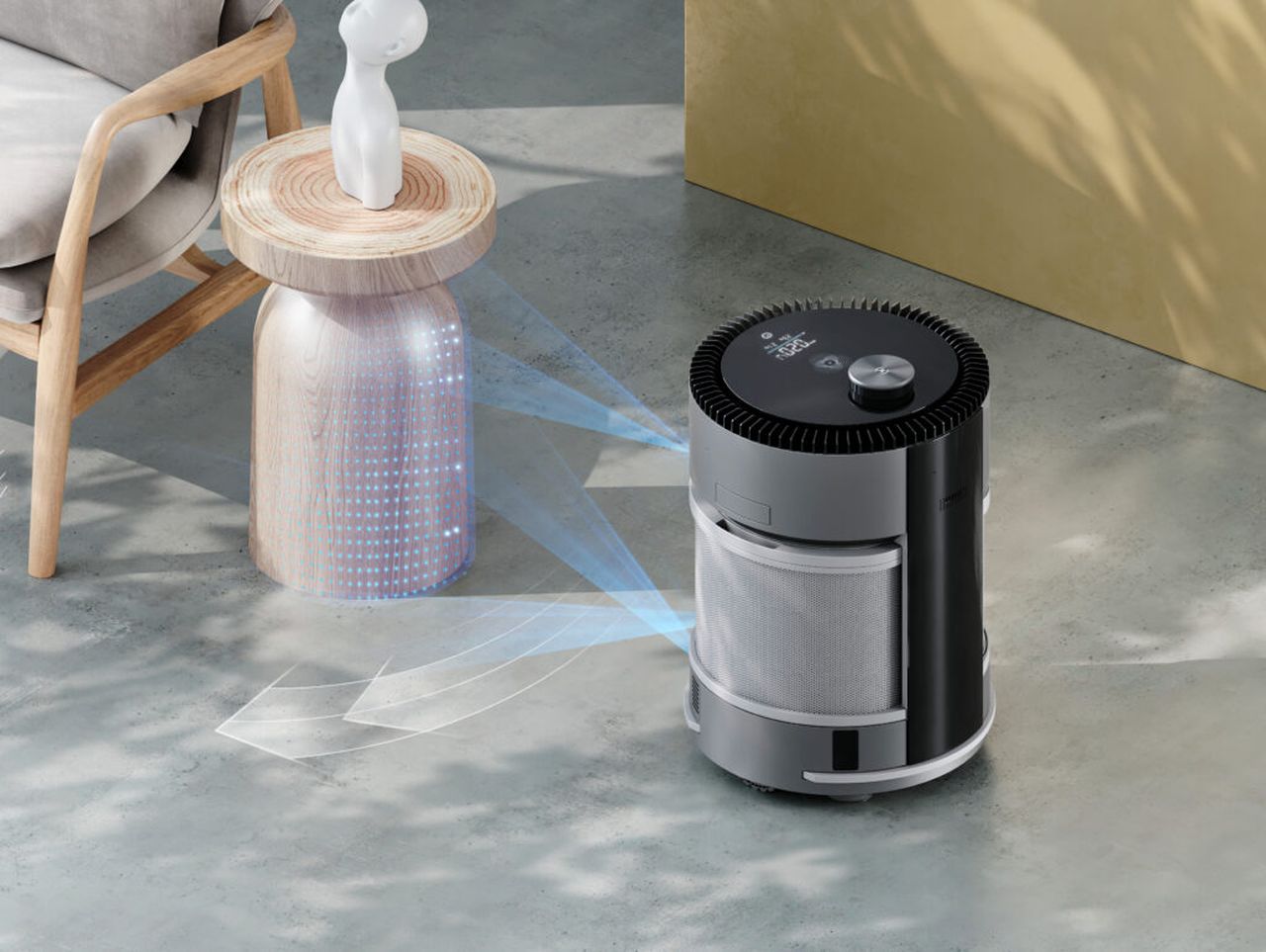 Via: IFA