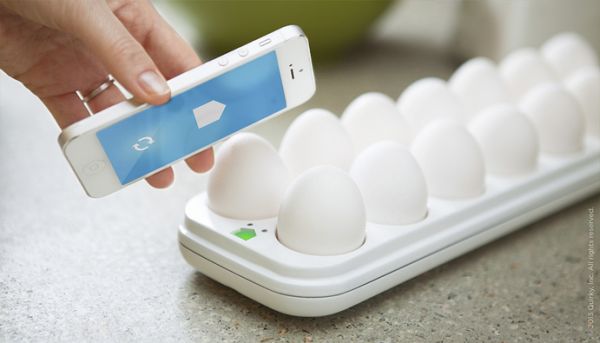 Technology does come in handy for a few of our domestic chores; avoiding the bad egg being one of them. We are of course talking about the Egg Minder, a smart product from Quirky and GE. Comprising of a plastic egg tray with LED lights accompanying each slot, this specialized device has the remarkable ability to find out the oldest egg in your stock with the help of a smartphone app Wink. The Egg Minder can also count the number of eggs left in your tray, so that you are forewarned on when to replenish your stock.
The working scope of the Egg Minder entails an integrated light sensor. So, when you open your fridge, the aforementioned LED light (along the slot) gets activated, thus denoting the oldest egg in the tray. And, to improve upon the usability factor, you can also check out your egg tray from any store, which is possible due to the Electric Imp Wi-Fi chip inside the Egg Minder.
Since we brought up the scope of usability, the plastic-acrylic egg tray has a capacity for 14 eggs, while the whole mechanism's power-train just consists of  2 AA batteries (included with the set). The device also works in cold temperatures (like we mentioned before) guided by a simple, intuitive interface.
Dimensions – 370mm L x 112mm W x 81mm H
All images are courtesy of Quirky.
Via: Quirky