Almost all of us dream of escaping the noisy city life for solitude and adventure. Reason, prefabricated and environmentally-friendly capsules have become a going fad in green architecture. Clever use of material and use of alternate power sources means the off-grid capsules are offering modern living space amid most beautiful landscapes and natural environments. The size, cost and ease of installation is what makes pods the perfect alternative to traditional homes. Have a place your heart desires and land permits; take one of these pod homes along and have a dream house installed just where you please. 
# The EcoCapsule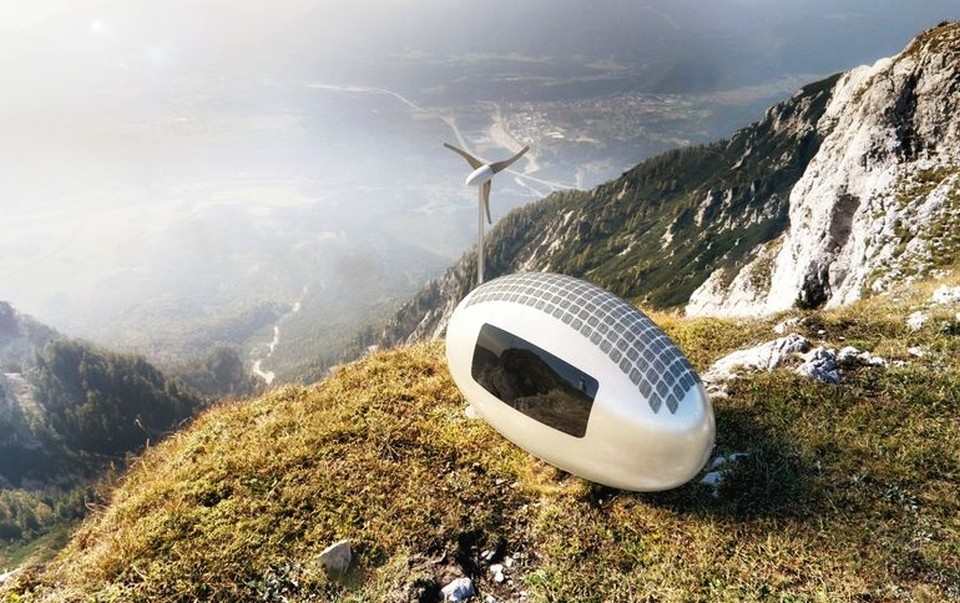 Created by Nice Architects, a Slovakia-based design studio, the Ecocapsule is a pod-like home powered by sun and wind. Small enough to be transported pretty much anywhere, the Ecocapsule will be available in 2016 for off-the-grid living. Relying on solar and wind for power; the Ecocapsule has a rain water harvesting system to meet its water requirements. The self-sufficient home offers 8 sq meter of living space, a comfortable bedroom for two, a kitchenette with running water and a bathroom complete with shower. Light and compact enough to be deployed anywhere in case of emergency, the Ecocapsule has insulated walls to maximize energy consumption and ensure comfort to the inhabitants.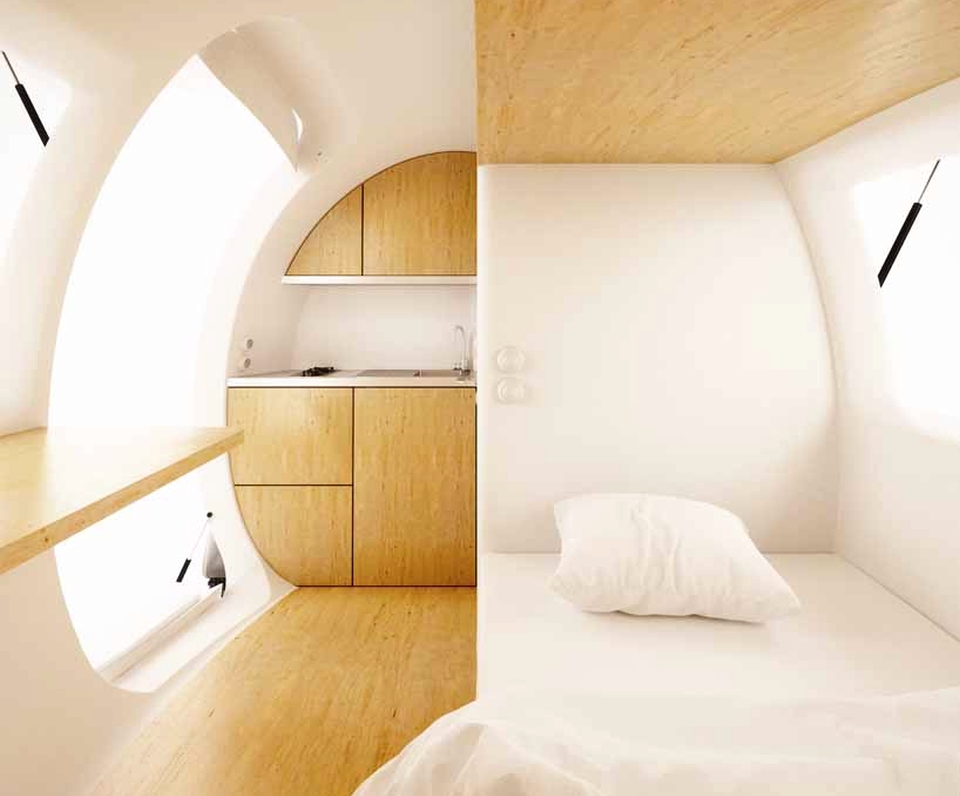 # WaterNest 100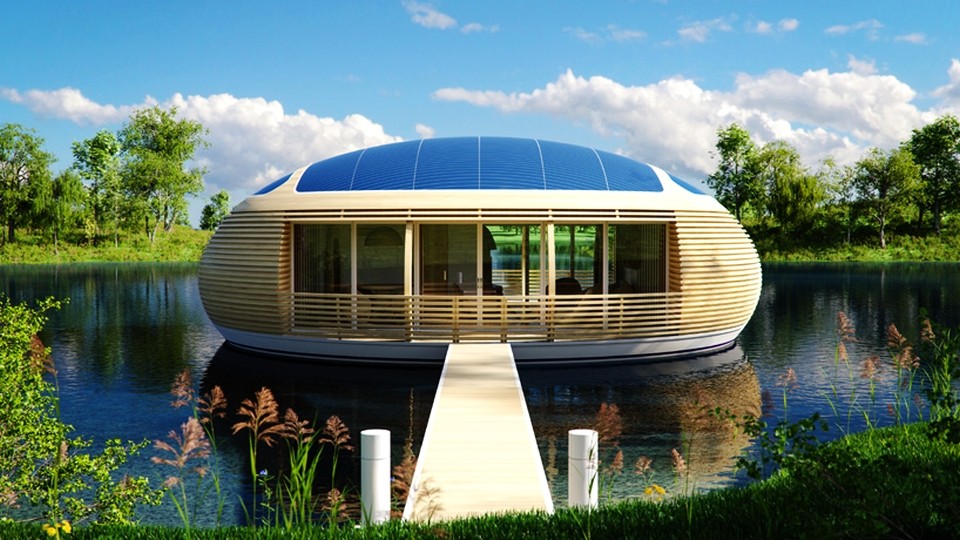 Aptly named the WaterNest 100, this floating, solar powered home is designed and developed by Italian architect Giancarlo Zema. Drawing inspiration for aquatic bird nests, the WaterNest 100 is a pod-like structure for anyone who wants a home nestled on water. The WaterNest 100 offers residents with 100-square meter of living space and almost 98 percent of the structure is built from recycled materials. Materials used in the construction includes laminated wooden supporting frame with curved wooden cladding, aluminum hull and weather-resistant partition walls. Entire roof of the structure is covered amorphous solar panels to harvest solar energy for power.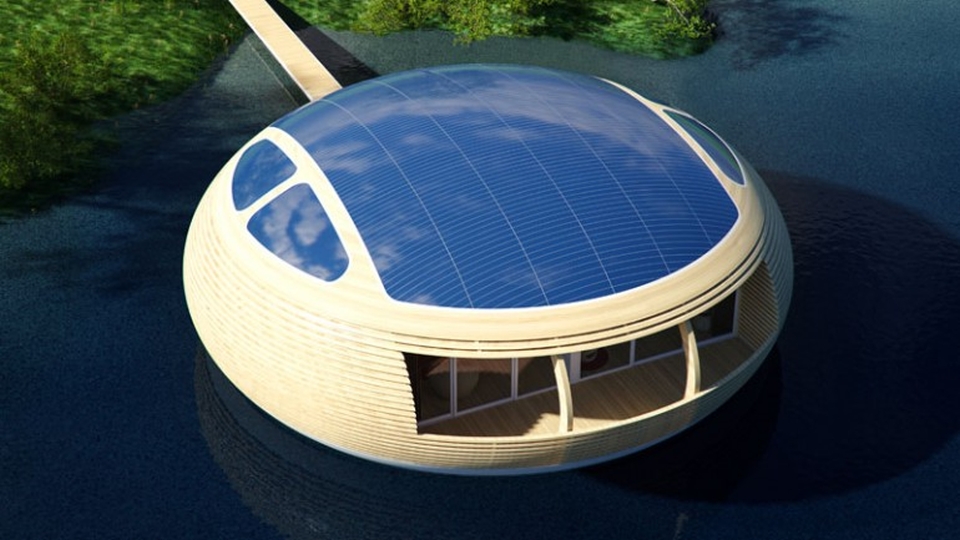 # MercuryHouseOne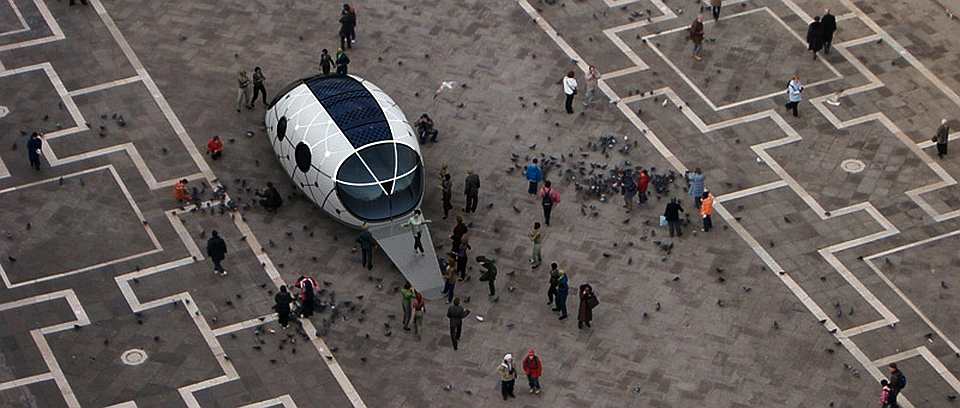 MercuryHouseOne is basically a mobile lounge powered entirely by solar energy. Conceptualized as an alternative to everyday reliance on grid power, this pod-like structure thrives on non-renewable source of energy. Made from Italian Carrara marble, the structures outer top half is covered with solar panels which provide energy inside. Perfect for off-grid living or as an outdoor office, the MercuryHouseOne can be transported easily to any location by truck or even a helicopter. Stationed slight off the ground, the MercuryHouseOne can be accessed by a little ramp.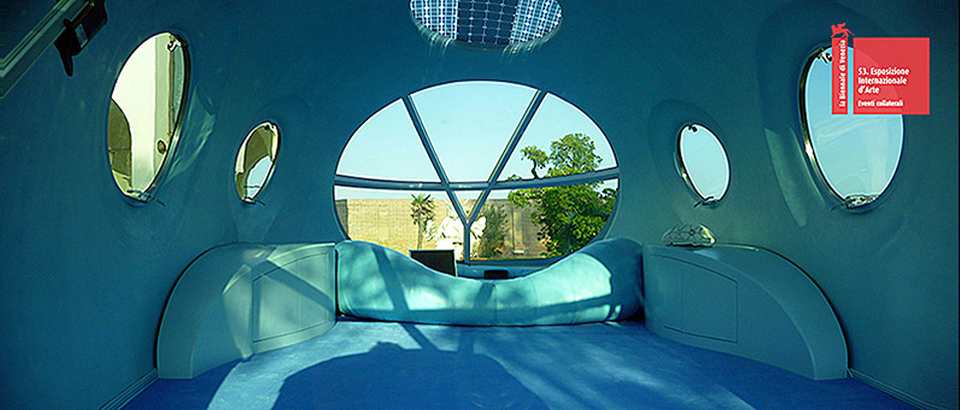 # Blob VB3 Mobile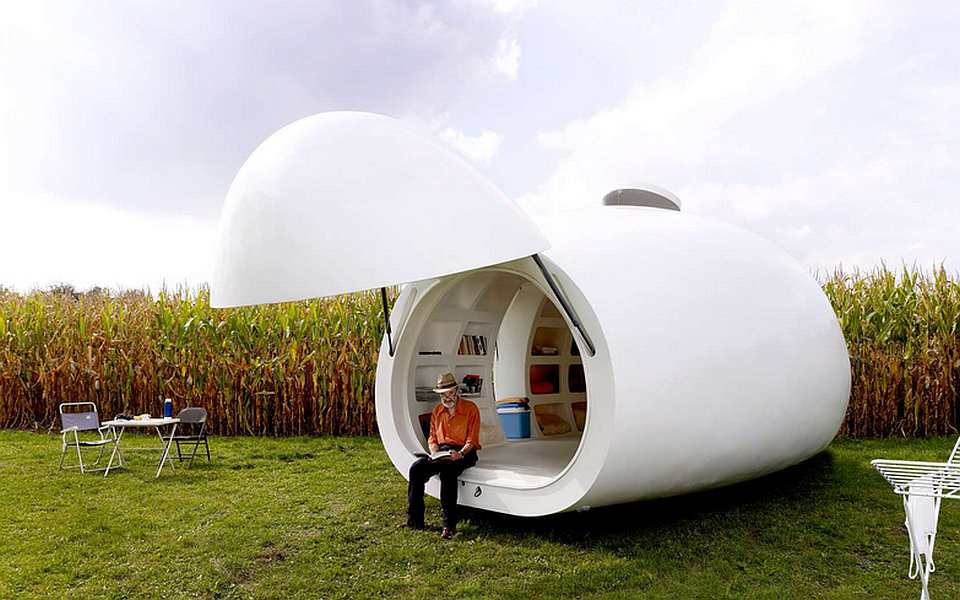 Designed by Belgian constructional firm dmvA, this interesting structure called the Blob VB3 Mobile resembles a giant white egg. It is made of different materials including wood, polyester and PUR insulation. The interesting pod home contains a kitchenette, a bathroom, a bed room, lots of lighting and spacious corners for keeping the belongings. What's interesting about the construction is that its front portion can be lifted that can be used as the porch. The Blob VB3 Mobile, as the name suggests, is completely mobile. So if you want to get away from the hustle and bustle of city life, just pack your bags and set the Blob VB3 rolling.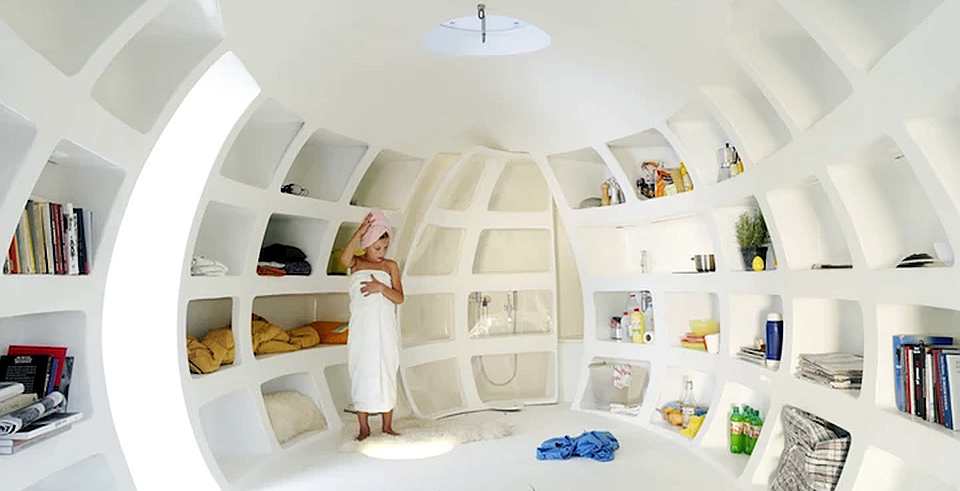 # G-PODs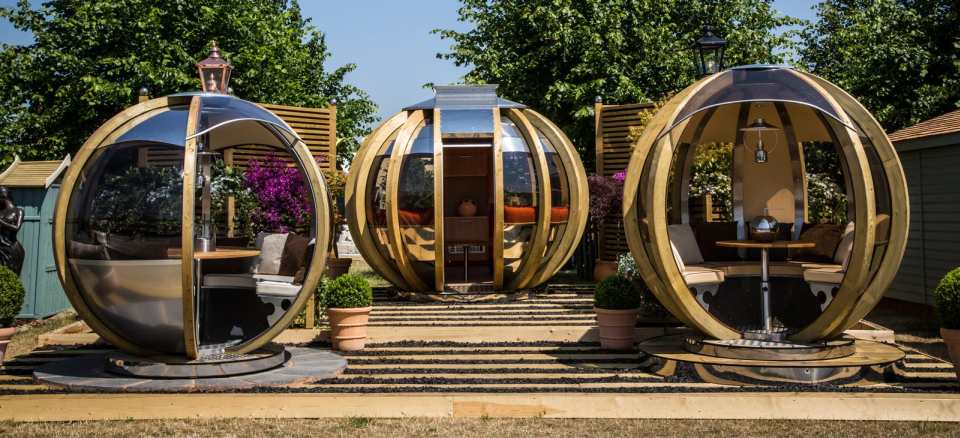 Designed by Ornate Garden rotating and spinning G-PODs are available in four different models that are made to fit five to fourteen people. Two of the four models are self-rotating, and interestingly, the Pods feature completely customizable interiors. To be made available in the United States, the G-PODs are mini-buildings that are connected to solar power for energy and are compact enough to be placed anywhere, including gardens and rooftops. The Pods are water resistant and the interiors are made of materials used in yachts.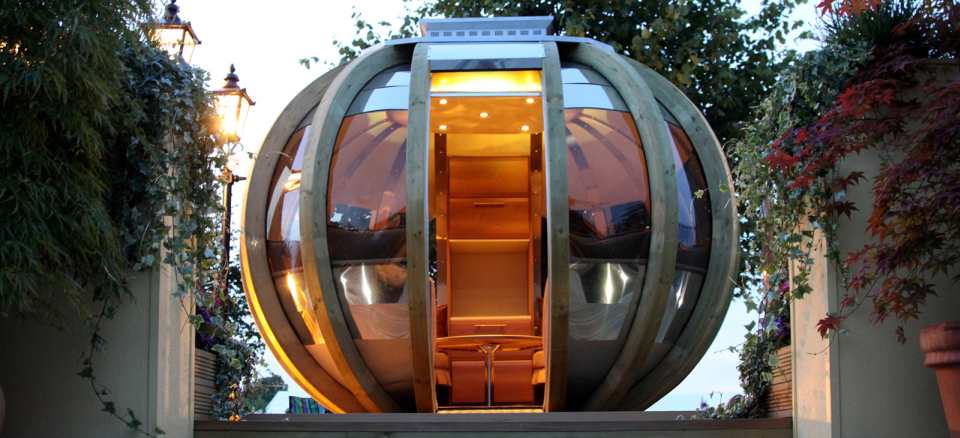 # Drop XL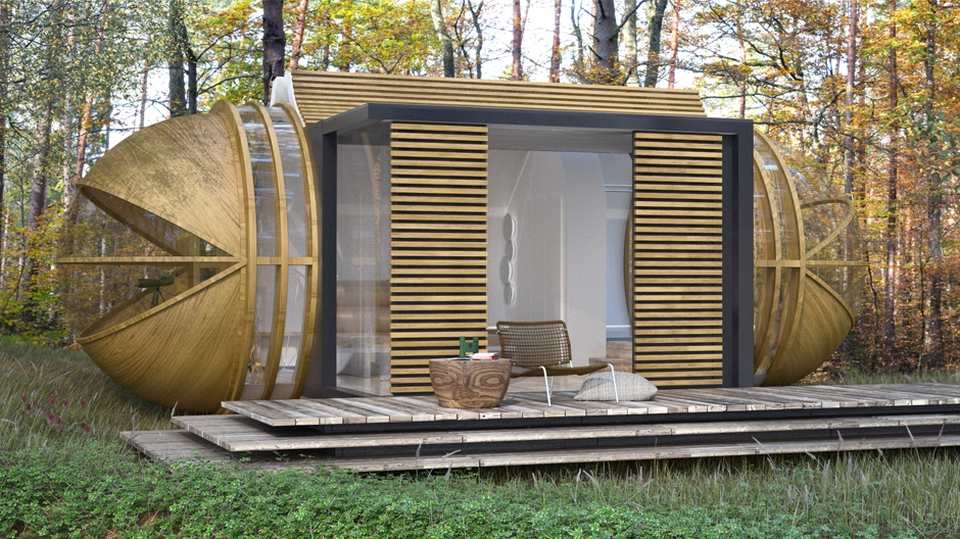 Designed by Barcelona-based design studio, In-tena, the Drop XL is a pod structure suitable for all place heart desires and land permits. Apt to be used as hotel room, a home or a cabin for events, the Drop XL is 30 sq meters in size and is manufactured for off-grid living. Easily transportable by road, the capsule is made of wood, glass and steel for least environmental impact. The attractive aspect of the pod is large bubble windows at the two ends.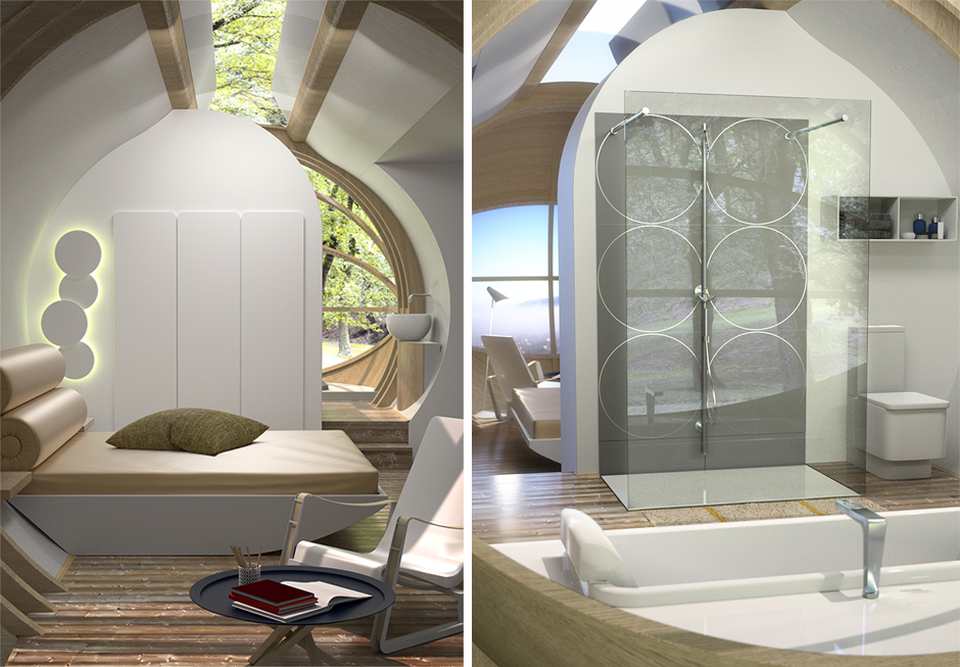 # Alpine Capsule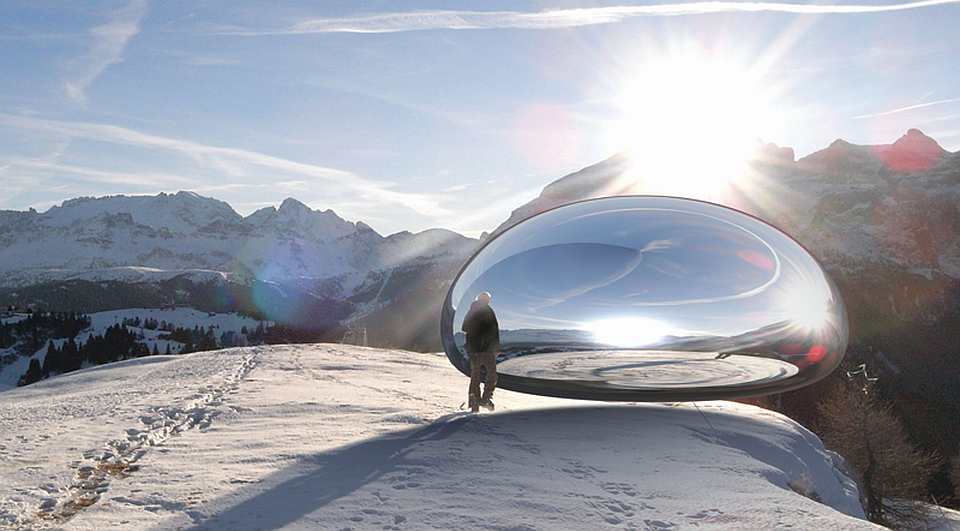 Have you ever wanted a bed under the stars? If yes, the Lovegrove Studios' futuristic Alpine Capsule is just tailor made for you. Designed to bled with the environment and let the inhabitants have the best view of nature, the Alpine Capsule is pod shaped home for all nature lovers. The Alpine Capsule is warm and safe and is able to provide amazing view of the landscape surrounding thanks to its shimmering glass skin with a reflective coating. The a double-glass skin lets occupants sleep under the stars and admire 360 degree panoramic view of the beautiful landscape outside. The Alpine Capsule is powered by solar panels and vertical axis wind turbine.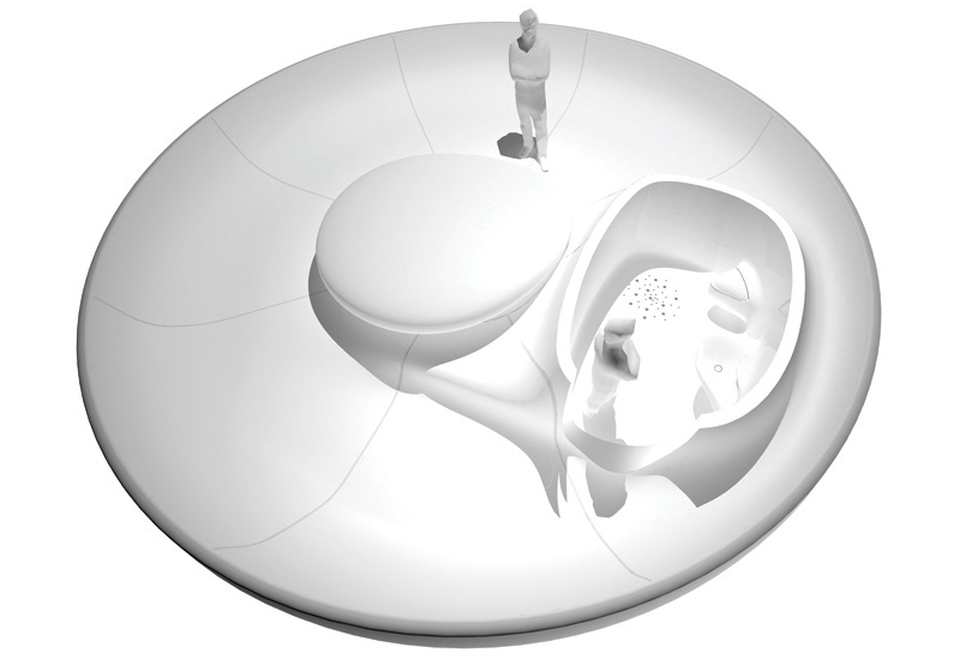 # Rolling Stones capsule

The Rolling Stones travelling capsule designed by Slovakia-based Nice Architects is everything you need for off-grid living. It is a self sustainable home with self created power, water reserve and waste management system. The capsule has a rain water harvesting system on the roof, which circulates the stored water for gray water reuse. The pod structure features toilets compost and has solar panels and a wind turbine to create solar powered or wind power for electricity needs. The mobile pod can be towed with a vehicle to any place and instantly you can have 300 odd sq feet of well furnished area ready for living or working. The pod features reflective surface on the outside made from recycled aluminum can tiles, while the rest of the structure is made from wood and OSB panels sourced locally. Ideal for a couple, the pod is spacious enough to accommodate six people in case of emergency.