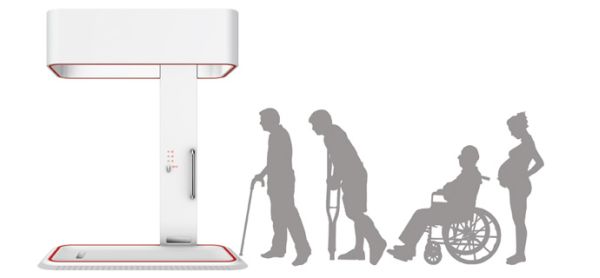 A smart design doesn't necessarily have to be complex in its working. This is quite evident from the Elevated Bathtub design concept, a tub system with a mobile enclosure that can be automatically lifted. Conceptualized mainly for differently enabled people, this conscientious design was deservedly one of the winners of the celebrated Red-dot awards.
The interesting conception was put forth by the designer duo of Zhang Jiangpeng and Zou Tao. Coming to its working, the scope of the mechanism is fascinatingly elementary. The tub system mainly consists of two components – the flat base with the showerhead column and the mobile enclosure that is lifted.
So, when the person has to take a bath, he/she just needs to step into the universally accessible flat bed. The showerhead column has the interactive 'tub bath' option, which on clicking makes the tub enclosure come down automatically (via the rail system behind the column) and fix itself in a water tight manner to the flat bed. The enclosed space then fills up with water, thus making the whole compartment into an adjustable water tub. After the user is done with bathing, he can then switch off the 'tub bath' mode. This allows the water to drain away through a bottom outlet, while the tub enclosure is again lifted automatically.
Now, beyond its capacity to cater to people with limited mobility, the Elevated Bathtub can also be used as a stylish albeit technologically evolved alternative to regular bathtubs. In fact, the design is touted to meet a range of applications including private houses, public bathhouses, hospital and even public restrooms.
Via: Red-Dot