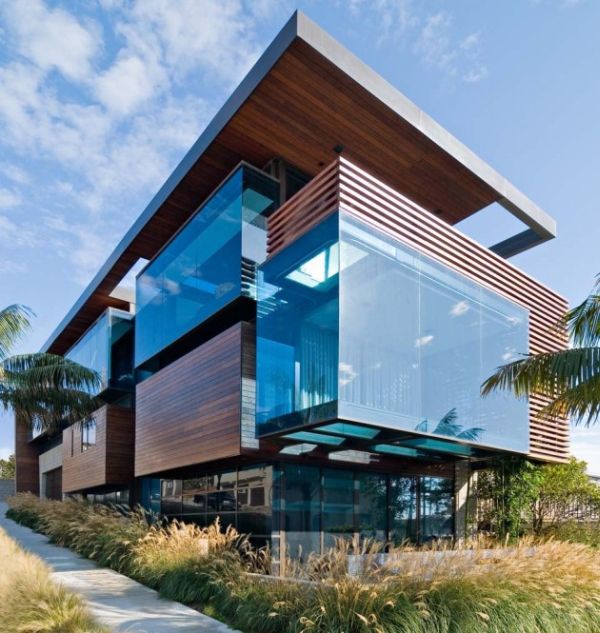 Almost looking like a Cubist wonderland framed by Modernist architecture, the Ettley Residence (designed by Studio 9one2) at Los Angeles epitomizes the ultimate fusion of void and solidity. The rampant linearity of the whole scope is started by a rectangular-shaped over-extending roofing system constructed from aluminum and wood. This expansive shading system is perched atop a suspended arrangement of different cubes, all jutting out to give us an illusion of fragmentation. These cubes are composed of both glasses and timber, thus making the 'controlled' fragmentation the focal point of the whole architectural piece. And, this is where the juxtaposition of void and opaque comes to the light, with its remarkable variance in composition yet apt conformation to Modernism.
The glass cubes look like solid blocks of oceanic water that symbolizes the Ettley Residence's proximity to the Pacific Ocean. However, the ambit is not only about linear aesthetics or the play of voids and solids. The extending facades sometimes offer the inhabitants with commanding views of the ocean and the cityscape. And, since most of the living quarters are in the top floor (a LA beach-house tradition for views to the ocean), the sculptural staircases are divided by glass floor landings with transparent glass vistas to the surroundings.
All of these 'view' mechanisms however do not come at the cost of privacy. All of the main living areas in the upper floors are visually segregated by wood slats, while the ground level utility zones are shielded by a bamboo garden. Finally, the master suite located in the mid-level front of the Ettley Residence is complemented by a glass floor sitting area, thus alluding to the core practicality of a glass-timber combination.
Via: Studio9one2/Contemporist