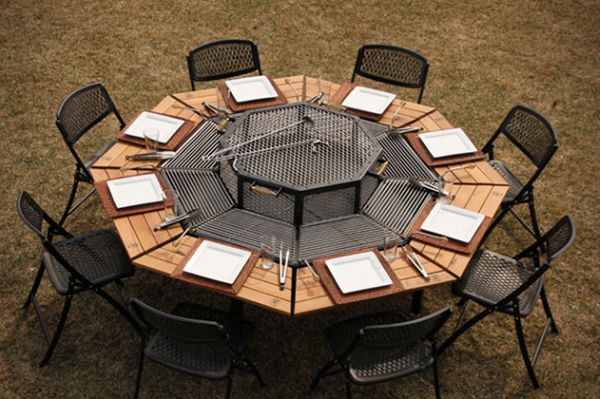 You must be having a grill at home, but you cannot make every guest happy with your grilling skills. Everybody like their meal to be cooked exactly the way they like and for that JAG Grill table is unleashed. The octagonal shaped JAG Grill table offers a massive space with eight individual grilling stations allowing each guest to cook their own meal. Isn't it impressive? A wooden table-top is also attached to it to sit comfortably and enjoy your meat or vegetable steaks.
In middle of the table, fire pit is placed to hold burning coals or wooden logs so that you and your guests can enjoy piping hot food simultaneously. It is the only table available which allows every individual to cook freely at their own grilling station. Every guest of yours will always love to be part of your social gatherings if you own this wonderful grilling table.
The modular design of the table is such that it makes cleaning of the cooking area and fire element quite easy. All you have to do is detach the wooden tables for proper cleaning. You can add this amazing JAG Grill table to your outdoor collection by pre-ordering at $2,500.