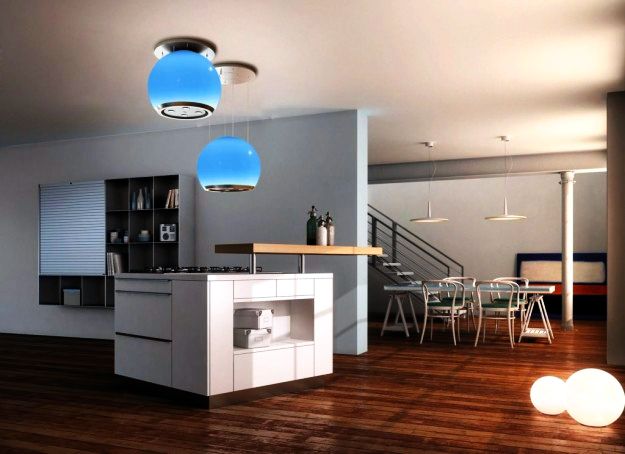 The magnificent pendant that you see in the picture above is actually not a pendant lamp. This is a kitchen hood that also serves as a lighting fixture. Debuted as ARKEA, this lamp hood is a part of F-light series by Faber. This extractor hood is equipped with RGB LED lights, letting you to choose the color according to your preferences and mood. By making use of this hood, which is functional as well as a polychromatic hood, in the kitchen you can set the environment according to your own mindset. For instance, if you choose green you are entirely connected to nature, whereas blue creates a calm and soothing atmosphere. Then there is yellow and orange to create warmth and energy. To add green factor to this gorgeous kitchen essential, the company has made it highly energy efficient by virtue of consumption of very little energy, i.e., of only 3 watts, for illuminating each of the four LEDs.
The lamp hood is constructed in a spherical shape and made out of polycarbonate with steel finishing. TO enhance ease of use and efficiency, the company has loaded it with Up & Down technology that allows it to descend from the ceiling onto the hob when turned on and retraction back to its original position with the help of remote control. The engine is very powerful and also quite. The powerful active carbon filters offers a good suction capacity.
The ARKEA lamp-hood measures 150 mm in diameters and is grease and dishwasher safe. The electronic controls including the cutting edge RGB LED spotlight of the hood can be easily managed with the help of a small remote controller. Therefore, you can turn the hood into a fully fledged lighting system with a color of your choice with just a press of a button.