A bathroom is a place where you refresh yourself in order to kickstart your morning. You can also unwind yourself after tiresome activities of a usual working day. This way, it makes absolute sense to install a cozy bathtub in powder room. Not everyone owns a huge bathroom, and this is the time when bathtubs with built-in storage come into light.
If you're looking for a creative bathtub that can store bathroom accessories and other stuff, well, the following collection can help you a lot.
# Sliding drawer tub
Sliding Drawer Tub by Aquatica comes integrated with drawers of Pool Solo for keeping towels and other items within arms' reach. In addition, the area extending from the tub serves as a hygienic seat as well as space to keep your personal things. No doubt it can add elegance and practicality to a bathroom.
Buy: $4,700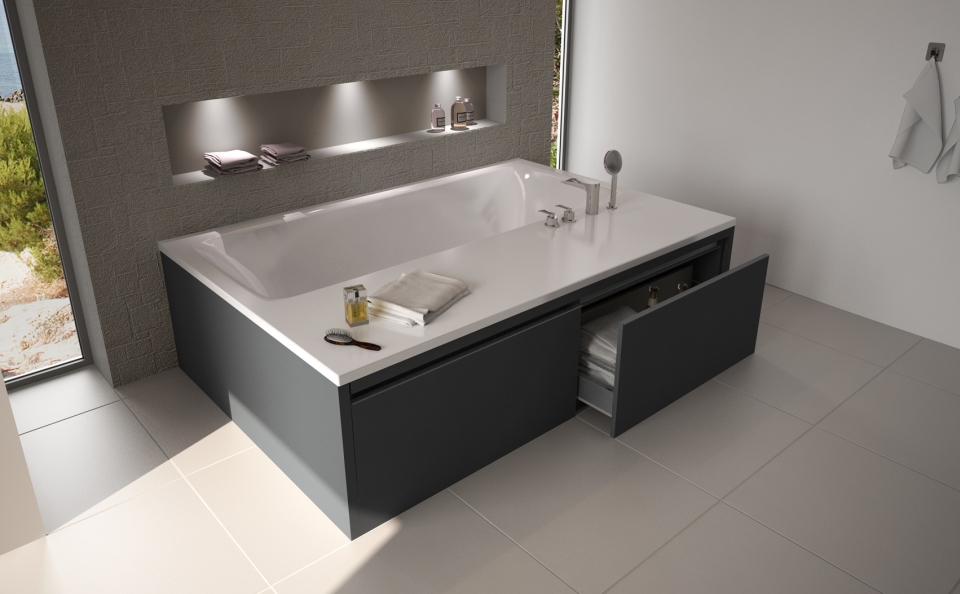 # Comfort tank bathtub
The Comfort Tank bathtub by Moma Design features a curved seat with rounded corners that creates a comforting seat for total relaxation. There's also a teak tray which you can lay down across the tub additional counter space. Aside from the bathtub, there are shelves on exterior side of the unit.
Buy: $10,460
# MyStyle bathtub with built-in storage
The MyStyle freestanding bathtub by Makro has built-in shelving and open compartments for convenient storage. It can be used to store towels, bath products, lotions etc. in your arm's reach.
Buy: $12,408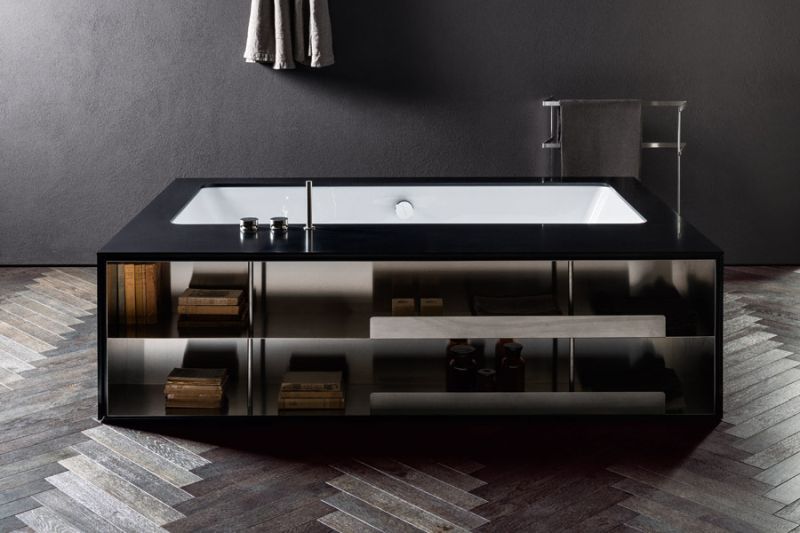 # KellyBook bathtub
The KellyBook bathtub by Mastella Design has wooden shelving to store toiletries as well as your favorite books. The bathtub is available in wood and lacquer finishes to match modern bathroom styles.
Buy: Price on request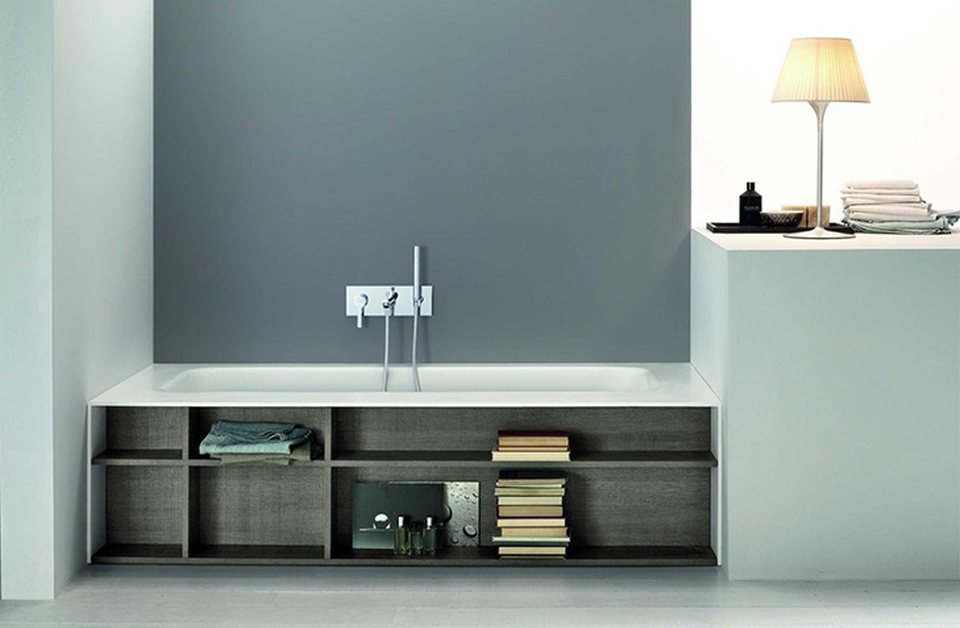 # Biblio bathtub with book storage
If you love your books to such an extent that you don't like to part with them, then Bibliio bathtub with built-in book storage is just perfect for you. Designed by Antonio Lupi, this rectangular Corian bathtub has compartments on two sides to hold books and other things.
Buy: Price on request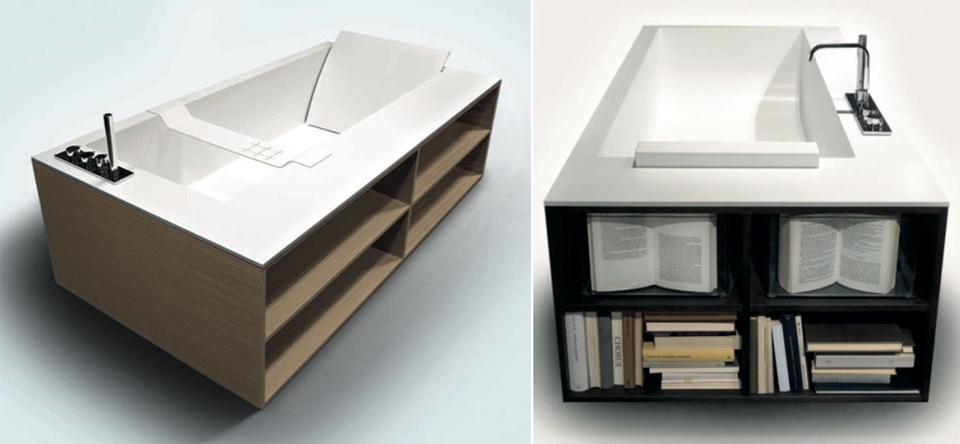 # Stowaway bathtub
The Stowaway bathtub by GW International is designed to utilize the unused space underneath the tub and turns it into usable storage space. This simple bathtub comes with a pull-down panel with built-in chrome baskets to provide organized storage of toiletries and other bathroom accessories.
Buy: N/A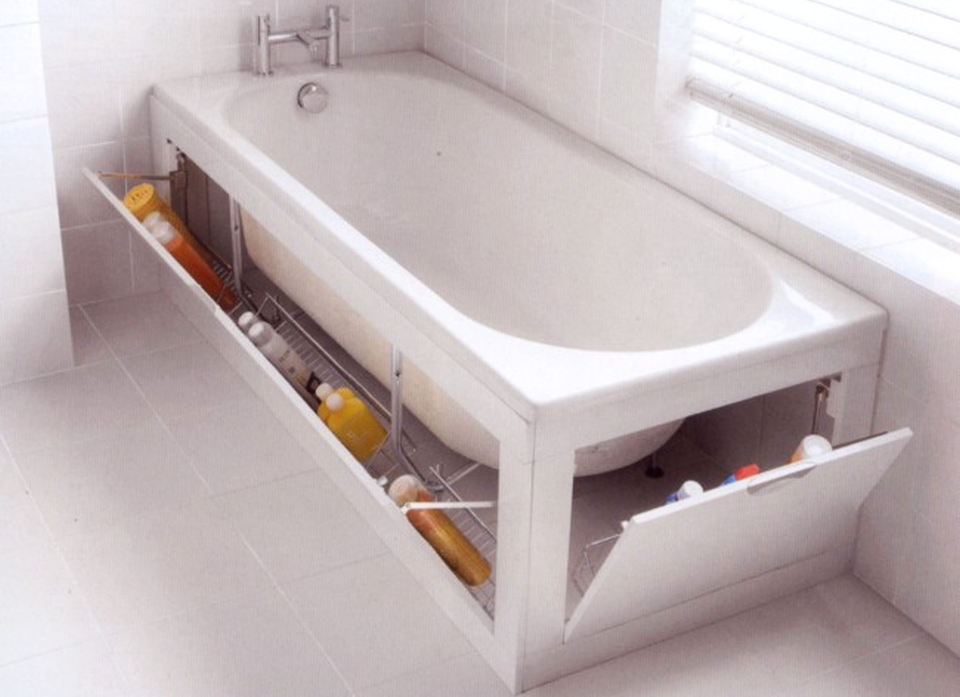 # Keops Evolution bathtub
The Keops Evolution bathtub by Royo Group has functional drawers and shelves to keep bathroom products nearby you while bathing. It is not only aesthetic, but a space-efficient alternative. Besides the storage facilities, it comes with features like ozone therapy, aromatherapy, LED lighting and dynamic jet message, all to enjoy a spa-like feeling.
Buy: N/A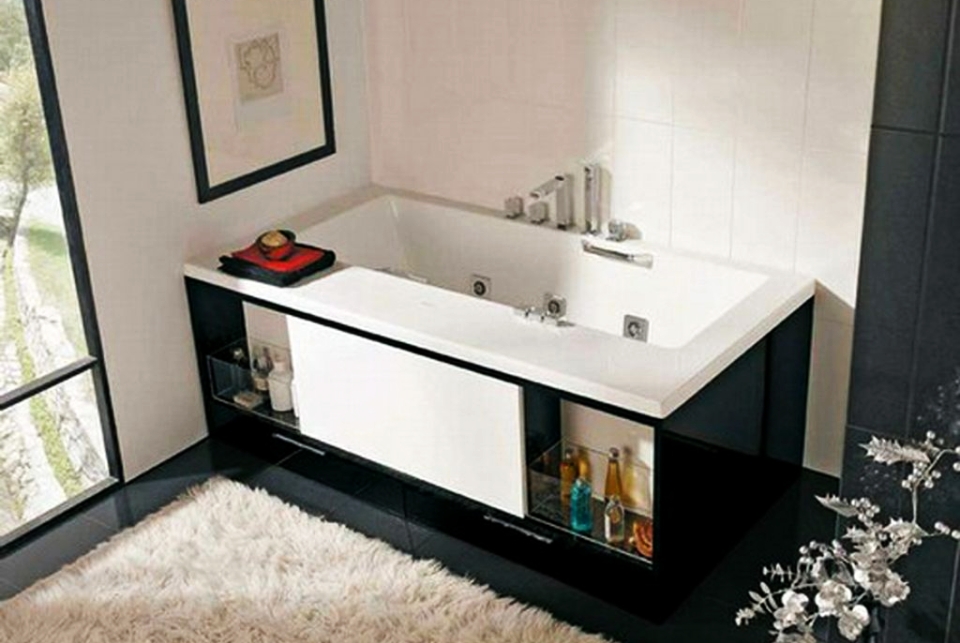 # Toto Neorest bathtub with LED lighting
This illuminating bathtub by Toto is has storage spaces around its sides. It comes with water jets to fully refresh body. There are LED lights underneath the bathtub, adding cool ambiance to the space.
Buy: N/A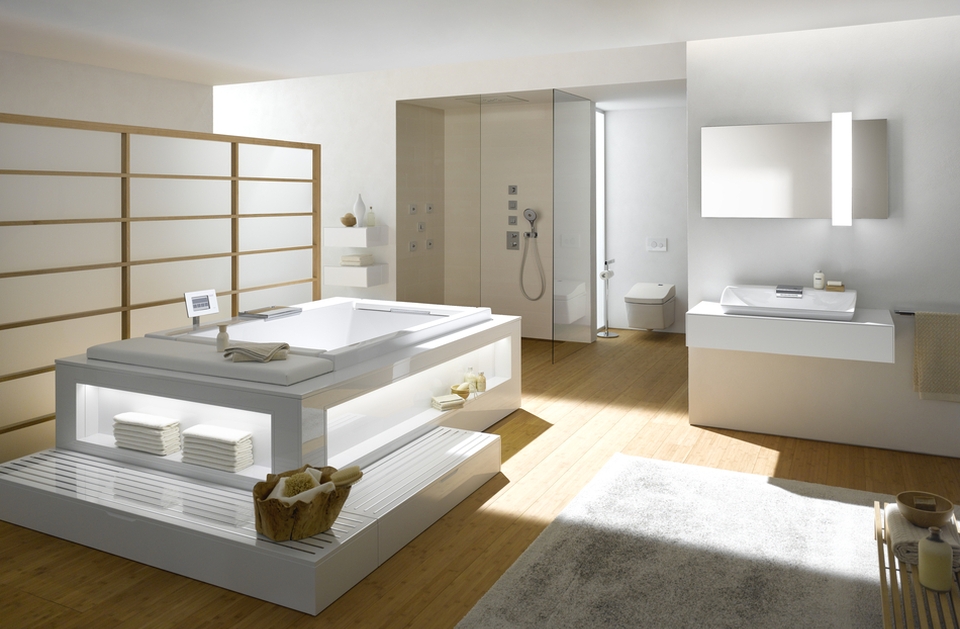 # Rexa Unico Egg bathtub with storage
Rexa's egg-shaped bathtub can revamp any washroom with its minimal aesthetics. It embodies a tasteful contemporary shape accompanied with storage in the form of an integrated shelf. The storage compartments on the bathtub can be used to store bath products or books within arm's reach.
Buy: Price on Request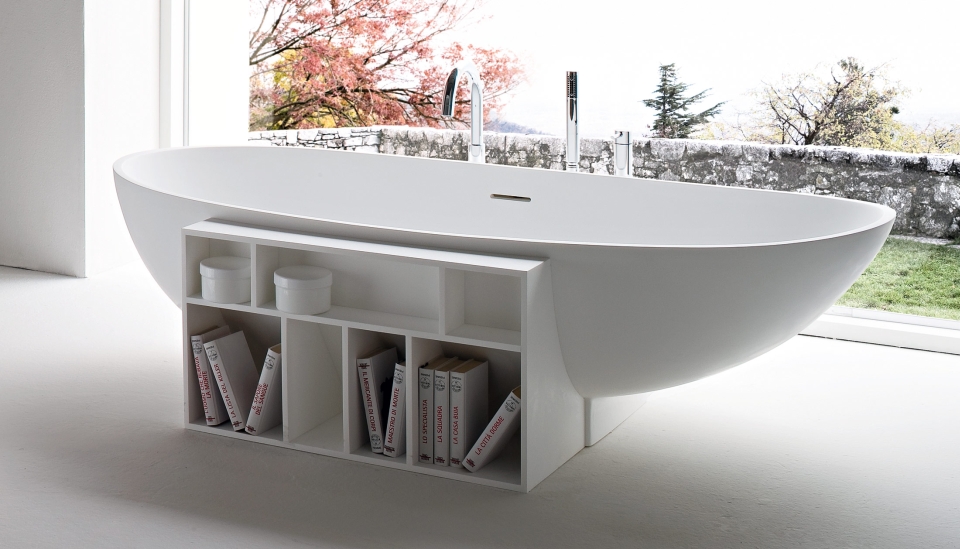 # Thais Art bathtub
Thais Art bathtub from Blubleu has wooden shelving around it to hold books, magazines, etc. You can enjoy reading, while cozily bathing in the hot bubbling tub.
Buy: Price on request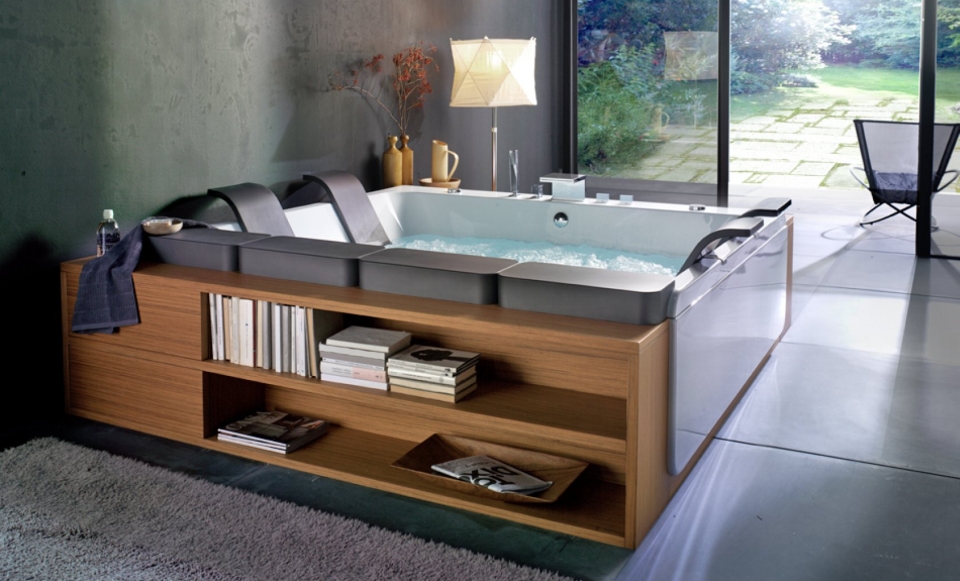 # Library bathtub
Combining a bathtub, armchair and a bookshelf, the Swedish designer Malin Lundmark deisgned this Library. It boasts minimal design and storage space for keeping books safe from water splashes.
Buy: N/A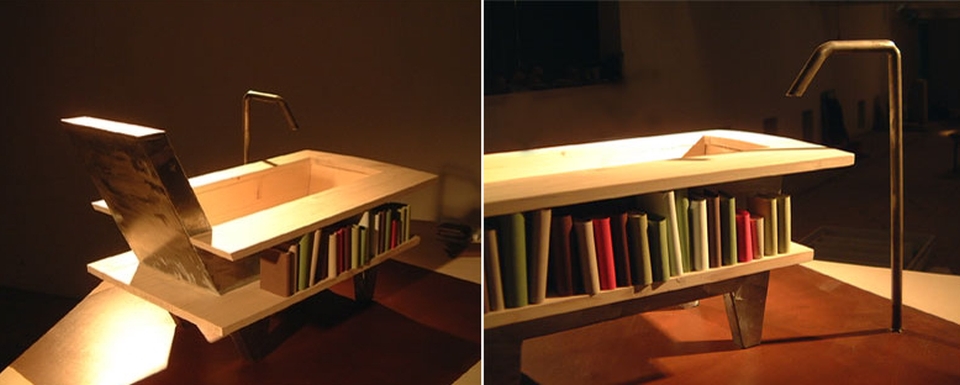 # Circular freestanding tub with shelving
The freestanding circular bathtub by Roca has two integrated headrests Furthermore, it has storage space for keeping bath-related products closer to you while bathing. This tub can provide you with an amazing hydro-massage experience.
Buy: N/A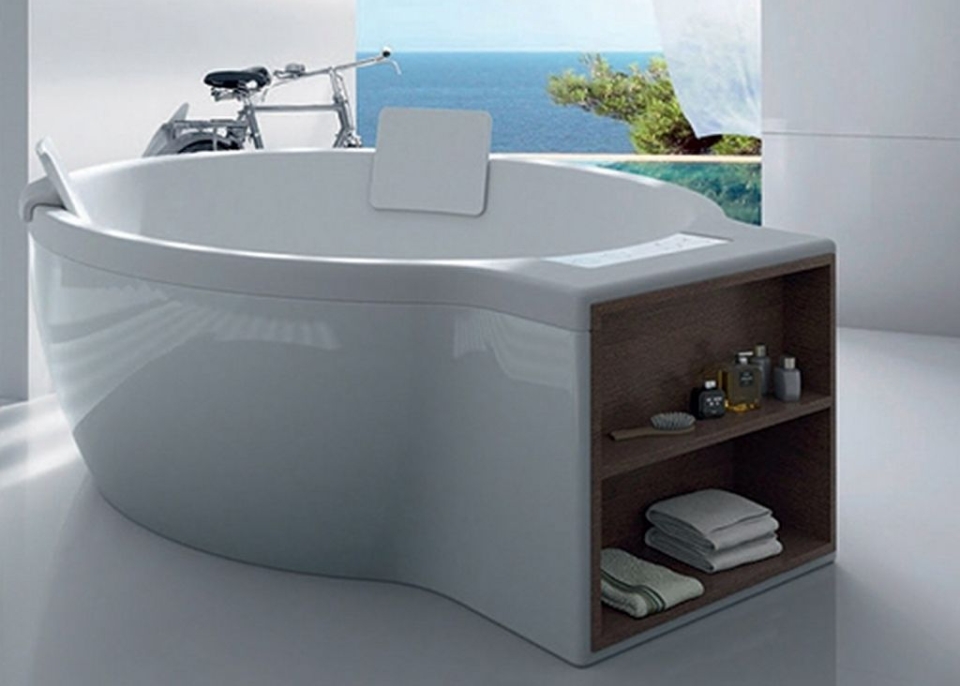 These are some of the best modern bathtubs with built-in storage space that style any bathroom with aesthetic appeal as well as practical functionality.