As the name suggests, fire damage restoration is the painstaking process of restoring your home back to normal after a major fire. The emotional trauma and the hassle of getting things back to normal can take a toll on the victims, and that is why it is important to handle the restoration of property very wisely.
Every year homeowners shell out around $3,000 – $30,000 on restoration tasks that are prompted by fire-related events. Therefore, it is important that any such tasks be handled professionally to avoid any complications which can create a problem in the future.
When fire unravels its wrath, things get virtually unstoppable. Being one of the most destructive elements of nature, fire can turn a habitable home into a pile of dust within hours. There are proactive methods to control house fires in modern times, but what about the damage that has already been incurred?
Before we delve deep into the details of reviving your property from fire-related loss, here are some important facts you need to familiarize with before embarking on fire damage restoration.
Types of Fire
Identifying the kind of fire that caused the mishap is very important before initiating any fire damage restoration regime. The cause of fire determines the steps to be taken to make the restoration process as fruitful as possible. So let's have a look at the kind of fires that can happen.
Protein fire – Caused by the burning of food which creates relentless odor, and also permeates building structure and furniture items.
Complex fire – A fire that engulfs natural, synthetic and other items; causing a very thick toxic smoke along with residue on surfaces. The soot and smoke in this kind of fire pose risk to any exposed surfaces, so it should be treated very carefully.
Natural fire – This kind of fire happens when there is a wildfire in the woods and it has engulfed your dwelling too. Even if the fire has only partly affected your home, the smoke from the burning of the forest poses a damage to the exposed surfaces of metals, plastic and other material.
Electrical fire – A fire initiated by short circuit or malfunctioning of electrical equipment at home. This kind of fire also produces a lot of toxic smoke from the burning of cables, electrical components and plastic.
Fire Damage Process
Fire damage restoration process should be initiated as early as possible, as delay can lead to further damages to the property. Let's have a look at the fire damage timeline which will give you an idea about the kind of losses you are up against if any delays are there.
Types of fire damage:
Time is of the essence in the event of a fire, as well as after it. The greater the delay in fire damage restoration, the higher the chances of more damage. This consequently results in elevated restoration costs. So, it is important to be acquainted with the kind of damage that follows after a fire. With every passing minute, this damage keeps getting higher.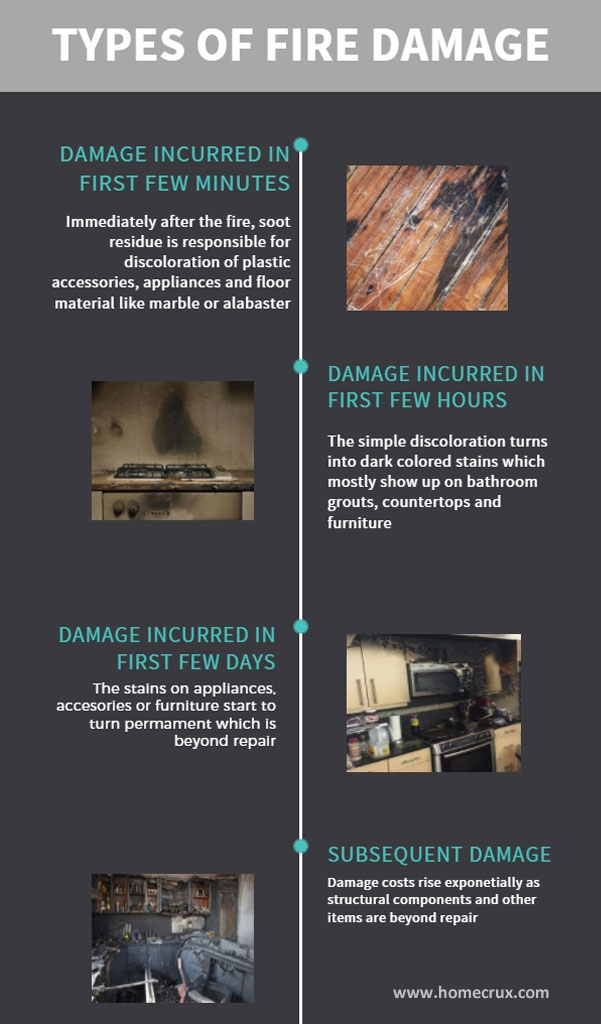 Things That Cause Maximum Damage
Smoke –
The toxic level of smoke during fire can damage the walls, paint or any other reactive surface it comes in contact with. Getting rid of smoke damage from clothing is also important, and it simply doesn't go away with regular washing. You should consider dry cleaning from a local dry cleaner who has experience in post-fire laundry service.
Water –
Ironically, to stop a raging fire, water is used. And this creates a lot of problems afterward, as water damage contributes to most of the replacement and restoration woes. Floors should be cleaned of all water, and also check for water seepage into hardwood or vinyl flooring.
Soot –
Consisting majorly of carbon and other toxic chemicals, soot (and leftover smoke particles) is acidic which can cause damage to any surface it comes in contact with. Obviously, the more time anything will be exposed to soot, there will be depleted chances of recovering it beyond damage.
Mold –
Due to the efforts put into extinguishing fire, the amount of moisture level in the interiors and exteriors will be more. This is a breeding ground for mold forming mildew, especially in dark corners of the house. If traces of mildew are left in the restoration process, they can contaminate furniture, clothing, walls or vents. Not only that, mold is an allergen which can affect health of its occupants.
Corrosion and rust –
Again, the presence of moisture will promote oxidation and corrosion of metal surfaces. Rusting can permanently damage any metal furniture or accessories which will add to the cost of restoration.
Odor –
You might not actually have thought of it, but odor does interact with the surfaces and make it difficult to remove stains later on. For example, mildew produced by molds affects the air quality until it is removed completely from the affected surface.
How to Limit Fire Damage
In case you don't have immediate access to professional help, damage control should be exercised right away. To do this follow these important pointers.
Ventilate your home by opening all the windows and doors
In hot climatic areas, turn on the fans to facilitate ventilation if possible
Clean all the walls, floors, ceilings, fixtures and other stuff
Pressure wash walls, wood furniture, bricks with a solution mixed with detergent
Vacuum clean all the rugs, carpet and other fabrics which attract dust
Use a deodorizer, disinfectant or aerosol spray to remove odor which cannot go away just by ventilation
Do's and Don'ts After Fire Damage
Once the fire has incurred damage, it only makes sense not to aggravate things further, thereby complicating the fire damage restoration process.
The primary considerations after an event of a house fire are: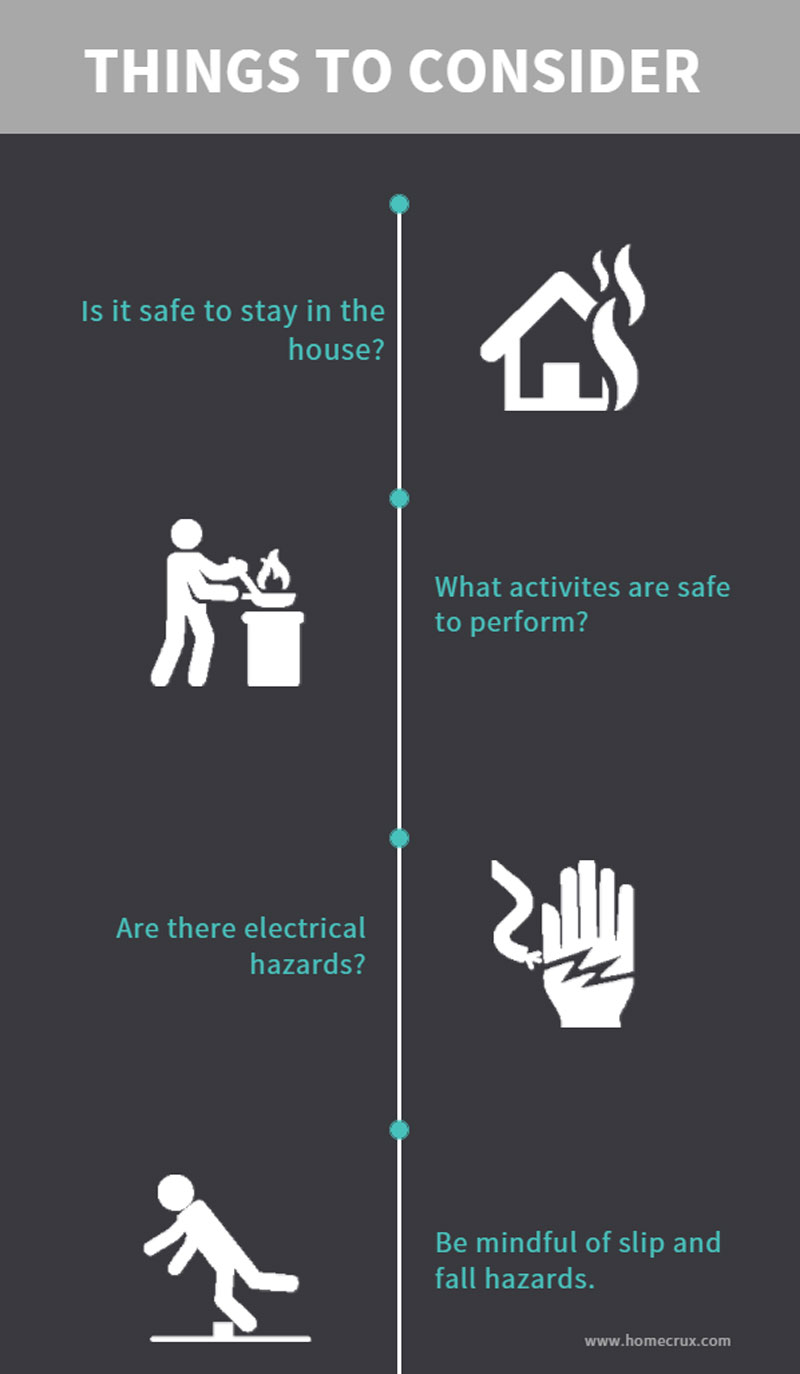 Do's after house fire:
Limit movement in damaged areas to prevent spreading of soot particles
Place clean towels or linens on upholstery, accessories and rugs
Coat chrome surfaces with oil or petroleum jelly
Clean houseplants thoroughly to remove traces of soot particles
Wear gloves or keep hands clean when moving accessories, carpets etc.
Don'ts after house fire:
Wash walls, painted surfaces or other material without proper knowledge
Avoid cleaning electrical appliances near fire or the ones which came in contact with water
Avoid consuming any packed food or beverages that were near the location of fire
Don't switch on any electrical appliances or accessories, as it may lead to short circuit
Clean all the clothes and beddings by sending them to a dry cleaner who specializes in such tasks
Fire Damage Restoration Process
It is always preferred to conduct professional restoration process post a major fire to prevent any long-term safety concerns and prolonged damages that aren't apparent immediately. The given below fire damage restoration process should be followed to make sure everything is done according to plan.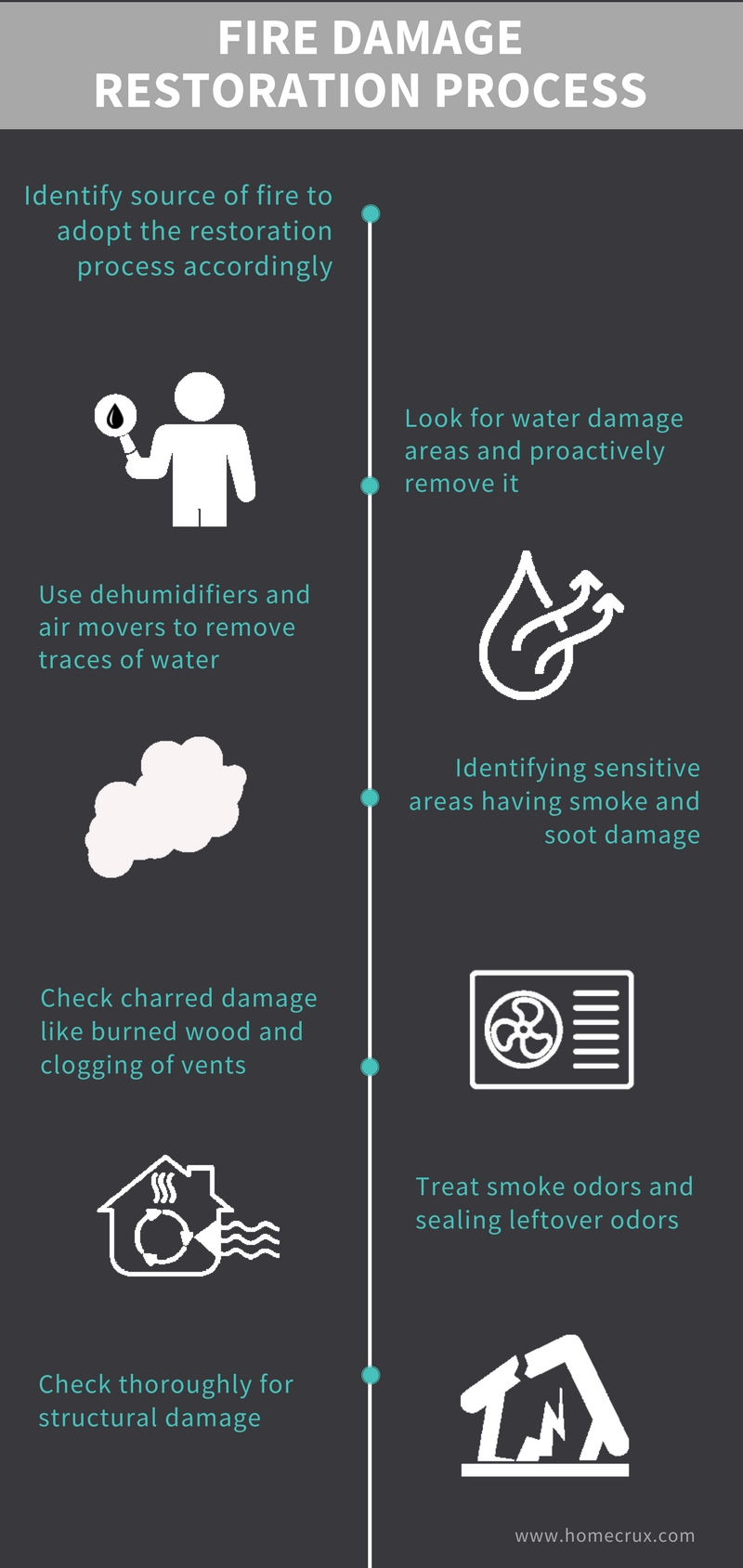 Once these major restoration steps are performed, thereafter, all the items are restored back to the pre-fire conditions (preferably). It also involves replacing drywall, paint, carpets and flooring if needed.
Estimated Restoration Cost
The fire damage is not restricted to just things that have burned up, rather it is a combination of other factors like water damage, smoke damage and most importantly the extent of soot damage. Therefore, fire restoration costs will be purely determined by these factors. Here's a breakdown of the fire restoration costs which will help you determine the final estimated costs of any restoration tasks.