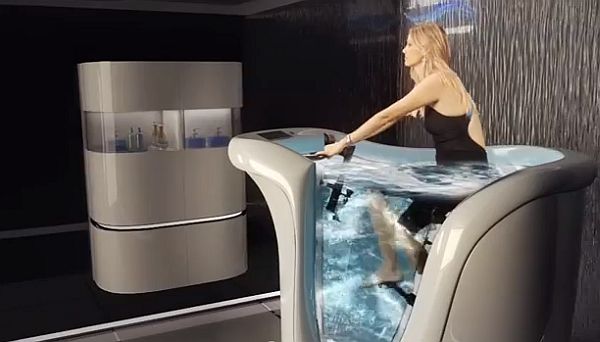 Here is a serious and very innovative flushable Jacuzzi bike for those who are too fitness conscious and look for new ways to stay in shape. The Fit Wet which has been made in Florida is currently at display at Interbike Health and Fitness Business Expo. The design of this bike is a mixture of biking effects in combination with water resistance and jets. This wonderful bike can be used to do a workout in an elegant way. The fitness equipment has a price tag of astonishing US $18,000.
Having a Jacuzzi with which you can also burn out some calories seems to be an interesting idea. You pedal the bike while sitting inside the tub with your lower body immersed in the water. The jet sprays water on your legs and the rear body side to provide greater resistance.
There is also an integrated digital panel fitted on the tub bike that measures the pedaling done in miles. Once you are finished with your daily workout, the fitness bike discharges off the water that contains your sweat and body impurities. After a ride on this flushable Jacuzzi bike, you feel truly replenished.
Via: Gizmodo/GearJunkie