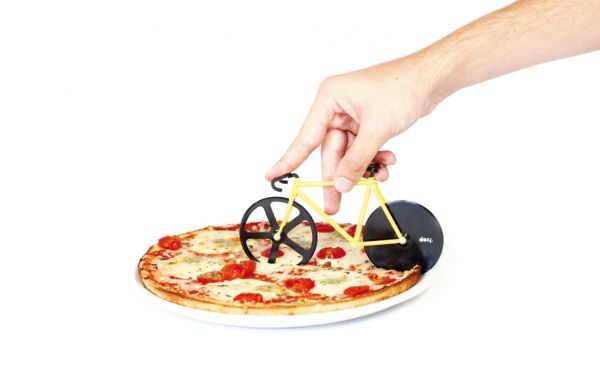 Riding a bicycle and eating Pizza are the two most favorite pastimes of almost everyone. Keeping this in mind, Barcelona based DOIY design has come up with their new product dubbed as the Fixie Pizza Cutter. This miniature bike divides your pizza into neat slices while adding a fun element to the ordinary task of Pizza cutting. This cute handheld slicer is designed exactly like a mini a fixed gear bicycle.
This whimsical utensil features tiny handlebars, a seat, and two stainless steel tires that rotate and double as razor-sharp slicers, which can easily glide through cheese, toppings, and crust.  The Fixie Pizza Cutter offers a stylish way to cut slices of pizza and make your pizza parties more entertaining. You can also divide pies with this adorable slicer.  It is available in two different colors:  Watermelon, (a combination of mint and pink and Bumblebee, (a combination of black and yellow). You can purchase this slicer from here, at a retail price of €17.95
DOIY Design is known for its chic and well-designed products, which asks us to look for the light hearted sides of things. Just like this bike slicer, the other DOIY products also unites practicality with humor.
Source: Hiconsumption
Via: Designtaxi