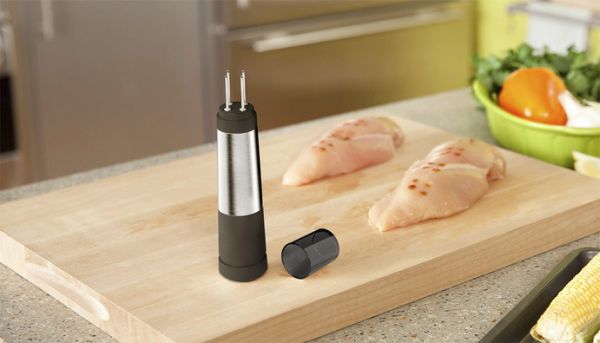 Now that you have been cooking for a while, you must be cooking delicious meals for your family. But, when it comes to marinated chicken or turkey, you may still find yourself disappointed with its flavorless taste. Well, this isn't your fault, it is nearly impossible for the fatty skin of the meat to absorb the sauce or marinade even if soaked in it for a long time. If you actually want your chicken to be flavored even from the inside, then it's time for you to take home a special meat injector just like the Flavinator.
This excellent meat injector is designed by Bill Ward from a plastic whipped cream canister. Ward fabricated four stainless steel injection needles onto a pressurize CO2 canister, using which is really simple. Just fill the Flavinator with sauce or marinade you want the meat to be flavored in, push the needles into the meat and inject it and enjoy a yummy marinated dish, which is juicy and flavored inside out.
Flavinator is still a prototype, and is up for crowdfunding on Quirky, if funded successfully, it will be developed for about $17. This flavor injector will certainly be your favorite kitchen gadget then. No matter how you choose to cook your meat, in the oven or on the grill, you'll be able to serve a succulent meal at the end of the day.
Via: Quirky