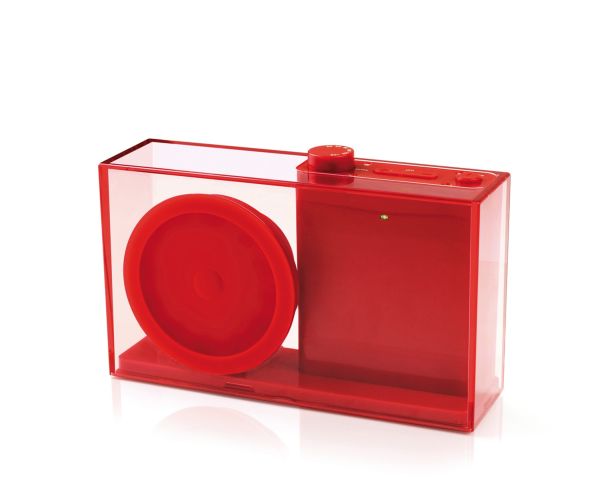 Bringing back chicness back into radio vogue, we have come across this utterly classy and minimalist design from Philip Wong (who works as a designer for Lexon). The fascinating part about the so-named Flow Radio is that it follows the same lines and patterns of an ordinary radio set. However, there in an intrinsic essence of transparency exhibited by the conception that is equally complemented by the vibrant color composition of the built-in control unit box, speaker and the edges. As a matter of fact, it is the transparent facades that shed light (no pun intended) into the simplistic form and working mechanism of one of the world's most timeless entertainment unit – a radio.
The 'essential' visual mode of the Flow Radio does play its part in distracting the attention of the user. For example, the aforementioned control unit box showcases an elementary rectangular form, but is also hides all the paraphernalia of wires and circuit inside the casing (along with 4 x AA batteries). This compact arrangement of absolutely essential components is further accentuated by the clearly visible space between the singular 3W speaker and the control unit.
Such an interesting level of aesthetics was achieved by the usage of materials like polycarbonate for the transparent facades and ABS for the plastic components, along with rubber for the controls (like volume, power and station frequency). And, for those who are not too keen on the vivacious quotient of red, the Flow Radio is also available in light gray and dark gray.
Dimensions:  Weight – 420 g; Size (cm) – 16 x 11 x 4.5; Size (inches) – 6.29 x 4.33 x 1.77
Via: Lexon-Design