Due to increasing construction costs and rising awareness of environmentally-friendly homes, Belgian startup Gablok has come up with an efficient wooden house kit. The company specializes in making insulated formwork blocks to let people self-build a house in days.
What is Gablok?
The Gablok concept includes a series of insulated wooden blocks, insulated beams, lintels, and a customized floor system to efficiently construct the exterior and interior walls of the wooden house, all by yourself. The system has been validated by design offices in terms of acoustics, stability, and energy performance.
Founded in 2019 by Gabriel Lakatos, Gablok provides a revolutionary construction method comprising an insulated wooden frame. In 2018, Gabriel patented a wooden home kit with the aim of simplifying the construction process and enabling a simpler way for homeowners to build a house themselves.
Gabriel has been interested in interlocking and construction games since his childhood. He spent 25 years building his career in the field of traditional construction and developed an insulated wooden stacking block.
After several months of research and testing, this self-construction home system was validated by engineering offices specialized in energy efficiency, and acoustic performance.
How to self-build a house with Gablok?
The Gablok construction kit is delivered directly to the construction site with a precise installation plan. Once the assembly of the insulated formworks is complete, all you are left with is the construction of the roof and the exterior finishing with the finish of your choice (plasters, bricks, cladding, etc.). Assembling the system is extremely fast and does not require any drying time.
Plus, easy on-site assembly makes it convenient to avoid the excess waste associated with on-site processing.
What is included in the construction kit?
The Gablok construction kit includes eight (8) parts and insulated wooden blocks as the main elements for self-building a project.
1. Starter
2. Insulated starter block
3. Standard isolated block
4. Beams
5. Insulated belt block
6. Lintel
7. Embossed top rail
8. Floor element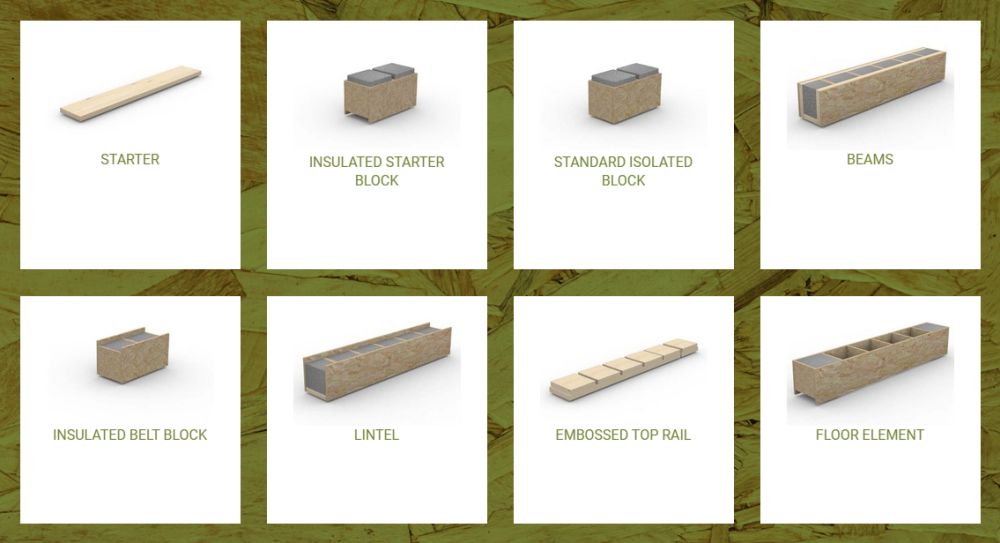 Also Read: Build House Without Nails or Screws with Brikawood Interlocking Wooden Bricks
FAQs about Gablok insulated wooden blocks
How do Gablok insulated blocks hold together?
The individual wooden blocks fit into each other like Lego bricks, to form the structure of the house.
Do the Gablok blocks require a joint?
No jointing system is required in the self-build process with Gablok.
What type of insulation do Gablok insulated wooden blocks use?
Gablok uses expanded polystyrene with graphite additive (EPS) for its building system.
Are Gablok wooden blocks environmentally friendly?
The insulated wooden blocks are made from recyclable materials. The wood used to make self-build blocks is OSB. This wood product consists of compressed wood slats, which makes it 100-percent recyclable.
What are the dimensions of an insulated wooden block?
Gabloks are available in 3 different lengths: 30 cm, 60 cm and 90 cm. The height and depth of the individual blocks are always 30 cm.
How much does a Gablok insulated wooden block weigh?
The 60 cm insulated wooden block weighs 7.5 kg.
Below is a time-lapse video of the housing assembly with Gablok insulated building blocks.