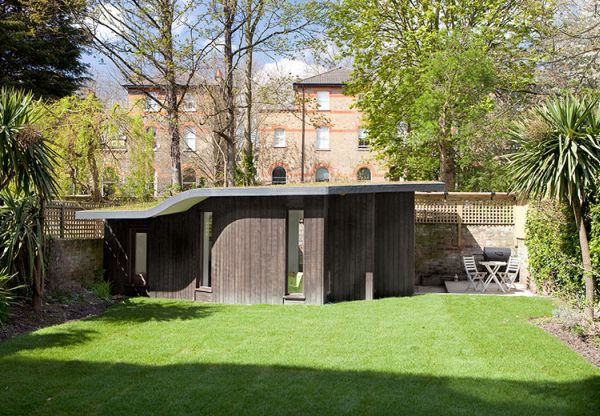 The above pictured Garden Studio in many ways is an architectural piece 'strategically' borne out of design contradictions. Conceived (by Scenario Architecture) as a workout shed for a London based choreographer, the structure according to the architects was envisaged as an 'island' of seclusion and privacy. Yet, on its orientation level, the Garden Studio had to be designed in such as way so as to induct natural light from every conceivable direction.
This ambit of contraction is further traversed (rather successfully) by the 'collective' form of the Garden Studio. For example, the client wanted a large space that would still allude to a 'feeling of long existence' and 'would fade into the background' (even though the structure is new). The architects solved this conflicting issue by designing a pretty simple structure that doesn't really stand out from the environment, but at the same time maintains a picturesque essence within the surrounding. The familiarity scope was also upheld by partially submerging the structure and splitting the roof into three sections. The variant angles and the hidden elevation does help in effectively hiding the structure's spacious credentials.
According to Scenario Architecture –
An in depth analysis of the different activities to be performed inside the studio, their relationship to one another, light and privacy, were the driving forces to generate the studio's design. Windows and doors were carefully located following an analysis of the 3D views,  simulating what, and how much, neighbors can see into the space. The result safeguards both the client and his neighbors' amenities, while maximizing the use of natural light and sense of openness in the room.
The Garden Studio also holds its own in the realm of sustainability. Utilizing passive means like high insulation walls and recycled materials, the building does credibly achieve its badge of energy efficiency along with low carbon attributes.
Via: ScenarioArchitecture